Heal Your Body With Food!
Want a healthier and longer life free of common diseases and conditions? Your best line of defence, as well as offence, may line up in the kitchen. Making a switch to the right foods can reward you and your family with great health benefits and turn back the clock on aging. HealWithFood.org provides condition-specific nutrition guides (see the blue menu on the left) as well as general healthy eating tips to help you make that switch.
HEALTH FOOD of the week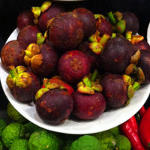 Add a tropical twist to your next fruit salad by throwing some mangosteen fruit into the mix. The mangosteen fruit is praised for its sweet yet tangy flavor which is like a cross between melon, lychee, and peach. And culinary aspects aside, this unsung superfood is said to have antioxidant, anti-bacterial, and anti-cancer properties. For details, check out the in-depth article Health Benefits of the Mangosteen Fruit.
SMOOTHIE of the week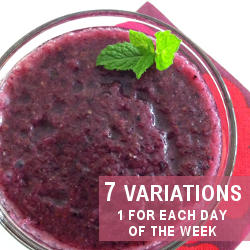 Antioxidant-Packed Superberry Smoothie
All of the key ingredients in this berry smoothie – including blueberries, tart cherry juice and acai berry powder – are famous for their exceptionally strong antioxidant properties. The potential health benefits of this super-smoothie are further boosted by the addition of chia seeds, one of the best vegan sources of omega-3 fatty acids. Click on the link below to view the complete ingredient list and instructions, as well as the Tweak It! box which allows you to create a new variation of the basic recipe for every day of the week!
KITCHEN TOOL of the week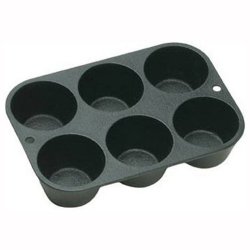 Cast Iron Muffin Pans: Durable and Surprisingly Non-Stick
Everyone is familiar with those heavy cast iron pots and pans, but did you know that cast iron can also be used to make bakeware like muffin tins? And, as consumers across the US, Canada and the UK are growing increasingly wary of the safety and durability of PTFE-coated non-stick bakeware, other types of bakeware – such as cast iron muffin pans – are gaining in popularity. To learn more about Lodge's cast iron muffin pan (pictured above) and other similar pans, check out this week's special feature:

Shopping for a Cast Iron Muffin Pan
BOOK of the week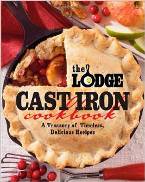 The Lodge Cast Iron Cookbook: A Treasury of Timeless, Delicious Recipes
In response to the rising popularity of cast-iron cookware, Lodge, America's leading manufacturer of cast-iron cookware, has put together an impressive collection of over 200 recipes for your cast-iron skillets and pans. Culled from cooks across America, the recipes cover everything from filling breakfast dishes and soups to delectable biscuits and baked goods, and each recipe is accompanied by a four-color photograph. Available both in ebook and paperback format, this extraordinary cookbook can be purchased through Amazon.com, Amazon.co.uk and Amazon.ca.