Heal Your Body With Food!
Want a healthier and longer life free of common diseases and conditions? Your best line of defence, as well as offence, may line up in the kitchen. Making a switch to the right foods can reward you and your family with great health benefits and turn back the clock on aging. HealWithFood.org provides condition-specific nutrition guides (see the blue menu on the left) as well as general healthy eating tips to help you make that switch.
SUPERFOOD of the week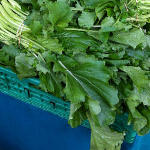 If you like Brassica vegetables such as kale and broccoli, then you definitely should also try broccoli rabe which makes a delicious side dish when steamed or sautéed. Culinary aspects aside, broccoli rabe is also loaded with nutrients like vitamin C, folate, pro-vitamin A, vitamin K, and iron. To learn all about how the nutrients in broccoli rabe can boost your health, read the article Health Benefits of Broccoli Rabe.
SMOOTHIE of the week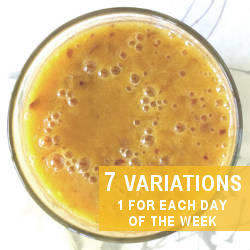 Banana Baobab Smoothie
This week's smoothie combines the classic flavors of apple juice, orange and banana with the more exotic taste of baobab fruit powder. The ground flaxseed add heart-healthy omega-3 fatty acids to the mix. Click on the link below to view the complete ingredient list and instructions, as well as the beloved Tweak It! box which allows you to create a new variation of the basic recipe for every day of the week!
KITCHEN GADGET of the week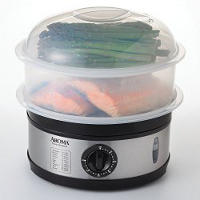 Belongs in Every Health-Conscious Cook's Kitchen: A BPA-Free Electric Steamer
By now, everyone knows that steaming is one of the healthiest ways to cook food. But did you know that not only the ingredients and the cooking method, but also the cookware you use can have an impact on how healthy your food is. Electric steamers made of regular plastic, for example, may leach out toxic chemicals such as Bisphenol-A (BPA). The amounts may be very small, but if you want to be on the safe side, get a steamer that has been made with BPA-free plastic (such as Aroma's BPA-free steamer pictured here), or even better, a non-plastic model. To learn more, check out this week's in-depth article:

BPA-Free Steam Cookers: Electric Models
BOOK of the week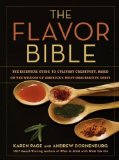 The Flavor Bible: The Essential Guide to Culinary Creativity, Based on the Wisdom of America's Most Imaginative Chefs
Chances are you've already heard of The Flavor Bible. Praised by Sara Moulton on Good Morning America when it was first published, this award-winning, bestselling book is like no other cookbook. Instead of showcasing a bunch of recipes, this ingenious guide teaches you how to use various ingredients by focusing on their flavor and flavors they go well with. A wonderful idea generator for home cooks who love to experiment with flavors, this definitive guide on deliciousness is available through

Amazon.com and

Amazon.co.uk.