Heal Your Body With Food!
Want a healthier and longer life free of common diseases and conditions? Your best line of defence, as well as offence, may line up in the kitchen. Making a switch to the right foods can reward you and your family with great health benefits and turn back the clock on aging. HealWithFood.org provides condition-specific nutrition guides (see the blue menu on the left) as well as general healthy eating tips to help you make that switch.
HEALTH FOOD of the week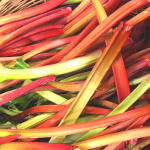 In Asia, rhubarb extracts have been used medicinally for centuries to prevent and treat conditions like ulcers, cancer, fever, headaches, toothaches and certain liver problems. But in recent years, rhubarb has also been garnering a lot of attention from Western scientists. To learn all about the potential health benefits of this pleasantly tart nutritional goodie, check out the in-depth article Health Benefits of Rhubarb.
SMOOTHIE of the week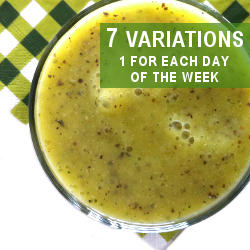 Kiwi, Mango and Cucumber Smoothie with Hemp Seeds
This refreshing kiwi, mango and cucumber smoothie could earn a well-deserved place in your regular diet, it's so delicious – and it's good for you, too. The mango and kiwi treat your body with a good dose of vitamin C, and the cucumber provides plenty of vitamin K. Click on the link below to view the complete ingredient list and instructions, as well as the Tweak It! box which allows you to create a new variation of the basic recipe for every day of the week!
KITCHEN GADGET of the week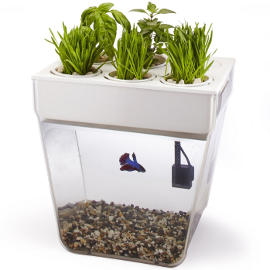 AquaFarm: An Eco-Friendly Aquaponic Fish Tank & Herb Growing Kit
Designed to fit on a table-top, Back to the Roots' AquaFarm V2 Kit combines a compact 3-gallon fish tank with a stylish herb tray for growing herbs in small places like the kitchen. The concept behind this herb growing kit is nothing short of ingenious: the waste the fish produce is pumped through an inner tube into the grow tray that contains the plants' roots, which are covered with beneficial bacteria that break down the waste into nutrients that the plants can then use as food. To learn more about this smart herb growing kit, check out this week's special feature:

AquaFarm – An Eco-Friendly & Fun Way of Growing Herbs
BOOK of the week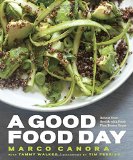 A Good Food Day: Reboot Your Health with Food That Tastes Great
Born out of chef Marco Canora's need to lose weight and regain health, A Good Food Day proves that you don't have to give up flavor for health! Created by a man who loves good food, this inspiring cookbook is packed with mouthwatering recipes starring super-healthy, super-nutritious foods like quinoa, kale and asparagus. Amaranth Polenta with Tuscan Kale, Toasted Asparagus and Lemon with Chunky Pesto, Black Rice Seafood Risotto, Citrus-Spiked Hazelnut and Rosemary Granola, and Chickpea Crepe Sandwiches are just a few of the health-licious recipes you'll find in this nearly 300-page cookbook. To learn more, or to order a copy, go to

Amazon.com,

Amazon.ca and

Amazon.co.uk.