Heal Your Body With Food!
Want a healthier and longer life free of common diseases and conditions? Your best line of defence, as well as offence, may line up in the kitchen. Making a switch to the right foods can reward you and your family with great health benefits and turn back the clock on aging. HealWithFood.org provides condition-specific nutrition guides (see the blue menu on the left) as well as general healthy eating tips to help you make that switch.
SUPERFOOD of the week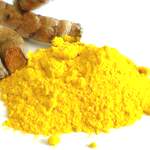 A key ingredient of curries, turmeric powder may well be the healthiest spice there is. The turmeric rhizome and its main active component curcumin have been evaluated as potential natural remedies for diseases like cancer, allergies, Alzheimer's disease, cognitive decline, cataracts, ulcerative colitis, Crohn's disease, and cardiovascular disease. To learn all about the potential health benefits of turmeric, read the in-depth article Health Benefits of Turmeric.
SMOOTHIE of the week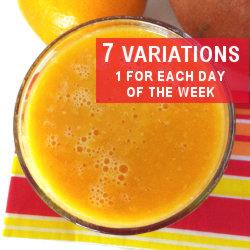 Sweet Potato and Banana Smoothie with Turmeric
This bright smoothie features sweet potato, orange, banana, sunflower seeds and turmeric powder. Mineral-rich sunflower seeds are added to this super-healthy blend to further boost its nutritional value. Click on the link below to view the complete ingredient list and instructions, as well as the beloved Tweak It! box which allows you to create a new variation of the basic recipe for every day of the week!
KITCHEN TOOL of the week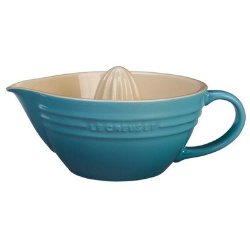 Old-Fashioned Citrus-Squeezer
If you juice citrus fruit such as oranges, grapefruit, lemons and limes only occasionally, there's no need to get a fancy electric juicer. Old-fashioned manual juicers do the job just fine, plus they take very little space in the kitchen cabinet and are typically a lot cheaper than electric juicers. To reduce the risk of potentially toxic chemicals leaching into your fruit juice, look for a citrus squeezer that is made of a non-plastic material such as glass or stainless steel. To learn more, check out this week's special feature:

Old-Fashioned Citrus Squeezers Made of Non-Plastic Materials
BOOK of the week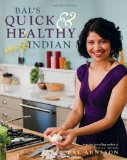 Bal's Quick and Healthy Indian (from Bestselling Cookbook Author Bal Arneson)
Born in India, Bal Arneson is a bestselling cookbook author and one of Canada's most famous celebrity chefs. In Bal's Quick and Healthy Indian, she teaches the reader how to turn classic Indian dishes into low-fat meals, covering everything from salads and soups to rice dishes and desserts. A must-have for anyone who loves the spices and aromas endemic to Indian cuisine, this inspiring collection of health-licious Indian recipes is available through


Amazon.com,

Amazon.ca and

Amazon.co.uk.