Welcome to HealWithFood.org
Guide to Healing the Body With Food and Optimal Nutrition
Want to get a healthier and longer life free of common diseases and conditions? Your best line of defence, as well as offence, lines up in the kitchen. Making a switch to healthier foods can reward you and your family with a bountiful harvest of health benefits and turn back the clock on aging.
HealWithFood.org aims to provide vital information and practical tips on how you can transform your health and heal your body with food and optimal nutrition. If you are new to HealWithFood.org, get familiar with the 3 Steps to Taking Control of Your Health and Nutrition (with HealWithFood.org) listed below:
Step #1: Make the Commitment to Breaking Bad Eating Habits
Undoubtedly, this is the most overlooked and the hardest step in taking control of your health and nutrition. However, without making the commitment to change your habits, you simply cannot get anywhere. Or as the ancient Chinese philosopher Lao-Tzu put it, "The journey of a thousand miles must begin with a single step".
Step #2: Educate Yourself on the Health Benefits of Foods and Nutrients
The second step toward improving your health and healing your body through food and optimal nutrition is to continuously educate yourself. Learn about the health-boosting and disease-fighting properties of specific healing foods and proactively seek information about the beneficial effects of vitamins, minerals and other nutrients.
The home page of HealWithFood.org — the page you are currently viewing — provides a broad range of nutrition and health related news. New exciting content is added every week, so be sure to come back often to stay abreast of the latest news.
If you have a specific health goal (e.g. prevention of a certain disease), get familiar with one of HealWithFood.org's condition-specific nutrition guides (select from the menu on the right).
Step #3: Take Action — One Step at a Time
You can become a nutrition guru, but until you actually apply what you've learned, you won't reach your health goals. It is also important to remember that change does not happen overnight. It does not even happen in a fortnight. A step in the right direction, taken every day, is the key to long-term health improvement.
HealWithFood.org helps you turn nutrition knowledge into action by providing weekly tips, for example, on the healthiest food preparation, cooking and storing methods or the most powerful food and nutrient combinations. On the HealWithFood.org home page, you will also find links to inspiring recipes featuring a variety of antioxidant-rich healing foods.
If you are looking for nutrition and cooking tips to support you in achieving a specific health goal, check out one of HealWithFood.org's condition-specific guides (see menu on the right).
This Week on HealWithFood.org
The rest of the page is dedicated to news and tips related to optimal nutrition and healthy living. Check back every week to make sure you don't miss any news or tips!


Are you stuck in a routine, using the same old smoothie ingredients week after week? Did you know that you can easily upgrade your smoothies by adding some chia seeds to the mix? Chia seeds, which are available both as whole seeds and as ground powder, are loaded with fiber, protein, thiamin, niacin, omega-3 fatty acids, calcium, magnesium, zinc, and iron. In addition, these powerhouse seeds have an extremely high antioxidant capacity. To learn more about the nutritional value of chia seeds, click here.

Did you know that stress can rob your body of zinc, a mineral that plays a key role in the antioxidant system of your body? If you've been feeling stressed lately, make sure that you eat plenty of foods that provide zinc. Healthy sources of dietary zinc include wheat germ, walnuts, flaxseeds, pumpkin seeds, Brazil nuts, and pecans. When buying these nuts and seeds, go for brands that are known for maintaining high quality standards – nuts and seeds produced, packaged or stored in substandard conditions may be contaminated with carcinogenic aflatoxins.

Did you know that in order to maximize the vitamin C content of your broccoli dishes, you should opt for fresh broccoli instead of frozen broccoli. According to a study published in the peer-reviewed Journal of the Science of Food and Agriculture in 2000, broccoli loses about 50-55% of its vitamin C content during blanching and subsequent freezing.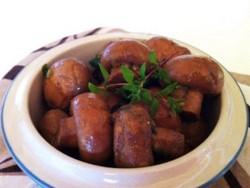 Recipe of the Week:
The crimini mushrooms in this dish boast ergothioneine, an amino acid that has been shown to exert strong antioxidant effects. The thyme and marjoram used in the marinade are rich in ursolic acid, a natural compound with strong anti-allergy, anti-cancer and antioxidant properties. Research suggests that foods rich in ursolic acid may also promote weight loss when eaten as part of a balanced diet.

See the Recipe
MORE RECIPES WITH HEALTH BENEFITS...

Oatmeal recipe with extra health benefits.

Red cabbage and black lentils are among the healthiest foods on earth.

Treasure trove of copper, potassium, magnesium, vitamins, and flavonoids.

This smoothie delivers anthocyanins and omega-3 fatty acids.

This salad provides plenty of fiber, folate, anethole, and vitamin C.

Wild garlic is supercharged with health protecting allicin.

Raddicchio and garden cress in this salad offer numerous health benefits.

Radicchio contains anthocyanins, while tomatoes boast lycopene.
SUPERFOODS IN SEASON THIS MONTH
Don't forget to make the most of the superfoods May has to offer! The following chart lists health promoting foods that are usually in season in the US, the UK, Ireland and Australia in May. Note: The chart may be incomplete and may contain inaccurate information as a result of, for instance, changes in weather conditions.

| | | | | |
| --- | --- | --- | --- | --- |
| Locally grown health promoting foods currently in season in the UK and Ireland include rhubarb, mushrooms, beets, watercress, spinach, radishes, wild garlic, rocket, lettuce, broad beans, mint, rosemary, parsley, cauliflower, cabbage and broccoli. | | In Australia, May brings a plentiful harvest of fruits and berries packed with antioxidants. For example, grapefruit, oranges, quinces, apples, mandarines, pears, lemons, limes, custard apples, persimmons, kumquats, lychees and bananas are in season this month. Veggies and herbs currently at their peak include watercress, beets, Brussels sprouts, cauliflower, garlic, witlof, thyme, fennel, swedes, broccoli, avocados, daikon radishes, leeks, rhubarb, celery, carrots, cabbage, kohlrabi, parsley, rosemary, marjoram, sage, chives, dill and mint. | | Locally-grown health-promoting foods in season in this region include rhubarb, spinach, thyme, chard, lettuce, radishes, arugula, squash, mushrooms, sprouts, and carrots. |

| | | | | |
| --- | --- | --- | --- | --- |
| You can find plenty of locally-grown fresh produce in Michigan, Illinois and Ohio this month: mushrooms, arugula, beets, parsley, radishes, spinach, fava beans, chard, lettuce, carrots, parsnips, onions, and rhubarb are in season in May. | | In Texas, California and Arizona, May heralds in many healing and health promoting fruits such as broccoli, cabbage, celery, chard, leeks, mushrooms, tomatoes, onions, parsley, basil, beets, grapefruit, carrots, spinach, radishes, and strawberries. | | In May, Florida heralds in a wide range of healthy, locally-grown vegetables and fruits. These include blueberries, collards, thyme, carrots, celery, celeriac, chard, Chinese cabbage, oranges, grapefruits, limes, papaya, oregano, basil, broccoli, cabbage, zucchini, radishes, fava beans, guava, tomatoes, leeks, lemongrass, mushrooms, onions, eggplant, parsley, peppers, and strawberries. |