Heal Your Body With Food!
Want a healthier and longer life free of common diseases and conditions? Your best line of defence, as well as offence, may line up in the kitchen. Making a switch to the right foods can reward you and your family with great health benefits and turn back the clock on aging. HealWithFood.org provides condition-specific nutrition guides (see the blue menu on the left) as well as general healthy eating tips to help you make that switch.
HEALTH FOOD of the week

Add an exotic twist to your next fruit salad by throwing in diced dragonfruit. Dragonfruit is praised for its appetizing crunchy texture and refreshing, sweet flavor which is like a cross between kiwi and pear. And culinary aspects aside, this unsung nutritional hero is packed with vitamin C and iron (who would've guessed!). For details, see Health Benefits of Dragon Fruit.
SMOOTHIE of the week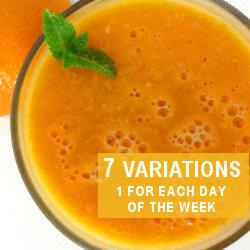 Sunny Citrus-Turmeric Smoothie
This bright smoothie features freshly-pressed orange juice, mandarines and lemon juice, all of which are loaded with vitamin C. The recipe also calls for turmeric powder, which further intensifies the gorgeous yellow color (and health benefits) of this refreshing citrus smoothie. Click on the link below to view the complete ingredient list and instructions, as well as the beloved Tweak It! box which allows you to create a new variation of the basic recipe for every day of the week!
KITCHEN GADGET of the week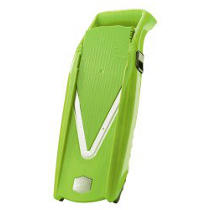 Mandolines That Both Slice and Dice Vegetables
Have you ever wondered if there's a mandolin that dices vegetables and fruit, in addition to slicing produce? Some of the new-generation mandolins, such as Swissmar Borner's V-Power V-7000 mandolin pictured on the right, do just that: with a twist of the wrist, these compact kitchen helpers turn your favorite fresh (or cooked) ingredients into perfectly-shaped cubes for salads, gratins, salsa, snacks, soups and stews! In addition to dicing and slicing vegetables and fruit, many of these multi-functional kitchen tools also create julienne strips, waffle cuts, diamond-shaped cuts, crinkle cuts and French fries. To learn more about dicing mandolins, check out this week's special feature:

Mandolins That Also Dice Vegetables
BOOK of the week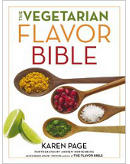 The Vegetarian Flavor Bible
Created by culinary expert and award-winning author Karen Page, The Vegetarian Flavor Bible is a real treasure trove of ideas for healthy plant-based meals. But before you get a copy of this massive 576-page book, know this: instead of showcasing a bunch of recipes, this unusual cookbook delivers ideas and inspiration by providing an A-to-Z listing of hundreds of plant-based whole foods, cross-referenced with the vegetables, herbs and spices that best enhance their flavors. To learn more about how to use this extraordinary book to sharpen your healthy cooking skills, read this fascinating interview with Karen Page.