Heal Your Body With Food!
Want a healthier and longer life free of common diseases and conditions? Your best line of defence, as well as offence, may line up in the kitchen. Making a switch to the right foods can reward you and your family with great health benefits and turn back the clock on aging. HealWithFood.org provides condition-specific nutrition guides (see the blue menu on the left) as well as general healthy eating tips to help you make that switch.
HEALTH FOOD of the week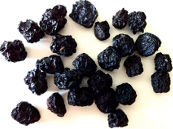 Did you know that aronia berries, also known as black chokeberries, have the highest antioxidant capacity among berries and other fruits? If you don't happen to have a gigantic fruit-bearing aronia plant in your garden, head to your local health food store and ask for dried aronia berries (or buy them online through Amazon
). You can eat aronia berries plain as a snack, but beware, these superberries have quite a tart flavor, so you may rather want to eat them in your breakfast cereal or porridge. To learn more about this antioxidant-packed superfood, check out the article Health Benefits of Aronia Berries (Chokeberries).
SMOOTHIE of the week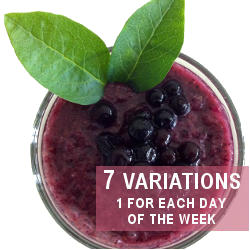 Antioxidant-Packed Blueberry and Aronia Berry Smoothie
This smoothie recipe combines aronia berry juice and fresh blueberres, both of which are famous for their extremely powerful antioxidant properties. Both blueberries and aronia berries get most of their antioxidant properties from anthocyanins, plant pigments that also give these superberries their intense color. Click on the link below to view the complete ingredient list and instructions, as well as the beloved Tweak It! box which allows you to create a new variation of the basic recipe for every day of the week!
KITCHEN GADGET of the week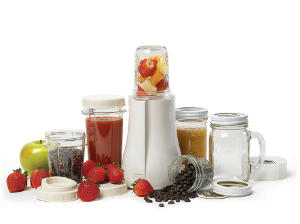 Single-Serve Blender with Naturally BPA-Free Glass Containers
Single-serve smoothie makers with portable bottles and travel cups are all the rage these days, and now you can even get one with a glass container. This, of course, is great news for those who are looking to reduce their exposure to BPA and other chemicals found in plastic kitchenware. Tribest's ingenious PB-350 blender (available through Amazon here) uses regular-mouth Mason jars and mugs, which means that not only will your smoothies be blended, served and stored in naturally BPA-free glass jars, but getting additional and replacement containers is also easy and cheap as Mason jars are available practically everywhere. To learn more, check out this week's in-depth article:

Tribest PB-350: A Single-Serve Blender with Mason Jars
BOOK of the week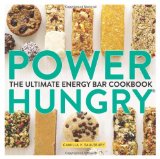 Power Hungry: The Ultimate Energy Bar Cookbook
A must-have for the DIY-inclined, this gem of a book is packed with inspiring recipes for all-natural, additive-free energy bars that are full of flavor and nutrition. Whether you're doing endurance sports, packing a lunchbox or just interested in making your own grab-and-go snacks in order to save some cash, you'll find plenty of recipes to try your hand at. From protein bars and endurance training bars to granola bars and raw bars, this fascinating recipe book covers the whole spectrum of energy bars, all featuring good-for-your ingredients such as whole grains, fruits and nuts. Available through

Amazon.com and

Amazon.co.uk.