Heal Your Body With Food!
Want a healthier and longer life free of common diseases and conditions? Your best line of defence, as well as offence, may line up in the kitchen. Making a switch to the right foods can reward you and your family with great health benefits and turn back the clock on aging. HealWithFood.org provides condition-specific nutrition guides (see the blue menu on the left) as well as general healthy eating tips to help you make that switch.
HEALTH FOOD of the week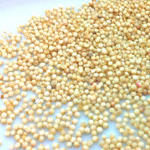 Pearl millet, also known as common millet, is a versatile grain that can be used in everything from breakfast porridges stews to flat breads and even desserts and smoothies. It is also a nutritious food packed with protein, iron, magnesium, calcium, potassium, copper, zinc and chromium and B vitamins. Furthermore, this ancient grain is inherently gluten-free and a great wheat substitute for people with gluten intolerance. To learn more about millet, see Health Benefits of Millet.
SMOOTHIE of the week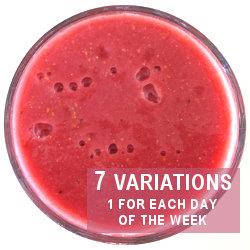 Anti-Aging Smoothie with Millet and Strawberries
The strawberries and red grape juice in this smoothie are loaded with flavonoids, which are thought to help prevent or slow down the development of age-related diseases and other signs of aging. The millet adds B vitamins, protein, and minerals to the mix, while the flaxseed boosts the fatty acid profile of this super-healthy smoothie by delivering healthy omega-3 fatty acids. Click on the link below to view the complete ingredient list and instructions, as well as the Tweak It! box which allows you to create a new variation of the basic recipe – for every day of the week!
KITCHEN GADGET of the week
Popsicle Molds Can Also Be Plastic-Free (Who Would've Guessed!)
Using popsicle molds to make own thirst-quenching ice pops is fun and easy, and if you stick to healthy, natural ingredients, homemade popsicles can be quite healthy, too. Right? Well, turns out it's not only about the ingredients you use to make popsicles – the material your popsicle molds are made of may affect your health as well. If you're looking for guaranteed non-toxic, non-plastic popsicle molds that are free of BPA and all the other nasties that may leach from plastic products, buying an ice pop mold set made of stainless steel – such as such as Onyx Containers' stainless steel molds (pictured above) – may be the way to go. To learn more, check out this week's special feature on Non-Plastic Popsicle Molds.
BOOK of the week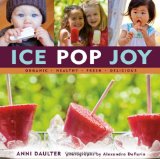 Ice Pop Joy: Organic Healthy Fresh Delicious
Professional cook and eco-mum, Anni Daulter is also author of several books on organic and healthy foods for kids. In Ice Pop Joy: Organic Healthy Fresh Delicious, she provides inspiring recipes for healthy frozen treats you can feel good about giving to your kids. Beautifully illustrated, this book covers everything from pure fruit pops, veggie pops, and yogurt pops to tofu pops, chocolate pops herbal tea pops! If you live in the US or UK, check out the offer and reader reviews here (

US residents) or here (

UK residents).