Heal Your Body With Food!
Want a healthier and longer life free of common diseases and conditions? Your best line of defence, as well as offence, may line up in the kitchen. Making a switch to the right foods can reward you and your family with great health benefits and turn back the clock on aging. HealWithFood.org provides condition-specific nutrition guides (see the blue menu on the left) as well as general healthy eating tips to help you make that switch.
SUPERFOOD of the week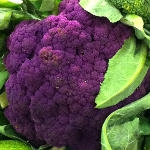 Everyone is familiar with the white cauliflower, but did you know that there are also yellow and purple cauliflower varieties? In addition to adding a splash of color to your dinner table, these unusual cauliflower varieties can also offer some interesting nutritional benefits. The purple cauliflower, for instance, contains anthocyanins, the same flavonoid pigments that are found in blueberries and many other 'superberries'. For details, check out the article Health Benefits of Cauliflower.
SMOOTHIE of the week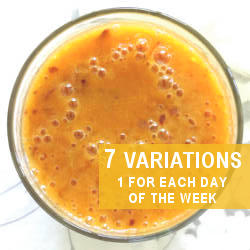 Quinoa, Banana and Guava Smoothie
You're just five minutes, a blender, and a few healthy ingredients away from a delicious, nutrient-packed smoothie. This smoothie recipe pairs quinoa with bananas and oranges to create a creamy, filling smoothie that will keep you going for hours! The guava nectar and camu-camu powder are added to the mix for an extra vitamin C kick. Click on the link below to view the complete ingredient list and instructions, as well as the beloved Tweak It! box which allows you to create a new variation of the basic recipe for every day of the week!
KITCHEN GADGET of the week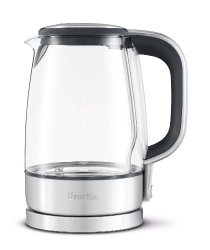 Time to Upgrade Your Kitchen with a Non-Toxic Electric Kettle?
Cooking healthy is more than just using healthy ingredients. The utensils and cookware you use for cooking and storing food can have an impact on your health as well. This week, we take a look at how the material used to manufacture electric kettles could put your family's health at risk, or conversely, provide you with a safe and healthy option for boiling water. To learn more about non-toxic electric kettles – such as Breville's Crystal Clear kettle made of durable glass (pictured on the right) – check out the article

The Search for the Best Non-Plastic Electric Kettle
BOOK of the week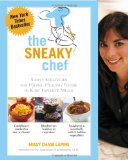 The Sneaky Chef: Simple Strategies for Hiding Healthy Foods
In The Sneaky Chef, Missy Chase Lapine, celebrity chef and former publisher of Eating Well magazine, brings you over 75 ingenious recipes that hide the most important superfoods inside kids' favorite meals. In this New York Times bestseller, you'll find nutritious, kid-friendly recipes for everything from breakfast and lunch to dinner and special treats. A must-have for parents of picky eaters, this gem of a book is available through

Amazon.com and

Amazon.co.uk.