Heal Your Body With Food!
Want a healthier and longer life free of common diseases and conditions? Your best line of defence, as well as offence, may line up in the kitchen. Making a switch to the right foods can reward you and your family with great health benefits and turn back the clock on aging. HealWithFood.org provides condition-specific nutrition guides (see the blue menu on the left) as well as general healthy eating tips to help you make that switch. So, enjoy our latest updates and features, and be sure to check back often as new tips, in-depth articles, and recipes are posted on a regular basis!
EXPAND YOUR FOOD HORIZONS
It is easy to get stuck in a food rut and eat the same foods over and over again. Yet, a balanced diet that incorporates a wide variety of nutritious foods has been consistently shown to reduce the risk of disease and promote overall health and vitality. So why not expand your food horizons and try something new this week? Here are a few ideas: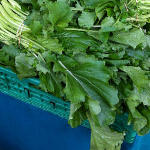 If you like Brassica vegetables such as kale and broccoli, then you definitely should also try broccoli rabe which makes a delicious side dish when steamed or sautéed. Culinary aspects aside, broccoli rabe is also loaded with nutrients like vitamin C, folate, pro-vitamin A, vitamin K, and iron. To learn all about how the nutrients in broccoli rabe can boost your health, read the article Health Benefits of Broccoli Rabe.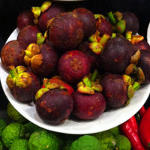 Add a tropical twist to your next fruit salad by throwing some mangosteen fruit into the mix. The mangosteen fruit is praised for its sweet yet tangy flavor which is like a cross between melon, lychee, and peach. And culinary aspects aside, this unsung superfood is said to have antioxidant, anti-bacterial, and anti-cancer properties. For details, check out the in-depth article Health Benefits of the Mangosteen Fruit.
Become a Superfood Genius!
Make introducing new foods into your diet a habit! Come back next week when we'll be introducing more nutrient-packed superfoods that have been largely overlooked.
THIS WEEK'S MULTIVITAMIN SMOOTHIE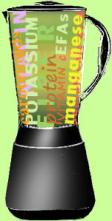 Exotic Energy Smoothie
To make 1-2 servings of this super-nutritious smoothie, simply add the following ingredients to a high-speed blender, such as a
VitaMix
or
NutriBullet
, and blend until smooth:
Pulp of 6 mangosteens
1 ounce passion fruit (juice plus seeds)
1 small banana, broken into chunks
1/2 cup pure mango juice
1 Tbsp avocado oil
5 walnuts
5 ice cubes
What Makes This a Multivitamin Smoothie?
Mangosteens
are loaded with vitamin C, folate, pro-vitamin A, glucosinolates, vitamin K, and iron Passion fruit is packed with vitamin C, carotenoids, iron, and potassium Banana is supercharged with vitamin C, vitamin B6, potassium and manganese Mango juice is a great source of carotenoids and vitamin C, plus it contains some B vitamins, copper, vitamin E, and vitamin K
Walnuts
provide a whole range of minerals, including calcium, iron, magnesium, phosphorus, zinc, copper, and manganese, plus they contain plenty of B complex vitamins
Avocado oil
provides monounsaturated fatty acids (MUFAs), vitamin E, chlorophyll, and carotenoids, plus helps promote the absorption of the fat-soluble nutrients in this multivitamin smoothie
Tweak It!
Keep it interesting by tweaking this week's multivitamin smoothie recipe to create a new culinary experience for every day of the week. Try replacing the banana in the original recipe with 4 ounces (about 110 grams) of one of the following ingredients:






HEALTHIFY YOUR KITCHEN
Complete Your Kitchen with an Automatic Yogurt Maker!

Making your own yogurt in an electronic yogurt maker is easy as pie, and it can cut your grocery bills, too. By making your own yogurt you can also avoid all those artificial ingredients and the added sugar that goes into commercial yogurt. What's more, investing in a yogurt maker that comes with glass cups will help reduce your exposure to potentially toxic chemicals that may leach out from plastic cups. To learn more about the benefits of getting an automatic yogurt maker with glass jars, check out this month's special feature
Why Get a Yogurt Maker with Glass Cups?
.
More Non-Toxic Kitchen Tools:

Non-Plastic Electric Kettles

Plastic-Free Lunchboxes

Stainless Steel Food Dehydrator

Non-Toxic Frying Pans

Stainless Steel Popsicle Molds
BOOK OF THE MONTH
Superfood Smoothies: 100 Delicious, Energizing & Nutrient-Dense Recipes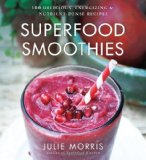 Stuck in a smoothie rut? There's no better place to look for inspiration than Julie Morris'
Superfood Smoothies
! Morris gives her vegan smoothies an extra health kick by using some of the most nutrient-dense natural ingredients on Earth. Hemp seeds, cacao nibs, maca, lucuma, açai berries, chia seeds, chlorella, bok choy, maqui berries, flaxseed, sea buckthorn, mulberries, and goji berries are a few examples of the newly rediscovered superfoods that frequently pop up in this fascinating cookbook. Available from

Amazon.com
and

Amazon.co.uk
.