HealWithFood.org's
Online Guide to Cardiovascular Health
Healing the Heart With Food: Nutrition Advice and Diet Tips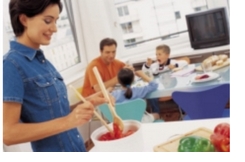 This online guide provides nutrition news, daily diet tips, food recommendations and recipe ideas for people who are interested in the natural approach to healing the heart with food and to preventing cardiovascular disease by adopting healthier eating habits. Cardiovascular disease (CVD) — which refers to any of the diseases that affect the heart and/or blood vessels (arteries and veins) — is the leading cause of death in the United States. Cardiovascular diseases include coronary heart disease (including heart attack), heart failure, cerebrovascular disease (including stroke), raised blood pressure (hypertension), peripheral artery disease, rheumatic heart disease, heart valve disease, and congenital heart disease.
Despite their prevalence, cardiovascular diseases and problems can be easily prevented. In fact, by influencing certain lifestyle factors — such as smoking and physical activity — and by following a balanced, heart-healthy diet you can greatly reduce your risk of cardiovascular disease!
HealWithFood.org has created this Online Guide to Cardiovascular Health to set you on the right path to good heart health! To make the most of this guide, bookmark this page right now and come back every week to learn the latest nutrition and diet tips for preventing cardiovascular problems!
Important notice: The information below and elsewhere on this website is not intended or implied to be a substitute for professional medical or health advice. Always seek the advice of a professional health care provider.


Are you stuck in a routine, using the same old smoothie ingredients week after week? Did you know that you can easily upgrade your cardioprotective smoothies by adding some chia seeds to the mix? Chia seeds, which are available both as whole seeds and as ground powder, are loaded with heart health promoting fiber and omega-3 fatty acids. There are also a few studies that have found chia seeds to exert cardioprotective effects.

Oats contain phytic acid, and untreated phytic acid can block the intestinal absorption of health promoting minerals. Soaking allows enzymes to break down phytic acid and thus improve the health benefits of your oatmeal. As little as eight hours of soaking will neutralize a large portion of phytic acid in rolled oats. The water should be warmer than room temperature at the start, and to maximize the effect, you should add a little bit of lemon juice to the water.

If you are a regular reader of this nutrition guide, you may already know that broccoli is one of the best foods for your heart. What you may not know, however, is that in order to maximize the vitamin C content of your broccoli dishes, you should opt for fresh broccoli instead of frozen broccoli. According to a study published in the peer-reviewed Journal of the Science of Food and Agriculture in 2000, broccoli loses about 50-55% of its vitamin C content during blanching and subsequent freezing.


Learn the health secrets of the Kitavan people who have managed to stay free of degenerative diseases such as CVD.

See Article
Health-conscious people tend to shy away from 'E numbers', but should
all
E numbers be avoided?

See Article
What are the differences between wheat allergy, celiac disease and wheat intolerance?

See Article
Learn why celebrities eat asparagus before important events.

See Article
How to grow garden cress, a powerful heart health promoting food, indoors during winter months.

See Article
How avocados can help prevent obesity, a risk factor for cardiovascular disease.

See Article
HEART-HEALTHY FOODS IN SEASON THIS MONTH
Don't forget to make the most of the heart-healthy seasonal foods May has to offer! The tables below show which heart health promoting veggies, fruits and other foods are currently in season in the selected regions. Please be aware that the tables may be incomplete and partially inaccurate for some regions due to unpredictable changes in weather conditions and other factors.

| | | | | |
| --- | --- | --- | --- | --- |
| Heart-healthy locally-grown veggies available in May include rhubarb, beets, broccoli, cauliflower, mushrooms, radishes, watercress, spinach, lettuce, cabbage, broad beans, rocket, mint, rosemary, wild garlic (bear's garlic) and parsley. | | If you live in Australia, May is the time to eat kohlrabi, avocado, broccoli, beets, fennel, mushrooms, carrots, swedes, Brussels sprouts, cauliflower, witlof, daikon radishes, garlic, leeks, celery, watercress, radishes and cabbage, all of which are packed with heart health promoting nutrients. Also many antioxidant-rich fruits and berries are at their peak this month, including kumquats, custard apples, quinces, lemons, bananas, grapefruit, oranges, persimmons, mandarines, limes and lychees. Healthy herbs in season incluce marjoram, thyme, mint, parsley, dill, chives, sage and rosemary. | | Here's a list of heart-healthy foods that are in season in the Northeast U.S. and Ontario this month: carrots, sprouts, chard, radishes, rhubarb, spinach, lettuce, thyme, mushrooms, arugula, and squash. |

| | | | | |
| --- | --- | --- | --- | --- |
| Heart-healthy veggies and other foods currently in season in this region include onions, parsnips, arugula, chard, spinach, parsley, radishes, fava beans, lettuce, beets, carrots, mushrooms, and rhubarb. | | In the Southern and Southeastern states of California, Texas, and Arizona, May brings a harvest of juicy oranges, strawberries, and grapefruits. Other heart-healthy foods currently in season in this region include beets, broccoli, cabbage, carrots, celery, chard, leeks, mushrooms, onions, parsley, basil, spinach, radishes, and tomatoes. | | In May, Florida heralds in many heart health protecting vegetables and fruits including blueberries, strawberries, collards, carrots, basil, parsley, thyme, oregano, eggplant, chard, green beans, fava beans, zucchini, Chinese cabbage, limes, oranges, grapefruits, papaya, celeriac, celery, cabbage, radishes, guava, tomatoes, leeks, lemongrass, broccoli, mushrooms, onions, and peppers. |