Recipes Featuring Anti-Flatulence Foods
If you are interested in delicious dishes that can bring natural relief from intestinal gas (flatulence), you have come to the right place! In this section you'll find a bunch of anti-flatulence recipes that feature some of the best foods for fighting intestinal gas.
Ginger and Cucumber Salad
Serves 4
Although probably best known for its cold treating powers, ginger is also well known for its ability to alleviate symptoms of gastrointestinal distress and is commonly used for eliminating intestinal gas. Ginger contains zingibain, a protein digestive enzyme, and is therefore particularly effective at preventing gas caused by protein rich foods. Also the mint in this salad has properties that help eliminate gas.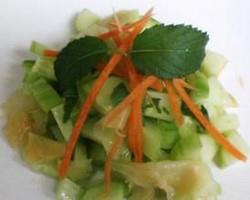 Ingredients
2 cucumbers, peeled and diced
2 tbsp rice wine vinegar
1 tsp agave nectar
1 tbsp canola oil
1/3 cup pickled ginger, drained
Chopped mint leaves, to taste
Salt to taste

Directions
In a medium bowl, combine diced cucumbers and ginger. Whisk together vinegar, agave nectar, canola oil, and mint leaves. Pour over cucumbers and ginger. Toss and season with salt. Let marinate refrigerated for 3 hours. Divide onto plates, and garnish as desired.
Green Tea and Pineapple Smoothie
2 servings
This anti-flatulence recipe pairs green tea with pineapple to create a delicious smoothie which also helps cut down flatulence due to an enzyme found in the pineapple.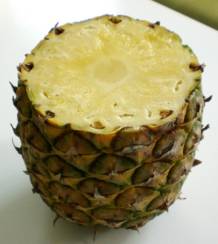 Ingredients
2 cups fresh pineapple, peeled and chopped
1 cup green tea made from loose leaves
1 Tbsp honey
1/2 inch piece fresh ginger, peeled and finely chopped
1 cup crushed ice

Directions
Combine all ingredients in a blender or food processor and process until smooth. Garnish as desired. Serve immediately.
Buckwheat Pancakes with Papaya Purée
Serves 2
Unlike most other pancake recipes, this one requires neither eggs nor dairy, two common causes of flatulence. As an added benefit, this recipe calls for papaya which a contains papain, a protein-digesting enzyme, as well as a number of other active compounds that can fight bloating and flatulence. Ingredients
1 cup buckwheat flour
1 Tbsp brown sugar
2 Tbsp potato starch
1/2 tsp salt
1 tsp baking powder
1 cup rice milk
2 Tbsp canola oil
Vegetable cooking spray, for frying
2 papayas, peeled, seeded and diced
Brown rice syrup, to serve

Directions
Combine dry ingredients in a medium bowl. Add rice milk and canola oil, and whisk until well combined. If batter seems very thick, you may want add a little extra rice milk or water. Preheat a large nonstick skillet over medium heat. Spray with vegetable cooking spray. With a ladle, pour batter to the size you prefer. Even out batter on skillet with back of a spoon. Cook pancake on medium high heat for a few minutes until bubbles appear. Flip over and continue frying until cooked (a properly cooked pancake appears dense and not sticky when cut in the middle). Repeat previous step until batter is gone. Purée diced papaya in a food processor. Ladle into a serving bowl. Serve pancakes with papaya purée and brown rice syrup.
Be sure to also check out the section How to Prevent Flatulence (Excess Gas) Naturally (home page of this anti-flatulence guide) as well as our Diet Tips for Reducing Flatulence. And finally, get familiar with the List of Foods That Reduce Flatulence (Intestinal Gas).