6 Vitamin C Rich Foods That Qualify as Superfoods
Looking for a natural way to add more vitamin C to your diet? From camu camu and acerola to baobab fruit and guava, here are six superfoods that contain many times more vitamin C than oranges:
1. Camu Camu Fruit
When it comes to the world's best natural sources of vitamin C, it's hard to beat camu camu, the fruit of a small riverside tree that grows in the Amazon rainforest in Brazil and Peru. The vitamin C content of camu-camu fruit has been found to range from about 1,882 to 2,280 milligrams per 100 grams of fresh fruit. Now, that's about 40 times the amount of vitamin C found in fresh oranges, which many people still consider a top source of vitamin C! Made from dried camu camu fruit, camu-camu powder is increasingly available in health food stores, and it makes a great addition to smoothies, baked goods, sauces, dressings, desserts, energy bars, and more.
2. Acerola Cherry
Here's another South American fruit that has been hailed as a superfood due to its extremely high vitamin C content: the acerola cherry! With a 100-gram serving of fresh acerola providing 1,357 milligrams of vitamin C, you can see why this sour red fruit is all the rage among superfood enthusiasts. To reap the health benefits of the acerola cherry, look for it in the health food stores in your area (it's usually sold in powdered form), and use it to improve the nutritional profile of smoothies, cold soups, breakfast dishes and homemade energy bars.
3. Kakadu Plum
Kakadu plum is an edible, vitamin C rich fruit produced by the
Terminalia ferdinandiana
tree, a small tree native to the tropical woodlands of Australia. Also called the Gubinge, Billygoat Plum or Murunga, this small, green fruit with a somewhat sour taste has been credited with a number of
health benefits
, many of which are thought to be linked to its extremely high vitamin C content. A nutritional analysis of the fruit reveals that a 100-gram serving of fresh kakadu plums provides a whopping
1,240 milligrams
of vitamin C, which is more than 20 times the amount of vitamin C found in oranges.
4. Sea-Buckthorn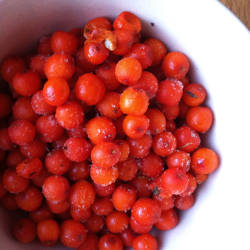 The first three superfoods on our list hail from the southern hemisphere, but there are vitamin C rich superfoods that grow in the north. Take sea-buckthorn, for example. The sea-buckthorn shrub grows wild in northern Europe, Canada and Asia, and it produces bright orange berries with a unique, tart flavor. According to studies, the vitamin C content of these tart berries is in the range 360 to 2,500 milligrams per 100 grams. Sea-buckthorn berries are also loaded with carotenoids, which can further contribute to their health benefits.
5. Baobab Fruit
If you love to do research on the world's healthiest foods, chances are you've already heard of baobab, the large fruit of the Adansonia tree which is native to Africa. The potential health benefits of the baobab fruit have been largely attributed to its vitamin C content: just 100 grams of baobab fruit pulp has been reported to contain up to 500 milligrams of vitamin C, which is nearly 10 times the amount of vitamin C found in an equivalent serving of fresh oranges.
6. Guava Fruit
The guava fruit is a tropical fruit that has a pleasant flavor reminiscent of fresh strawberries and pears. Aside from adding tropical flavor to smoothies, juice blends and fruit salads, the guava has also been hailed as a superfood. Many of the potential health benefits of the guava fruit have been attributed to its high vitamin C content (228 milligrams of vitamin C per 100 grams).
BOOK YOU MAY LIKE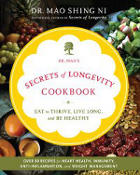 This inspiring guide and cookbook written by Dr. Mao, best-selling author and one of Hollywood's most famous doctors of Chinese Medicine, is jam-packed with
super-healthy recipes designed to increase longevity
and keep illnesses at bay. Easy-to-make, Dr. Mao's anti-aging recipes are accompanied with information about the potential health benefits of each dish, allowing you to pick the recipes that best match your health goals. This all-in-one longevity guide and cookbook is
available from Amazon here
.