HealWithFood.org's
Online Guide to Cardiovascular Health
Healing the Heart With Food: Nutrition Advice and Diet Tips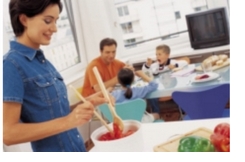 This online guide provides nutrition news, daily diet tips, food recommendations and recipe ideas for people who are interested in the natural approach to healing the heart with food and to preventing cardiovascular disease by adopting healthier eating habits. Cardiovascular disease (CVD) — which refers to any of the diseases that affect the heart and/or blood vessels (arteries and veins) — is the leading cause of death in the United States. Cardiovascular diseases include coronary heart disease (including heart attack), heart failure, cerebrovascular disease (including stroke), raised blood pressure (hypertension), peripheral artery disease, rheumatic heart disease, heart valve disease, and congenital heart disease.
Despite their prevalence, cardiovascular diseases and problems can be easily prevented. In fact, by influencing certain lifestyle factors — such as smoking and physical activity — and by following a balanced, heart-healthy diet you can greatly reduce your risk of cardiovascular disease!
HealWithFood.org has created this Online Guide to Cardiovascular Health to set you on the right path to good heart health! To make the most of this guide, bookmark this page right now and come back every week to learn the latest nutrition and diet tips for preventing cardiovascular problems!
Important notice: The information below and elsewhere on this website is not intended or implied to be a substitute for professional medical or health advice. Always seek the advice of a professional health care provider.