5 Health Benefits of Eating Dark Chocolate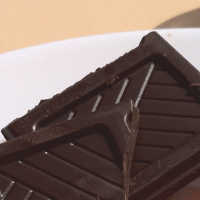 A beautifully gift-wrapped hamper box of luxury chocolates is a timeless gift and a sure-fire way to make your loved ones feel happy. It can also be a healthy gift – as long you go for dark chocolate: research shows that the eating dark variety with a high cocoa content can offer a host of health benefits, including maintaining heart and dental health, stopping persistent coughs, fighting wrinkling of the skin and battling chronic fatigue. Here's a rundown of the research.
Dark Chocolate May Offer Hearth Health Benefits
Eating dark chocolate in moderation may help improve your cardiovascular health, research suggests. A group of scientists led by Davide Grassi of the University of L'Aquila, Italy, conducted a randomized clinical trial to compare the effects of dark chocolate with those of white chocolate on blood pressure and glucose/insulin responses. The study participants, a group of 15 young adults with typical Italian diets, were randomly assigned to receive either 3.5 oz of dark chocolate – which contained about 500 milligrams polyphenols – for 15 days or 3.2 oz of white chocolate which presumably contained no polyphenols.
The researchers found that dark but not white chocolate decreased blood pressure and improved insulin sensitivity in the study participants. These findings, which were published in the March 2005 edition of the American Journal of Clinical Nutrition, echo the results of other studies carried out to evaluate the health benefits of other polyphenol-rich foods such as green tea.
Protection Against Dental Plaque
An animal study conducted at Otaka University in Japan found that parts of the cocoa bean, the main ingredient in dark chocolate, destroy mouth bacteria and protect against plaque and tooth decay. The findings of this landmark study, which was published more than a decade ago, are supported by a number of other studies carried out in recent years. One such a study reported that a mouth-rinse made from the ground husk of cocoa beans was effective at reducing plaque in children. Cocoa seems to attack plaque by inhibiting the enzyme dextransucrase which plays a key role in the formation of dental plaque.
A Natural Cough Remedy
In 2004, Professor Peter Barnes and colleagues from Imperial College London and Royal Brompton Hospital carried out a study which showed that cocoa was more effective at fighting persistent coughs than a leading cough medicine. The ten volunteers enrolled in this UK-based study were divided into three groups. The first group was given tablets containing theobromine, a derivative of cocoa; the second group received the traditional cough suppressant codeine; and the third group were given a placebo. The participants were then asked to inhale a gas containing capsaicin – a constituent of chili peppers – which is known to trigger coughing. Those who consumed theobromine needed about a third more capsaicin to induce coughing than those who were given codeine. What's more, the cocoa derivative appears to have fewer side effects than conventional cough medicines.
Dark Chocolate – An Extraordinary Source of Minerals
If you're still not impressed by the health benefits of dark chocolate and cocoa, consider this: eating dark chocolate can also supply your body with a whole range of minerals including iron, magnesium, zinc, selenium, copper, phosphorus, potassium, and manganese. Minerals act both individually and synergistically to perform hundreds of tasks in the human body. They help ensure, for example, that your nerves, bones, arteries, hair, nails, skin and immune system remain strong and healthy.
Shopping Tip
Stock your pantry with 85 percent dark chocolate made with organic, Fairtrade-certified ingredients! Seasoned with organic vanilla that naturally softens it bitterness, Green & Black's beloved 85% dark chocolate is available on

Amazon.com
and

Amazon.co.uk
.
Anti-Wrinkle Food par Excellence
A German study of 24 women aged 18 to 65 years revealed that women who received chocolate flavonoids had 15 percent less skin reddening from exposure to UV light after 6 weeks and 25 percent less after 12 weeks. It is well known that skin reddening caused by ultraviolet light can lead to pre-mature aging and wrinkling of the skin. In addition, the skin of the cocoa eaters was found to be smoother and moister than that of the women in the control group. The study was conducted by Wilhelm Stahl and colleagues at Heinrich-Heine University in Dusseldorf, Germany, and it appeared in the June 2006 issue of Journal of Nutrition.
Fatigue Fighter
A placebo-controlled pilot study conducted by a group of researchers led by Professor Stephen Atkin of Hull York Medical School found that the study participants were less fatigued after eating extra-dark chocolate (85 percent cocoa) daily for eight weeks, but began feeling fatigued again when they were switched to the placebo chocolate. Impaired sleep is common among people with chronic fatigue syndrome, and one possible explanation for the study findings is that dark chocolate may have been able to improve sleep in the study participants due to its ability to increase brain levels of serotonin, a neurotransmitter that regulates sleep and mood.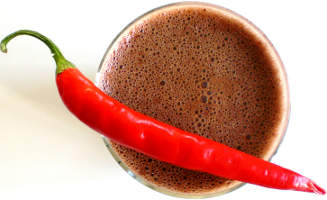 Recipe: Hot Chocolate Drink to Spice Up Your Life
To reap the health benefits of dark chocolate, try out this scrumptious yet nutritious hot chocolate recipe which features chili pepper for an added kick. To maximize the health benefits of cocoa, this hot chocolate recipe calls for soy milk instead of cow's milk as there is evidence that dairy negates some of the beneficial effects of cocoa. This recipe serves 2.
Ingredients:
1 ⅔ cups soy milk (or almond milk)
2 tsp cane sugar
½ vanilla bean, split lengthwise
1 small red chili pepper, split lengthwise with seeds removed
1 cinnamon stick
1 ½ oz dark chocolate, grated
Directions: In a small saucepan, heat non-dairy milk with sugar, vanilla bean, cinnamon and chili until steaming. Heat for about a minute but do not boil. Whisk in grated chocolate and continue to simmer until chocolate is melted. Remove from heat and let sit for about 5 minutes. Remove the vanilla bean and the chilli pepper. Serve hot.
Don't Miss This

Nut & Almond Milk Machines - Comparison of the Best Models
Why you should get an automatic nut milk maker, plus tips on how to pick the best model for your family.
More to Explore
Book You May Like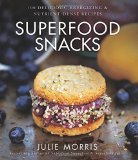 Who says snacks and desserts have to be unhealthy? In
Superfood Snacks
, recipe developer and New York Times best-selling author Julie Morris shares
100 creative recipes that transform "guilty" pleasures into healthlicious snacks
that are loaded with nutrients. Julie's inspiring recipes feature health food staples like bananas, quinoa and oats, as well as exotic superfoods like chia seeds, acai berries, goji berries, maqui beries, hemp seeds, camu camu, and more. Jam-packed with stunning photography to whet your appetite, this 200-plus page collection of healthy treats is
available here through Amazon
.