Should You Buy a NutriBullet? The Pros and Cons

Buying a NutriBullet blender is not nearly as big an investment as buying a large Vitamix machine; yet, you want to make sure spending that hard-earned money on this new trendy "superfood nutrition extractor" is really worth it. And for those who are not familiar with the NutriBullet system, the term "superfood nutrition extractor" was coined by the company manufacturing this blender to highlight the powerful food-pulverizing and food-liquefying properties of the NutriBullet.
So, let's get down to business and look at the various pros and cons of buying a NutriBullet:
The Pros
NutriBullet breaks down ingredients into their finest – and most nutritious – state
There are plenty of blenders on the market, and most of them will do a good job of mixing ingredients. However, there are huge differences in how thoroughly blenders break down ingredients. Those designed to break through even the smallest and hardest ingredients will turn out the smoothest smoothies. These blenders also help unlock vitamins, minerals, and essential fatty acids (such as omega-3s) that have been trapped within the cell walls of vegetables, fruits, nuts, and seeds.
Vitamix, one of the most established blender brands out there, has become famous for its high-powered motor and laser-cut blades that can turn even the most fibrous ingredients into a healthy concoction with an exceptionally smooth, velvety texture. While NutriBullet's 600-watt motor is small compared to the motors of most Vitamix blenders, it can provide serious competition to the Vitamix blenders when it comes to creating the smoothest smoothies. The NutriBullet system features patented extractor blades which, together with a motor equipped with cyclonic action, are enough to turn even heartier vegetables and ice into smooth drinks full of fiber and vitamins.
It takes up very little space
One of the best things about the NutriBullet is that it's much smaller than most other blenders of equal capacity. You can easily leave this compact machine on your kitchen counter and hardly notice it, or store it in the corner of your cabinet. Of course, the small size of the NutriBullet can also be a downside if you're planning to throw a big party – or if you have a big family to feed.
The cups and lids are dishwasher-safe
Unlike the Vitamix, the NutriBullet is not self-cleaning. Nevertheless, the NutriBullet is very easy to clean. The cups and lids that come with the blender are dishwasher safe and can be washed on the top rack of any normal dishwasher. You can of course also hand-wash them with warm soapy water. Note, though, that the blades are not dishwasher safe and should only be hand-washed.
The NutriBullet is surprisingly versatile
Considering its rather small size, the NutriBullet is remarkably versatile. Along with NutriBlasts (that's what the NutriBullet folks call their smoothies), this little workhorse also makes delicious soups, dressings, desserts, ice creams, dips, and sauces. The NutriBullet also comes with a milling blade that can turn rice into rice flour, nuts into nut butter, and wheat berries into super-fresh wheat flour. Now, before you get all excited about using the NutriBullet for all these wonderful purposes, keep in mind that even the largest cup has a maximum capacity of only 24 ounces.
There are plenty of NutriBullet recipes
The NutriBullet is becoming one of the trendiest and most-coveted kitchen gadgets in America, and you will find plenty of special NutriBullet recipes online. The standard NutriBullet package that you can buy at stores or order online also includes a user guide and recipe book packed with delicious and super-nutritious recipes designed to turn back the clock on aging.
Of course, you don't have to stick to smoothie recipes that have been designed specifically for NutriBullet owners. You can use practically any smoothie recipe you like, including the healing smoothie recipes you find on HealWithFood.org (you'll find links to these at the bottom of this page).
The NutriBullet is very affordable
One of the perhaps most compelling advantages of buying a NutriBullet is its reasonable price. It is very cheap compared to the blenders offered by its competitor, Vitamix. Yet, it is powerful enough to turn out exceptionally smooth smoothies.
The Cons
The cups are BPA-free (a plus) – but not plastic-free (a minus)
The NutriBullet cups are BPA-free, which is clearly a plus. They are also free of phthalates, another group of harmful chemicals that may disrupt the normal workings of your endocrine (hormone) system. On the downside, the cups are still plastic.
If you're worried about all those chemicals that could possibly leach into your smoothie, make sure you never put hot food into the plastic cups and never store your smoothies in them. Or, alternatively, consider buying another blender that has a glass pitcher (in the US, KitchenAid has a Classic 3-Speed Blender with a Glass Jar
and Oster sells a 2-Speed Blender with a Glass Jar
. If you live in the UK, check out Magimix' Blender with a Glass Jar and UK Plug
).
The warranty doesn't beat that of Vitamix
If you're looking to buy a smoothie maker that will create exceptionally velvety smoothies, the chances are you're on the edge between buying the expensive Vitamix or the more affordable NutriBullet. One thing to consider before buying either one – or any blender for that matter – is the length of the warranty. The Vita-Mix Corporation offers exceptionally generous standard warranties on its blenders – up to 7 years, depending on the model. In comparison to this, the NutriBullet's standard one-year warranty doesn't seem very compelling.
Where to Buy a NutriBullet System?
The NutriBullet is sold in stores and online. If you like the convenience of online shopping, check out the current price of the NutriBullet system on Amazon: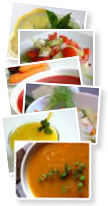 Where to Find NutriBlast/Smoothie Recipes for NutriBullet?
You can use practically any smoothie recipe you like with your NutriBullet. If you're looking for recipes for functional smoothies (and other nutritious drinks) designed to address some of the most common health problems, check out some of the most popular smoothie/drink recipe pages on HealWithFood.org: