NutriBullet Smoothie Recipe Featuring Pomegranate Seeds
1-2 Servings
If you own a NutriBullet or another high-speed blender specifically designed to break through small and hard ingredients such as seeds, here's a recipe for a velvety pomegranate smoothie you don't want to miss. This recipe combines juicy mandarin oranges, sweet bananas, and refreshing pomegranate seeds to create a mouthwatering smoothie that is jam-packed with flavonoids and nutrients like ellagic acid and ellagitannins, vitamin C, fiber, potassium, vitamin B6, folate, vitanin K, and copper. And the best thing is, this healthy smoothie tastes like candy – really!
The NutriBullet will do a good job at pulverizing pomegranate seeds, thereby making the nutrients that are responsible for the extraordinary health benefits of pomegranate seeds more bioavailable to your body's cells. However, even after through blending, you may find a few hard pieces in this smoothie. If the hard pieces disturb you, you can always strain the smoothie to get rid of them.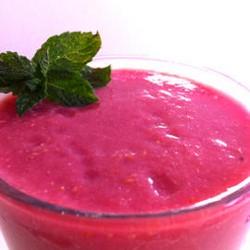 Ingredients
1 pomegranate
1 mandarin orange
1 small banana
1/4 cup unsweetened hibiscus tea, cooled
5 ice cubes
Directions
Peel the banana and cut it into big chunks. Peel the mandarin orange and separate the sections.
Cut the pomegranate into quarters and then submerge the quarters in a large bowl filled with cold water. Using your fingers, extract the seeds from the white pith and rind. As the flesh-covered seeds are heavier than the pith and rind, they will sink to the bottom of the bowl.
Discard the pith and rind, drain the water, and gently blot dry the pomegranate seeds with a clean paper towel.
Next, place the pomegranate seeds, banana chunks, and orange wedges into the NutriBullet or VitaMix (or whatever high-speed blender you're using)
Add the cold hibiscus tea and the ice cubes, and blend until smooth. Serve immediately.
Having trouble finding the NutriBullet blender in the stores in your area? See Where Can You Get a NutriBullet Blender in the UK or US.
Book You May Like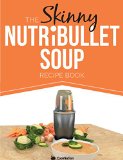 Did you know that you can do a lot more with your NutriBullet than just create healthy smoothies? In
The Skinny NutriBullet Soup Recipe Book
, for example, you will find tons of recipes for tasty, low-calorie soups and pasta sources you can create in minutes using your NutriBullet. All recipes fall below 100, 200, 300 or 400 calories, making it easy for you to control your daily calorie intake. To learn more, or to order a copy, head to

Amazon.com
or

Amazon.co.uk
.
Sponsored Links / Ads