Non-Plastic Straws: Healthy Alternatives to Regular Drinking Straws
With the growing concerns about the harmful effects of plastic on both the environment and our health, plastic-free alternatives to common products normally made of plastic are popping up in stores. One of the most intriguing examples are the non-plastic alternatives to regular disposable drinking straws. Made of stainless steel, glass or all-natural bamboo, reusable alternatives to regular drinking straws are both eco-friendly and healthy as they are naturally free of potentially toxic chemicals such as BPA (bisphenol A) and phthalates.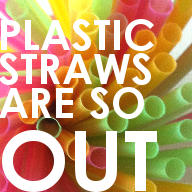 Still somewhat of a novelty item, eco-friendly non-plastic straws may not be available in your local department store (yet). If you cannot find them in regular shops, turn to the Internet. Today, many eco-friendly online stores stock environmentally-friendly, healthy alternatives to plastic straws, making it possible for anyone to order a non-plastic straw set with just a few clicks.
For those who're ready to give single-use plastic straws the old heave-ho and buy something sustainable and non-toxic instead, here are some good options to consider:
Glass Straws – Pure Elegance
Glass Dharma's clear, bent glass straws catch and gleam light, adding elegance to any dinner table or home bar. Handmade in the USA, these environmentally-friendly straws are both heat and cold resistant, and they are dishwasher safe, too.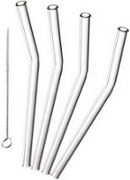 These stylish straws are made of borosilicate glass, one of the strongest common glass types available on the market. If you have Pyrex measuring cups or containers at home, you've been using borosilicate glass products, as products sold under the Pyrex brand having been made using this extra-durable glass. If you're on the edge of buying these glass straws but worry you might break then, take heart: Glass Dharma's bent glass straws come with a lifetime guarantee against breakage from the manufacturer.
Click here to find Glass Dharma's exclusive hand-made straws on Amazon.
Stainless Steel Straws – Unbeatable Durability
RSVP International Inc.'s Endurance straws are made of stainless steel, another wonderful BPA-free and non-toxic alternative to plastic. Like Dharma's glass straws, these stainless steel straws feature the classic curved design, making it easy for your lips to reach the straw.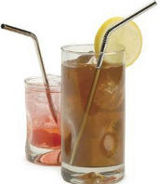 Of all the alternatives to plastic straws reviewed in this article, stainless steel straws are the most durable and the least fragile, and therefore perhaps the safest option if you have lots of small kids in your household. And with eight straws included in this set, it will even serve a bigger family – or a bunch of guests – big or small.
The only downside to stainless steel straws is that it's hard to tell whether they're fully clean. To reduce the risk of dirt build-up inside the straws, wash them immediately after use. You can use either hand-wash them using a long, thin brush, or wash them in the dishwasher.

Can't wait to start using stainless steel straws?
Click here
to buy RSVP International Inc.'s Endurance straws from Amazon.com.

Do you rather shop in the UK? Amazon.co.uk sells RSVP's Endurance straws in sets of four (you can find them via
this link
.
Bamboo Straws – The Ultimate Eco-Statement
Planning on throwing a tropical-themed party? Serve the drinks with reusable bamboo straws and your guests will be impressed. Rain Forest Alliance's lightweight bamboo straws are crafted from genuine, all-natural Costa Rican bamboo, and each straw is unique like the guests at your party.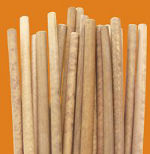 On the downside, bamboo straws are porous and are therefore not as long-lasting as glass and stainless steel straws. However, if you take good care of them and always rinse them immediately after use, they can last quite a while. And, once they've seen their best days, you can toss them into the compost bin as these 100% natural straws are biodegradable.
Ready to add a bamboo twist to your drinks? Click here to order Rain Forest Alliance's reusable bamboo straws from Amazon.com.