Acai Berry Powder – An Antioxidant Superfood with Many Benefits
Meet the acai berry – an antioxidant-rich berry that is marketed heavily in the US and UK as a superfood! Sold in the form of freeze-dried powder, unsweetened fruit puree, capsules, and juice, this purple South American berry native to the rainforests of Brazil has become famous for its exceptionally strong antioxidant properties, but preliminary research suggests that this trendy superberry may also have other health benefits.
If you haven't yet been convinced that you should get a bag of organic acai berry powder or juice next time you visit your favorite health food store, continue reading. In this article, we take an in-depth look into recent research investigating the potential health benefits of acai berry and its main constituents, plus provide tips on where you can buy acai berry products in case you cannot find them in the health food stores in your area.
Health Benefits of Acai Berry – Overview of the Research
1. An Antioxidant Powerhouse Fruit
Commonly known as acai berry or palmberry in the US and UK, the fruit of the acai palm (Euterpe oleracea) has been shown to possess exceptionally strong antioxidant properties. A study published in 2011 found that pure acai powder had even more in vitro antioxidant activity, measured in ORAC units, than antioxidant-rich fruit powders made from cranberries and pomegranate.
Antioxidant-rich foods help protect us from the harmful effects of free radicals, unstable molecules that are generated by things like cigarette smoke and pollution. As you may already know, free radicals can cause DNA damage that can lead to age-related diseases and other health problems.
In another study, lyophilized or freeze-dried acai berry was found have more antioxidant capacity than freeze-dried cape gooseberry, papaya and noni fruit, and nearly as much as antioxidant power as maqui berry, another South American superfood. This study, published in the March 2014 edition of the Journal of Functional Foods, used several assays to investigate the antioxidant power of the lyophilized berries/fruits, including DPPH radical, ORAC and FRAP assays.
The strong antioxidant properties of acai berry have been largely attributed to anthocyanins and other flavonoids abundant in this Amazonian superberry.
Tip: A great way to reap the antioxidant benefits of acai berry powder is to use it in fruit smoothies. If you need inspiration, check out our recipe for a superfood smoothie featuring tart cherry juice, banana, blueberries and acai powder.
2. Cardioprotective and Anti-Diabetic Properties
Overweight and obese people, especially those with excess belly fat, have an increased risk for metabolic syndrome, a condition that is characterized by dysfunctions in lipid and glucose metabolism. People with metabolic syndrome have an increased risk of developing cardiovascular disease and type-2 diabetes.
Preliminary studies suggest that antioxidants may assist in the normalization of the metabolic pathways involved in this syndrome. As acai berries have been shown to contain exceptionally high levels of antioxidants, researchers have also begin to show interest in the potential benefits of acai berries for people with metabolic syndrome.
In an uncontrolled pilot study published in 2011, a group of researchers from California found that consumption of acai pulp reduced levels of a number of markers of metabolic disease, including fasting glucose and insulin levels, total cholesterol, and LDL cholesterol. This open label study involved 10 overweight adults who took acai pulp twice a day for one month.
In another study, published in the June 2011 edition of the journal Atherosclerosis, freeze-dried acai juice powder was found to fight atherosclerosis in mice through antioxidant and anti-inflammatory activities. Atherosclerosis is a potentially serious condition that occurs when fat, cholesterol, and other substances build up in the walls of arteries. Over time, these hard structures, known as plaques, can block the arteries and cause serious cardiovascular complications, such as stroke and heart attack.
3. Anthocyanin-Rich Superfoods, Such as Acai, Are Good for Your Eyes
You may have already heard that wild blueberries are good for your eyes thanks to their high content of anthocyanins. But also other anthocyanin-rich superfoods, such as acai berries, may help improve your eye health.
Studies suggest that anthocyanins can benefit vision in a number of ways, including by improving night vision, boosting circulation within the capillaries of the retina, reducing the risk of retinopathy in diabetics, and providing protection against macular degeneration.
4. Acai is Widely Marketed as an Anti-Aging Food
Due to its high content of antioxidants, acai is widely promoted as an anti-aging food. However, high levels of antioxidants do not necessarily lead to an increased life span. To investigate whether acai supplementation promotes longevity in a living organism, a group of researchers gave acai pulp to female fruit flies on a high fat diet.
The scientists found that acai supplementation at 2% resulted in a significant increase in the fruit flies' life span, compared with the life span of the flies fed a non-supplemented control diet. This study appeared in the March 2010 issue of the journal Experimental Gerontology.
But don't get too excited just yet. Another study, published in the July 2012 edition of Experimental Gerontology, found that supplementation with freeze-dried acai pulp promoted longevity in fruit flies on high-fat and high-sugar diets, but not in flies on other types of diets.
These results underline the intricate interplay among macronutrients and supplements, and underscore the importance of extensive experimentation before drawing broad conclusions about the health benefits of any food, including acai berries.
5. Anti-Cancer Activities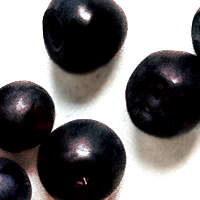 A study published in the January 2010 issue of the journal Food Chemistry found that an anthocyanin-rich acai berry extract with an ORAC value of 2589 μmol Trolox equivalents (TE)/g dried powder, indicative of exceptionally high antioxidant potential, had anti-cancer activity against certain types of brain tumor cells that may grow in rats' brains.
In this study, the acai extract did not show anti-cancer activity against the tested human breast cancer cells, however.
To compare acai with other anthocyanin-rich extracts, a number of berry extracts – including strawberry, raspberry, blueberry, blackberry and goji berry – were also assessed for potential anti-cancer activity against the brain tumor cells.
Interestingly, none of the other berry extracts showed antiproliferative effects at the concentrations used in this study, suggesting that the antiproliferative effects of acai against the tested brain tumor cell line are unlikely to be linked to the anthocyanins found in common berries.
Where to Get Organic Acai Berry Powder, Juice and Puree?
If you live in the US or UK, you will likely have trouble finding fresh and frozen acai berries in the stores. But don't worry, you can today find many other products made from acai berries in health food stores and online shops. The online retailer Amazon, for example, sells everything from freeze-dried, organic acai berry powder to acai berry juice, puree and capsules here (

for US customers) and here (

for UK customers).
Don't Miss This

7 Health Benefits of Eating Chia Seeds
Health gurus are touting the nutritional benefits of chia seeds – and rightfully so.
More to Explore
Book You May Like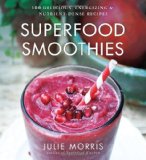 Stuck in a smoothie rut? There's no better place to look for inspiration than Julie Morris'
Superfood Smoothies
! Morris gives her vegan smoothies an extra health kick by using some of the most nutrient-dense natural ingredients on Earth. Hemp seeds, cacao nibs, maca, lucuma, açai berries, chia seeds, chlorella, and goji berries are a few examples of the newly rediscovered superfoods that frequently pop up in this fascinating cookbook.
Available here from Amazon
.