10 Healthy Ways to Use Up Leftover Carrots
Not only are carrots healthy, they are also a versatile ingredient that can be used to add flavor and nutrients to everything from smoothies and fruit salads to sandwiches and soups. If you have some leftover carrots in your fridge and no idea how to use them up, here are a few ideas on what you can do with these crunchy goodies: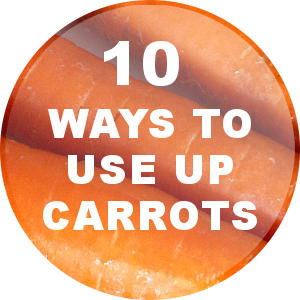 1. Whip Up a Smoothie
Carrots may not be the most obvious smoothie ingredient, but they are actually a wonderful low-calorie addition to fruit smoothies. Just be sure to chop them before adding them to the blender, even if you are using a Vitamix or another high-powered blender.
2. Carrot Juice, Anyone?
Juicing is one of the best ways to use up a lot of carrots fast, and there's nothing like the summery flavor of freshly-made carrot juice! For extra zing, add a slice of fresh ginger to the juicer. Of course, if you decide to reach for the juicer rather than the blender, you'll miss out on the benefits of fiber, a macronutrient that is crucial for a healthy digestive system.
3. Fresh Carrot Sticks Make a Healthy Snack
Many people eat unhealthy snacks simply because they are less work, but you don't have to fall for that trap! Spend a few minutes in the morning scrubbing and cutting a bunch of fresh carrots into bite-sized carrot sticks, and store the sticks in the fridge. Then, when you feel like having a crunchy snack later in the day, reach for the carrot sticks that you prepared in the morning.
4. Julienned Carrots Are Perfect for Both Mixed Salads and Fruit Salads
Thanks to their vibrant orange color and refreshing flavor, carrots are commonly used to improve the appearance and flavor profile of mixed salads. But did you know that fresh carrots are also great in fruit salads? The key is to grate or julienne them finely, so that their flavor and texture don't appear too dominant.
5. Serve Steamed Carrots as a Side Dish
Steaming carrots and serving them as a side dish is a great way to use up leftover carrots, especially if you have a big family to feed. Steamed carrots are delicious coated with a drizzle of olive and chopped fresh herbs, but they also be turned into mashed carrots, a great alternative to mashed potatoes!
6. Consider Dehydrating Extra Carrots
If you have a food dehydrator at home, you might also want to dry some of those extra carrots for later use in soups, stews and pasta sauces. Dehydrated carrots also take up very little space, which makes them very easy to store.
7. Use Them as a Sandwich Filling
Cucumber, iceberg lettuce and tomatoes may be the most common vegetables used in sandwiches, but shredded carrots are just as tasty. Plus, they are much more nutrient-dense than cucumbers and iceberg lettuce, for example. To make a carrot sandwich, simply replace some or all of the vegetables you would normally use as a filling with shredded or julienned carrots.
8. Make Carrot Soup
There are tons of carrot soup recipes out there, but if you are looking for something simple yet tasty, here's one to try your hand at:
Ingredients (for 4 Servings)
1 tablespoon extra-virgin olive oil
1 red onion, chopped
10 carrots
4 cups low-sodium vegetable broth
1 tablespoon grated ginger
Salt, to taste
Pepper, to taste
Fresh herbs, for garnish
Cooking Instructions
Heat the oil in a large saucepan over medium-high heat, add the chopped onion, then fry until softened but not browned, about 5 to 6 minutes.
Add the carrots, broth and ginger, bring to a boil, then reduce the heat. Cover and cook until the carrots are tender, about 20 minutes. Let cool for 5 minutes.
Using a hand blender, purée the mixture until smooth, and season with salt and pepper
Pour the soup into bowls and garnish with fresh herbs
9. Grill 'em!
Grilling is one of the most flavorful ways to prepare meat, plus grilled meat may offer weight loss benefits for some people as it typically contains less fat than meat cooked on a frying pan. But meat is hardly the only food to throw on the grill! Many vegetables, including carrots, can be turned into mouthwatering side dishes by cooking them on the grill. And, if you think plain carrots cooked on the grill are too boring, try tossing them in a mixture of olive oil and honey, seasoned with a pinch of salt and ground pepper, before throwing them on the grill.
10. Freeze the Remaining Carrots
If you've still got leftover carrots and don't know what to do with them, cut them into pieces and freeze for later use in soups, stews and stir-fries. But keep in mind, carrots, like most other vegetables, need to be blanched in boiling water for a few minutes before freezing. Blanching helps destroy enzymes that would otherwise cause the frozen vegetables to lose their nutrients, color and flavor.
Don't Miss This

6 Health Benefits of Eating Dark Chocolate (in Moderation)
Chocolate can actually be good for you, provided you go for the dark kind.
More to Explore
Sponsored Links / Ads