Sea-Buckthorn Oil and its Benefits for Your Skin, Heart and Overall Health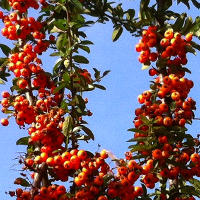 Sea buckthorn oil, also known as seaberry oil, can be extracted both from the seeds and the pulp of the fruits produced by the Hippophae rhamnoides plant. This specialty oil has been credited with a range of health benefits, many of which are linked to its skin-protecting properties. In this article, we first provide an overview of the potential benefits of seaberry oil for the skin and then look at some other reasons why this golden oil is so good for you.
If you landed on this page because you want to buy organic sea buckthorn oil in the UK or the US, check out the last section of this article for tips on where to get this extraordinary oil.
Why Sea-Buckthorn Oil Is Good for the Skin
Natural Sun Protection
Oil derived from the pulp of sea-buckthorn berries has been reported to contain significant amounts of carotenoids, plant pigments that give many red, orange, and yellow fruits, berries, and vegetables their vivid colors. A high intake of carotenoids from foods has also been associated with a number of health benefits, including a reduced the risk of sunburn and skin cancer. Carotenoids' beneficial effects on the skin have been shown to be particularly strong when carotenoid-rich foods are eaten in combination with foods that are rich in vitamin E. Coincidentally, sea buckthorn oil, whether made from the seeds or the pulp of the Hippophae rhamnoides fruit, is supercharged with vitamin E.
Sea Buckthorn Oil Helps Heal Wounds
Producers and suppliers of sea-buckthorn often claim that this golden oil is a good natural remedy for wounds, and research seems to bear this out. A 2009 study published in the journal Food and Chemical Toxicology reported that topical application of sea-buckthorn seed oil enhanced the healing process of burn wounds in rats. Another study, published in the October 2006 edition of the journal Molecular and Cellular Biochemistry, examined the effects of sea buckthorn flavones and discovered that a propylene glycol ointment containing sea-buckthorn flavones was more effective at healing wounds on rat skin than a propylene glycol ointment that did not contain these flavones.
Eczema Relief
A placebo-controlled, double-blind study published in the Journal of Nutritional Biochemistry found that oral ingestion of supplements that contained sea-buckthorn pulp oil resulted in a significant decrease in symptoms in eczema patients during the four week trial period. Capsules that contained sea buckthorn seed oil, instead of the pulp oil, did not have the same beneficial effects, however. For more on this, check out the in-depth article Acne and Eczema Relief from Sea Buckthorn Berries.
Other Beneficial Properties
Cardiovascular Benefits
A preliminary cross-over study, conducted to investigate the effects of sea buckthorn berry oil on some risk factors of cardiovascular disease, found that sea buckthorn oil had beneficial effects on blood clotting in healthy men. Another study found that mice with high cholesterol levels reaped numerous benefits when flavonoid extracts from sea-buckthorn seeds were added to their high-fat diets. The gnawers experienced, for example, significant weight loss, reduced total cholesterol and LDL-cholesterol levels, and lowered triglyceride concentrations in the liver. The treatment with sea buckthorn oil was also associated with improved glucose tolerance.
Preventive and Healing Effects on Ulcers
A study published in the December 2002 issue of the journal Fitoterapia found that oral administration of sea-buckthorn seed and pulp oils significantly hindered the formation of gastric ulcers in rats. The researchers also discovered that not only did sea-buckthorn have preventive effects against gastric ulcers in rats, but it also seemed to speed up the healing process of existing ulcers.
Detoxifying Properties
A 2013 study published in the journal Poultry Science found that sea-buckthorn oil prevented liver damage in chickens by reducing the concentration of aflatoxins in the liver as well as by negating some of the adverse effects of aflatoxins. Aflatoxins are toxins that found in grains and nuts contaminated by fungi that produce aflatoxins. In humans, a high exposure to aflatoxins has been associated with a number of severe diseases and conditions, including acute hepatic necrosis, cirrhosis, digestive problems, and carcinoma of the liver.
Where to Get Sea-Buckthorn (Seaberry) Oil
Can't wait to start using sea buckthorn to reap its wonderful health and beauty benefits? Then head to a store that specializes in natural skin care products and/or health foods, and look for products that include any of the following names on the label: Hippophae rhamnoides, sea buckthorn, seaberries, sandthorn, sallowthorn, or Hippophae tibetana (that's the scientific name for the Tibetan sea buckthorn which grows wild in the Himalayas).
If you can't find sea buckthorn products in the stores in your area, you can always buy seaberry products from Amazon.com or Amazon.co.uk. And, by purchasing through the Amazon links below you can help keep HealWithFood.org up and running as Amazon will give HealWithFood.org a small commission for any purchases made through these links.
Organic sea buckthorn seed oil for the skin
by
Sibu Beauty
. This skin care product, designed for all skin types, is quickly absorbed, and according to the supplier, it can help fight acne, rosacea, eczema, wrinkles, age spots, wounds, and burns.

Order it here
if you live in the US

Order it here
if you live in the UK
Pure, unfiltered, undiluted wild sea buckthorn berry juice
which contains the whole seaberry, including its freshly pressed juice, meat and natural oils. Use this concentrated juice to add a real antioxidant kick to smoothies, salad dressings, yogurt, etc.

Order it here
if you live in the US

Order it here
if you live in the UK
References
1. N. K. Upadhyay et al (2009). Safety and healing efficacy of Sea buckthorn (Hippophae rhamnoides L.) seed oil on burn wounds in rats. Food and Chemical Toxicology, Volume 47, Issue 6, Pages 1146-1153.
2. A. Gupta (2006). Influence of sea buckthorn (Hippophae rhamnoides L.) flavone on dermal wound healing in rats. Molecular and Cellular Biochemistry, Volume 290, Issue 1-2, pp 193-198.
3. B. Yang et al (1999). Effects of dietary supplementation with sea buckthorn (Hippophae rhamnoides) seed and pulp oils on atopic dermatitis. J Nutr Biochem. 10(11), 622-30.
4. A. K. Johansson et al (2000). Sea buckthorn berry oil inhibits platelet aggregation. The Journal of Nutritional Biochemistry, Volume 11, Issue 10, Pages 491-495.
5. J. Wang et al (2011). Hypolipidaemic and hypoglycaemic effects of total flavonoids from seed residues of Hippophae rhamnoides L. in mice fed a high-fat diet. Journal of the Science of Food and Agriculture, Volume 91, Issue 8, pages 1446-1451.
6. J. Xing (2002). Effects of sea buckthorn (Hippophae rhamnoides L.) seed and pulp oils on experimental models of gastric ulcer in rats. Fitoterapia, Volume 73, Issues 7-8, Pages 644-650.
7. C. Solcan et al (2013). The hepatoprotective effect of sea buckthorn (Hippophae rhamnoides) berries on induced aflatoxin B1 poisoning in chickens. Poultry Science. vol. 92, no. 4, 966-974.
Sponsored Links / Ads
Don't Miss This

Vitamin C in Kiwi Fruit (& How to Reap the Benefits)
Learn all about the vitamin C content of kiwi fruit and how to make the most out of it.
More to Explore