Is Vitamix Really Worth its Price?
Vitamix is getting rave reviews, with celebrities and home chefs alike swearing by this high-powered multi-purpose blender. Now, there's one big downside to this much-coveted blender: its high price. In this article, we take a look at the most common pros and cons of the Vitamix blenders to help you decide whether an investment in a Vitamix is really worth the money.
The Pros
It breaks through tough seeds, stems, and skin
Some of the lower priced smoothie makers and blenders on the market have trouble turning out smoothies with a smooth, silky consistency. If you've ever bought one of those cheap blenders, you may have experienced the disappointment that comes when your smoothie turns out to be a chunky fruit mixture that you end up picking out of your teeth.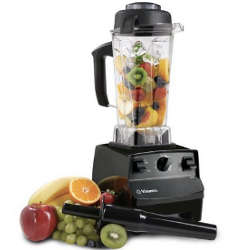 A self-cleaning Vitamix, available through Amazon
If you've got a Vitamix, you can throw in whole kale, stem and all, add some ice cubes, and this workhorse machine will deliver exceptionally smooth results thanks to its high-powered motor, effective blades, precision-designed pitcher, and the tamper tool you can use to push ice and bigger chunks of food down onto the blades.
If you don't mind your green smoothie having a few kale stems and whole sunflower seeds sticking out of it, you might still want to have your smoothie ingredients seriously pulverized. A blender that's designed to pulverize plants and nuts can unlock health-protecting nutrients trapped within the cell walls of vegetables, fruits, nuts, and seeds, making these nutrients more absorbable and accessible to your body's cells.
It's self-cleaning
Vitamix is easy to clean. You just add warm water and dish soap, and then hit the blend button. After the 30-second cleaning cycle, you pour the soapy water out and rinse the container thoroughly.
Made in the USA
Vitamix blenders are built by hand in the USA with at least 70 percent American components. Tip: If you happen to live in Cleveland, OH, where their headquarters are, you may want to pay their factory outlet a visit. You can buy a refurbished Vitamix blender at a discount there, and even get a 5 or 7 year warranty on it!
Vitamix recipes are easy to find
As Vitamix is one of the most sold blenders in America, you will have no trouble finding special Vitamix recipes online. The standard Vitamix package also includes a recipe booklet full of mouthwatering recipes tested in the Vitamix Test Kitchen.
If you're planning to primarily use Vitamix for making smoothies, you can also use practically any smoothie recipe you like, including the healing smoothie recipes you find on HealWithFood.org (you'll find links to these at the bottom of this page).
Vitamix offers generous warranties
The Vita-Mix Corporation prides itself on the durability of its machines, which is why they offer generous warranties on their products. The standard warranties can be up to 7 years, and in case you buy a machine with a shorter warranty, you can always purchase an extended warranty as long as you do it during your original warranty.
The great thing about these generous warranties is that you won't have think about spending any more money on a blender during the period of the warranty. If the machine breaks down – although you followed all the instructions – you can have it repaired or replaced at no charge. Now, if you get a cheaper blender and it breaks down after the (short) warranty has expired, you may have to be prepared to shell out quite some cash to get your at-home smoothie bar up and running again.
The Cons
The initial cost of a Vitamix blender is certainly one of its biggest disadvantages of buying a Vitamix, but its high price aside, are there other cons? Below, we list some of the most common caveats pointed out by Vitamix owners.
Vitamix is relatively loud
One of the most common complaints about Vitamix blenders is that their high-speed motors are relatively loud.
You need to use the tamper tool for thicker mixtures
Another caveat is that in order to actually get your Vitamix smoothies to achieve that super-smooth consistency, you will need to use a pusher accessory (the tamper tool). The tamper tool – which should come with every new Vitamix (but do check the product description to confirm this before buying) – allows you to push bigger chunks of food onto the blades without risking a spoon or another uncalibrated kitchen utensil getting shredded. While Vitamix users tend to agree that the tamper tool is a good thing, having to use an extra tool to get the desired results is surely a minus.
Not for people who want to avoid plastic
While the U.S. government continues to back the use of bisphenol A (BPA), skepticism over the safety of this chemical commonly found in plastic products is increasing among consumers. Especially, if you're planning to cook hot food (over 212 °F) or store food in a container that contains BPA, you're greatly increasing the risk of BPA and other similar chemicals leaching into your food.
Companies are responding to consumers' concerns by rolling out BPA-free products, and in fact, the Vitamix 5200 – the successor to Vitamix 5000 – has a new BPA-free container made of Tritan (copolyester). Be aware, though, that while Tritan copolyester is free of BPA, it is still plastic.
If you're looking for a blender that will definitely not leach any chemicals into your food (even if you store liquefied veggies and fruit in it), look for a blender with a glass container. They are not nearly as common as plastic containers, but there are some (In the US, KitchenAid for example has a Classic 3-Speed Blender with a Glass Jar
and Oster sells a 2-Speed Blender with a Glass Jar
. If you live in the UK, check out Magimix' Blender with a Glass Jar and UK Plug
).
You may have to buy the Dry Grains Container separately
The Dry Grains Container with its special grain-grinding blades is not part of the standard Vitamix package. Yet, to unlock the full potential of your Vitamix machine, you'll probably want to get this additional container – which will add to the price of the blender.
It's not the smallest blender on the market
If you get the Vitamix 5200, the flagship model in Vita-Mix Corporation's line of high-performance blenders, you'll notice that this machine is quite big and you may have trouble fitting it under the kitchen counter. There are other Vitamix models that are smaller, but if you're looking for a blender with exceptional capacity and versatility, you'll probably want to get the 5200.
Where to Buy a Vitamix?
If you think Vitamix is the
right blender for you
, check out your nearest Costco for deals on Vitamix. Or, check out the current prices on Amazon using the following affiliate links:

Amazon.com

Amazon.co.uk

Amazon.ca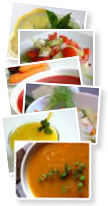 Where to Find Smoothie Recipes for Vitamix?
You can use practically any smoothie recipe you like with your Vitamix. If you're looking for recipes for functional smoothies (and other nutritious drinks) designed to address common health problems, check out some of the most popular smoothie/drink recipe pages on HealWithFood.org: