Veggie Bullet – Review of the "NutriBullet Spiralizer"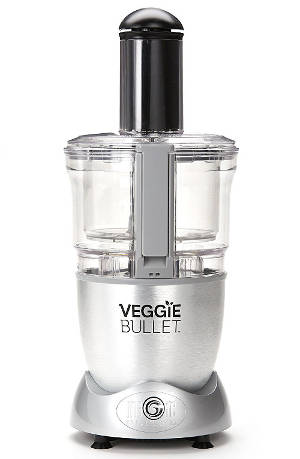 Spiralizers, which turn ordinary vegetables into nutritious imitation noodles, are all the rage among health-conscious foodies across North America and the UK. But using a traditional hand-crank spiralizer to process a large amount of vegetables or fruit can be a hassle. Now, this is where the Veggie Bullet comes in! Created by the same people who are behind the hugely popular Magic Bullet, Dessert Bullet and NutriBullet, this electric spiralizer and salad shooter turns vegetables into spirals, slices and shreds with a push of a button. In this review, we take a look at some of the pros and cons of the Veggie Bullet so you can better evaluate whether this automatic spiralizer from the makers of the NutriBullet and the Magic Bullet is a good option for you and your family.
Pros of Buying the Veggie Bullet
Spiralizing vegetables with the Veggie Bullet requires no elbow grease
Spiralizing vegetables like zucchini, carrots and sweet potatoes with a manual, hand-crank spiralizer can be time-consuming, especially if you are processing a large amount of veggies. Like the Magic Bullet and the NutriBullet, the Veggie Bullet spiralizer is a motor-operated kitchen gadget, so there's no need for manual cranking. When spiralizing vegetables with the Veggie Bullet, all you have to do is prepare the vegetables and guide them down the spiralizer's chute when the machine is on, and within seconds, you will have a pile of beautiful spiralized vegetables ready to be served or cooked.
The Veggie Bullet is more than a spiralizer; it's also a food processor with settings for shredding and slicing
The original Veggie Bullet from the NutriBullet folks has two attachments. The first one, the spiralizer attachment, is used to create long, thin ribbons of vegetables that can be used as a Paleo-friendly, low-carb substitute for spaghetti. The second one is the slicing and shredding attachment, a double-sided blade that works much the same way as a traditional food processor, turning food either into thin slices or finely shredded strips. Thanks to this extra blade, NutriBullet's Veggie Bullet not only makes vegetable spaghetti but also all sorts of other exciting vegetable dishes such as cauliflower "rice". And, in addition to vegetables, the Veggie Bullet also prepares fruits, cheeses, nuts and cooked meats, and more!
Just like a salad shooter, the Veggie Bullet shoots shredded/sliced food right into a salad bowl
When the slicing/shredding blade of the Veggie Bullet is in use, the machine functions much the same way as a salad shooter: it shoots the processed food right out of its spout, directly into a bowl of your choice. This is a key difference between the Veggie Bullet and a food processor with a built-in container which needs to be emptied frequently when you process a large amount of food. Note, though, that when the spiralizer attachment is in use, the spiralized vegetables and fruits fall directly into a built-in container (more on this in the Cons section below).
Cons of Getting the Veggie Bullet
It has only one blade for creating noodle-like strips
If you are looking for a spiralizer than can turn zucchini and other vegetables into low-carb "noodles" of various sizes and shapes, then you should probably not get the Veggie Bullet. Although it has two blades, it can only make one type of veggie noodles (the other one is a 2-in-1 blade that can be used to make shred and slide foods). If you are looking for an electric spiralizer that has more than one blade for creating noodle-like strips, you might want to check out the Oster Spiralizer, which has both noodle and fettuccine blades, and the multi-functional KitchenAid Spiralizer Attachment which comes with a range of blades for spiralizing vegetables.
The container that collects the vegetable "noodles" has a limited capacity
As mentioned earlier in this review, the Veggie Bullet has a built-in container to collect zoodles and other spiralized vegetables (but not shredded and sliced vegetables). Such an integrated container with a limited capacity is certainly not a problem when you are spiralizing a small amount of vegetables, but it may be annoying when you are processing a large amount of food as you have to frequently empty the container.
The vegetables you want to spiralize have to be the right size, shape and texture
If you are familiar with the pros and cons that frequently pop up in reviews of electric spiralizers, you already know one major downside that is common to almost all electric spiralizers and food processors: the limited size of the chute. So, if you get the Veggie Bullet, you will only be able to spiralize, shred and slice foods that fit into the chute. In addition, when using the Veggie Bullet's spiralizer attachment, you will have to pay attention to the shape and texture of the food. Oblong, firm vegetables like zucchini, yellow squash, sweet potatoes, and parsnips work best with the spiralizer attachment; however, some other vegetables and fruits can be pre-cut to make them spiralizable.
Where to Buy It (in North America and the UK)
So, you want to start making more nutritious meals and think NutriBullet's "little brother", the Veggie Bullet, is the perfect kitchen companion to help you reach your health goals? If you live in North America and like to shop online, go ahead and order your Veggie Bullet right away on Amazon

here (Canadian residents click

here). And for those who live in the UK, not to worry: you can buy the Veggie Bullet in the UK

here.