Oster Vegetable Spiralizer: Pros & Cons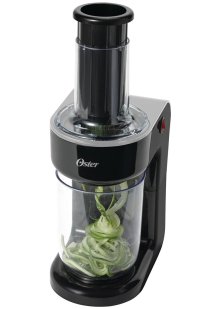 If you love zoodles and other healthy dishes made with a spiralizer but hate the hassle that comes with using a manual, hand-crank spiralizer, you should definitely check out the electric Oster Spiralizer (Model FPSTES1050). With this motor-operated vegetable spiralizer, you can turn everything from zucchini to carrots to sweet potatoes into nutritious vegetable spirals within seconds. To learn more about this neat little gadget and its pros and cons, keep reading.

Check Price or Read Reviews on Amazon
Pros of Buying the Oster Spiralizer
The Oster Spiralizer helps you incorporate more vegetables into your diet
Turning vegetables like zucchini, carrots, sweet potatoes and cucumber into noodle-like strips using the Oster Spiralizer is a great way to incorporate more healthy veggies into your diet. And, as these imitation noodles are made of fresh, unprocessed vegetables, they are perfect for all sorts of diets, including low carb, raw food, gluten-free, no wheat and paleo diets. Zucchini noodles (aka zoodles) and vegetable spaghetti (aka vegetti) are also a versatile ingredient and can be eaten with pasta sauce, or in soups, salads and Asian-style stir fries.
It is one of the first automatic spiralizers out there
Using a horizontal or vertical hand-crank spiralizer to prepare zucchini and other vegetables can require quite some elbow grease. The Oster Spiralizer is one of the first spiralizers sold in the US and Canada that come with a motor which eliminates the need for manual cranking and makes spiralizing quick and easy. All you have to do is prepare the vegetables and assemble the spiralizer with the blade of your choice (spaghetti or fettuccine), and this automatic spiralizer will do the hard work.
Cons of Getting the Oster Spiralizer
This is not a universal spiralizer that works well on vegetables of all sizes, shapes and textures
Since this electric spiralizer has a chute similar to what food processors have, you will only be able to spiralize foods that fit into the chute. Also the pusher that is supposed to hold the food item in place may be too short for certain foods. What's more, certain vegetables and fruits can be too hard—or soft—for this spiralizer. Some problematic foods that have popped up in the reviews of this spiralizer on Amazon include radishes, fennel, beets and very large zucchini, to name a few.
This spiralizer comes with only two blades (spaghetti and fettuccine)
If you are looking for a spiralizer than can turn vegetables and fruits into a wide variety of different spiral shapes, then you should probably not get the Oster Spiralizer as it comes with only two blades: one for turning vegetables into spaghetti-like strips and another for creating thicker, fettuccine-like spirals. (Tip: If you are on the lookout for an automatic spiralizer that comes with a wide range of different blades and already have a KitchenAid stand mixer at home, check out the KitchenAid Spiralizer Attachment which is compatible with all KitchenAid stand mixers.)

Check out the Oster Spiralizer on Amazon
You May Also Like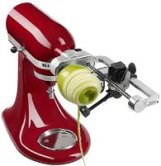 Do you love the idea of having an automatic spiralizer but don't have the space in your kitchen to accommodate a stand-alone spiralizer? The good news is that if you already have a KitchenAid stand mixer, all you need to do is get a small spiralizer attachment, and
your KitchenAid will turn into a multi-functional electric spiralizer
! To learn more about this neat tool,
click here
.