Excalibur EXC10EL 10-Tray Dehydrator: Is it Worth the Price?
The Excalibur EXC10EL 10-Tray Dehydrator is by no means the cheapest Excalibur model out there, but it is a good choice for those who are looking for a highly automated large-capacity dehydrator that works efficiently to preserve foods in large batches. To learn more about the features of this high-end Excalibur dehydrator, keep reading.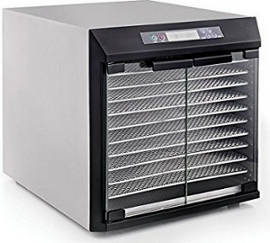 Designed for Heavy-Duty Use at Home
Unlike some other dehydrators out there, Excalibur's rectangular tray dehydrators are not expandable, which means you won't be able to expand the drying space by purchasing more trays to stack on top. Therefore, it is important to have an idea of how large your dehydrating projects are going to be when deciding which Excalibur dehydrator is best for you. If you are looking for an Excalibur dehydrator for heavy-duty use at home, then the EXC10EL is a good choice. At the time of writing, this 10-tray model is the biggest non-commercial Excalibur dehydrator, providing a whooping 16 square feet of drying space.
All Stainless Steel Case with a Glass Door
One of the reasons why so many people, both in the United States and Canada, have gone for this Excalibur model is that the EXC10EL is stainless steel, both inside and out. Also all of the 10 trays that are included are made of high-quality stainless steel, so you won't have to worry about chemicals like BPA or phthalates leaching into your food. The see-through door, which allows you to easily keep an eye on the contents, is made of glass.
Adjustable Thermostat
Temperature is a key factor in getting successful results with your dehydrator. Using too little heat may result in fermented or spoiled food, while too much heat can lower the nutritional value of the food. Unlike some cheaper dehydrators out there, the Excalibur EXC10EL 10-Tray Dehydrator has an adjustable thermostat which allows you to set the drying temperature (between 95°F and 165°F).
99-Hour Timer with Automatic Shut-Off Function
Most Excalibur dehydrators have either a timer with a maximum setting of 26 hours or no built-in timer at all. Designed for heavy duty use at home, the EXC10EL has a timer that allows you to set the unit to run for up to 99 hours, and once the time is up, the machine will automatically shut itself off. A nice feature for those who tend to forget things!
Programmable Two-Stage Cycle
One of the most exciting features of the Excalibur EXC10EL 10-Tray Dehydrator is its two-stage timer. This means you can program the dehydrator to run at a specific temperature for a specific amount of time, and then at another temperature for the rest of the cycle. The dehydrator automatically adjusts the temperature after the first stage and shuts off when the second part of the cycle is complete.
* * * *
Cheaper / Better Alternatives?
If you want a large-capacity Excalibur dehydrator designed for heavy-duty use at home, then you should probably get the EXC10EL 10-Tray Dehydrator as it is the largest non-commercial Excalibur model out there. However, if you're willing to go off piste with your brands, you may also want to consider some other dehydrators that share some of the features of the EXC10EL.
Tribest Sedona's Sedona Combo S9150 dehydrator, for example, has stainless steel trays and a programmable 99-hour two-stage timer just like the EXC10EL. However, it does not have a stainless steel housing, and it provides only 12.5 square feet of drying space. As another alternative, you might want to consider TSM Products' D-10 Stainless Steel Dehydrator. It does not come with as many fancy featurers as the Excalibur EXC10EL Dehydrator, it might still be a good alternative as it's all stainless steel and offers 16 square feet of drying space.
If you are interested in learning more about these alternatives, check out the chart below which provides an overview of the key features of the Excalibur EXC10EL, Sedona Combo S9150 and TSM D-10. Note, though, that some of the specifications may have changed since the writing of this article, so please always check with the seller and/or manufacturer before buying one of these units.
Excalibur 10-Tray EXC10EL
TSM D10, Stainless Steel Trays
Tribest Sedona Combo S9150
Approx. drying space
16 square feet
16 square feet
12.5 square feet
Number of trays
10
10
9
Tray/grid material
Stainless steel
Stainless steel
Stainless steel
Case interior*
Stainless steel
Stainless steel
Plastic
Case exterior*
Stainless steel
Stainless steel
Plastic
Door
Glass
Stainless steel
Glass
Approx. tray size
15 x 15 inches
16.25 x 14.5 inches
15.25 x 13 inches
Wattage
600
800
600
Two-stage timer
Yes
No
Yes
More info (detailed specs, price, user reviews, etc.)
Click here
Click here
Click here
Click here
Click here
Click here
*
Primary material used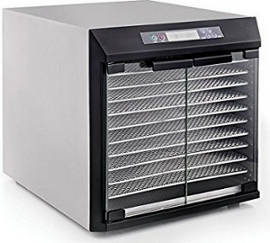 Ordering the EXC10EL (in the United States or Canada)
So, you think the Excalibur EXC10EL 10-Tray dehydrator has the right size and features to meet your dehydrating needs? If you live in the United States, you can

order it on Amazon.com and have it shipped directly to your home. And, for those you live in Canada, there's no need to worry—you can also

order it on Amazon.ca.