Rectangular/Square Dehydrators with Back-Mounted Fans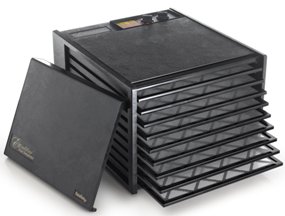 Although the round dehydrators with bottom-mounted fans may seem attractive because of their relatively low price tags, there are many reasons why you might want to get a rectangular or square dehydrator with a fan that is located in the back of the unit. First, a dehydrator with a back-mounted fan distributes hot air more evenly across the trays than a unit with a bottom-mounted fan, and diligent tray rotation won't be necessary. Second, you won't have to worry about drippings from fruits, vegetables and meats soiling a fan that is in the back. And finally, unlike round trays, rectangular or square trays provide plenty of space also for long strips or pieces like beef jerky. If you think a square or rectangular food dehydrator with a fan in the back is the right choice for your family, here are four brands you might want to check out:
Excalibur
If you are on the market for a good food dehydrator with a fan in the back and have already done some research, you have most likely heard of Excalibur, a California-based company that has been manufacturing rectangular dehydrators with square trays since 1973. The best Excalibur models come with many nice features like stainless steel trays, built-in timers and see-through doors, but there are also no-frills models available for those with a lower budget. All of Excalibur's rectangular dehydrators are widely available in North America, but you can also buy Excalibur dehydrators in the UK.
Tribest Sedona
All of the latest Tribest Sedona dehydrators with back-mounted fans come with an adjustable thermostat, 99-hour timer and glass door. What's more, regardless of which Sedona dehydrator you go for, you will be able to choose either stainless steel trays or BPA-free plastic trays. That said, these high-end dehydrators also differ from each other in a number of ways, so it is important to compare the different Sedona dehydrators side by side if you are thinking about getting one of these feature-packed machines. If Sedona dehydrators are high on your list, you might also want to check out the Sedona vs Excalibur comparison as some Excaliburs are very similar to the Sedona dehydrators sold in the US and Canada.
TSM Products
If you are looking for a rectangular or square food dehydrator that is all stainless steel, you might want to check out TSM Products' dehydrators. Although Excalibur also sells so-called stainless steel models, their models are stainless steel only on the outside (with the exception of the all stainless steel model Excalibur EXC10EL). By contrast, all the TSM dehydrators included in our TSM vs Excalibur comparison are stainless steel both inside and out. Of course, this means that also the door is stainless steel, which is a problem if you want a model with a see-through door that allows you to monitor your foods without having to open the door.

Stainless steel TSM dehydrators
BioChef Arizona
British shoppers keen on buying a food dehydrator with a fan located in the back might also want to check out the "Arizona" line of dehydrators by the Australian company BioChef. The rectangular Bio Chef dehydrators sold in the UK are made of BPA-free polypropylene, and unlike Excalibur which sells both stainless steel and plastic trays, Bio Chef only sells models with stainless steel trays. Another key difference between Bio Chef and Excalibur dehydrators is the drying space per tray: Bio Chef's 6-tray, 8-tray and 10-tray Arizona dehydrators provide around 0.10 square metres of drying space per tray, while Excalibur's 5-tray, 9-tray and 10-tray models provide around 0.14 square metres.

Bio Chef Arizona dehydrators—UK