Dehydrator Reviews
Excalibur 9-Tray Dehydrator (Optionally with Timer, Clear Door and SS Trays)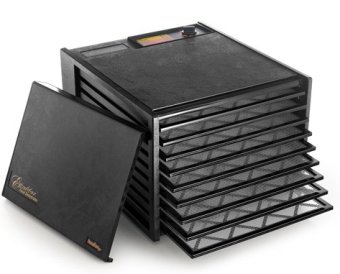 No-frills 9-tray Excalibur without stainless steel trays, timer and clear door, available in black (model 3900B) or white (model 3900W) on

Amazon.com and


Amazon.ca
If you are on the market for a high-capacity food dehydrator that has received good reviews from people who have already bought it, you should definitely check out the 9-Tray Excalibur Dehydrator. With 9 stainless steel or plastic trays, the non-stackable 9-Tray Excalibur provides a whooping 14 square feet of drying space. And, like other Excalibur dehydrators in its price range, it has received tons of excellent reviews on Amazon.
The most basic version of Excalibur's 9 Tray Dehydrator, the 3900 model, comes with plastic trays and has neither a built-in timer nor a clear door, but you can also get Excalibur's 9-Tray Dehydrator with stainless steel trays, timer and/or see-through door. In this article, we take a look at what exactly you will get when you buy a 9-Tray Excalibur, and give advice on which model you should buy if you want extras like stainless steel trays, 26-hour timer, 48-hour timer, or clear door.
9 Trays, Each Measuring 15 x 15 Inches
Regardless of which non-stackable 9-tray Excalibur dehydrator you go for, you will get around 14 square feet of drying space thanks to 9 spacious drying trays which measure 15 x 15 inches each. When trying to figure out which Excalibur dehydator is best for you, it is important to keep in mind that Excalibur's rectangular tray dehydrators are not expandable, which means you won't be able to expand the drying space by purchasing more trays to stack on top. Therefore, it is important to think about how much food you'll want to be able to dehydrate at once when shopping for a dehydrator. For most people, 14 square feet is probably going to be enough, but if you think you'll need even more space and price is not an issue for you, then you might want to check out the 10-Tray Excalibur Dehydrator EXC10EL. With its 16 square feet of drying space, the EXC10EL is the biggest non-commercial Excalibur dehydrator at the time of writing this review.
Option to Choose Between Stainless Steel Trays and Plastic Trays
Some 9-tray Excalibur dehydrators come with stainless steel trays, while other 9-tray Excalibur models have plastic trays. Stainless steel trays score points for their durability and safety, while plastic trays generally provide a better surface if you are worried about sliced fruits and other sticky foods sticking onto the trays. Here's an overview of 9-tray Excalibur dehydrators with stainless steel trays and with plastic plastic trays:
9-Tray Excalibur Dehydrators with Stainless Steel Trays
D900SHD (with 26-hour timer and stainless steel door) – check Amazon price and read reviews of this model here (or here if you live in Canada)
9-Tray Excalibur Dehydrators with Plastic Trays
Stainless Steel Finish vs Plastic Finish
At the time of writing, all the 9-Tray Excalibur Dehydrators that have stainless steel trays (D900SHD and D900CDSHD) are also stainless steel on the outside. The models with plastic trays, by contrast, have plastic cases, with one exception: the Excalibur D900S features a stainless steel finish, despite having plastic trays. It is also worth noting that even though the exterior of the case is stainless steel on some 9-tray Excalibur models (i.e. (D900S, D900SHD and D900CDSHD), the case interior is always plastic. If you are on the market for an all stainless steel Excalibur dehydrator, check out the Excalibur EXC10EL.
26-Hour Timer, 48-Hour Timer or No Built-in Timer
Available on select models, a built-in timer allows you to set your Excalibur to run for a specified amount of time, and once the time is up, it will automatically shut itself off. The 9-Tray Excalibur dehydrators that come with a timer allow you to set the timer for up to 26 hours, with one exception: the 3948CDB model, which comes with a digital controller, has a timer with a maximum setting of 48 hours. If you need an even higher maximum setting, you will have to get the 10-Tray Excalibur EXC10EL—or go for another brand such as Tribest Sedona. Even the most basic Tribest Sedona dehydrators have a 99-hour timer, which certainly wins them some points in the battle of Excalibur vs Tribest Sedona dehydrators.
Some 9-Tray Excaliburs Have a Clear Door
Some people like to watch what is happening inside their dehydrator without having to open the door. Some 9-tray Excalibur dehydrators – namely 3926T-CD, 3948-CD and D900CDSHD – allow you to do just that as they have a clear door made of transparent plastic. The other 9-tray Excalibur models have either a stainless steel door (models D900SHD and D900S) or a regular plastic door (models 3900B/3900W and 3926TB/3926TW).
Comparison of Excalibur Dehydrators with 9 Trays
Are you having trouble deciding which 9-tray Excalibur you should get? The following chart helps you compare Excalibur's non-stackable 9-tray models side by side. Please note that sometimes dehydrator manufacturers change product specifications without notice, and there is no guarantee that the information in the chart is still accurate. Therefore, before purchasing any dehydrator, please contact the manufacturer/seller for the latest information.
B=Black case; W=White case
SS=Stainless steel; P=Plastic; CP=Clear plastic
D900SHD
D900- CDSHD
3900B/ 3900W*
3926TB/ 3926TW*
3926TCDB
D900S
3948CD
Trays
9
9
9
9
9
9
9
Drying space
14 sq ft
14 sq ft
14 sq ft
14 sq ft
14 sq ft
14 sq ft
14 sq ft
Tray size
15"x15"
15"x15"
15"x15"
15"x15"
15"x15"
15"x15"
15"x15"
Wattage
600
600
600
600
600
600
600
Tray material
SS
SS
P
P
P
P
P
Case interior
P
P
P
P
P
P
P
Case ext.
SS
SS
P
P
P
SS
P
Door
SS
CP
P
P
CP
SS
CP
Timer
26 hr
26 hr
No timer
26 hr
26 hr
26 hr
48 hr
Amazon price
Price
Price
Price
Price
Price
Price
Price
Price
Price
Price
Price
Price
Price
Price