Tomato-Free Ketchup (Paleo-Friendly)
Yields about 2 ½ cups
In most people's minds, ketchup is synonymous with tomatoes. But did you know that you can also buy tomato-free "ketchup", or if you have the time and the right ingredients on hand, you can even make your own no-tomato ketchup? That's right, folks: there are many alternatives to tomato ketchup, and with a good recipe, you will be able to whip up a batch of yummy tomato-free ketchup that has a beautiful red hue and a tangy yet sweet taste, just like the real thing! And that, of course, is great news for all those who are allergic or sensitive to tomatoes.
The recipe below uses a combination of winter squash and beets as a replacement for the tomato base (you can substitute pumpkin for the winter squash, if you like). A sweet-tart apple is added for extra flavor, while white balsamic vinegar lends tartness to this tomato-free condiment. As for the seasonings, this Paleo-friendly recipe features fresh garlic, along with onion powder and ginger powder for an extra punch of flavor. And, unlike the sugar-laden ketchups and barbeque sauces you can buy in the grocery stores, it contains neither table sugar nor high fructose corn syrup—it gets all of its sweetness from beets and apples!
Bonus: This tomato-free ketchup recipe is perfect for those following The AIP Diet (for those who are not familiar with The AIP Diet, it refers to a type of Paleo-compliant elimination diet specifically designed for people with autoimmune diseases and allergies to help them identify food sensitivities).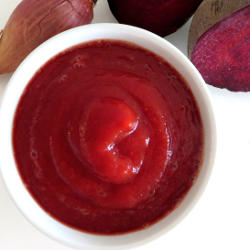 Ingredients
1 ½ heaped cups peeled, seeded and diced orange-fleshed winter squash or pumpkin
⅔ cup peeled and diced red beets
1 small organic sweet-tart apple
½ cup water
3 to 5 Tbsp white balsamic vinegar
1 small clove garlic
½ tsp ginger powder
½ tsp onion powder
½ tsp salt
Directions
Steam the diced winter squash (or pumpkin) and beets until tender, about 20 to 30 minutes. While they are cooking, rinse, core and dice the apple, and peel and chop the garlic.
Let the squash and beets cool down for 5 to 10 minutes, then add the apple, water, 3 tablespoons of balsamic vinegar and the seasonings.
Using a hand-held blender, food processor or blender, purée until smooth. Taste the mixture, and add 1 to 2 more tablespoons of balsamic vinegar if necessary.
Transfer your homemade tomato-free ketchup to a serving bowl, cover and chill in the refrigerator until ready to serve.
Store-Bought Alternatives to Homemade No-Tomato Ketchup

Nomato's Vegetable "Ketchup" with Beets, Carrots, Etc.
Good news for all those who don't have the time to make tomato-free ketchup at home: it is also possible to buy ketchup that does not contain tomatoes! Norine Boyd's
Nomato
ketchup, for example, is available through Amazon
here
. Made from vegetables and seasonings, this zesty sauce can be substituted in any recipe that uses ketchup, tomato sauce, barbecue sauce or salsa. As an added bonus for people with multiple food allergies, this no-tomato ketchup is also free of soy, dairy, wheat, gluten and nuts.
Not Ketchup's Fruit Ketchup (Contains Chili Peppers)
Here's another great Paleo-friendly alternative to tomato ketchup: the all-natural Cherry Chipotle fruit ketchup from culinary artist Erika Kerekes'
Not Ketchup
product line. This rich and robust gourmet "ketchup" features ripe cherries and smoky chipotle and is certified Paleo-friendly by the Paleo Foundation (it is not strict Paleo, however, as it contains raw cane sugar). Made in small batches in Southern California, this sweet and tangy condiment is free of gluten, corn syrup and a whole bunch of other controversial ingredients. It does contain chili peppers, however, so it is not suitable for those following a strict no-nighthades diet. Not Ketchup's Cherry Chipotle fruit ketchup is available through Amazon
here
.