Affordable Professional-Grade Electric Food Slicers
Today, it is possible to get a compact deli meat and food slicer designed for home use for relatively little money. However, if you intend to use your electric slicer a lot, you may want to get a professional-grade slicer, even if you're not planning to use it for commercial purposes. The good news is that there are a number of commercial-grade models that, while not cheap, are affordable compared to the true heavy-duty electric slicers designed for large businesses. These medium-duty slicers typically have more powerful motors and sturdier construction than the cheapest slicers on the market, which makes them ideal for frequent slicing tasks at home. These low-cost professional-quality slicers may also be a good choice for small commercial kitchens.
Finding a Professional Slicer That Won't Break the Bank
Below, we compare some popular counter-top meat and food slicers that, according to their respective manufacturers, are suitable both for home use and light or medium duty commercial use. The comparison chart covers key specifications and features, such as weight in pounds, size of the motor in horsepower, blade size, common certifications, and so forth. Note that the models included in the chart have been designed for use in North America and are available through Amazon here.
| | Presto PS-10 | Best Choice Products | AdCraft SL300ES |
| --- | --- | --- | --- |
| Amazon deal | | | |
| Approximate weight | 28 pounds | 49 pounds | 61 pounds |
| Motor in horsepower | 1/4 HP | 1/3 HP | 1/3 HP |
| Construction | Heavy-duty aluminum | Stainless steel | Heavy-duty aluminum |
| Blade size (diameter) | 10 inches | 10 inches | 12 inches |
| Slice thickness | Adjustable | Adjustable | Adjustable |
| Built-in sharpener | Yes | Yes | Yes |
| ETL Listed or CE Approved* | Yes (ETL) | Yes (CE) | Yes (ETL) |
| Additional notes | Not suitable for cutting cheese | Also suitable for cutting cheese | Not suitable for cutting cheese |
| More info (eg. user reviews, detailed specs) | Click here | Click here | Click here |
*A product that bears the ETL Listed Mark has been tested for compliance with North American safety standards. A CE Mark on a product signifies that the product conforms with the European Commission (EC) directives that apply to it. The CE marking is also found on products sold outside the EEA that are manufactured in, or designed to be sold in, the European Economic Area.
Sources: Product descriptions on Amazon's global site and manufacturers/suppliers' websites; accessed in November 2014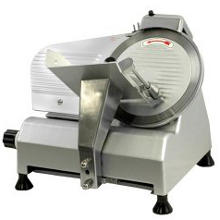 3 Reasons to Get a High-Quality Food Slicer (for Your Home)
Additive-free cold cuts
Some of the biggest advantages of using an high-quality food slicer to make your own deli-style meats are health- and environment-related. The pre-packaged deli meats you find in the grocery stores are typically loaded with other unnatural preservatives and other additives, plus they generate piles of plastic waste, creating an even bigger burden on our already overflowing landfills. By making your own deli meats using a sturdy counter-top slicer such as Best Choice Products' 10" Blade Slicer (pictured on the right) you'll have more control over what goes into your food, plus you'll be reducing the plastic waste that is damaging the environment.
Cheap deli-style sliced meats
Why pay a premium for meat or poultry sliced at the butcher's or deli counter, or for plastic packaging that encases cold cuts sold in grocery stores? Buying big pieces of raw meat and roasting and slicing them yourself can really cut down your grocery bills. And, with most high-quality, professional-grade deli slicers you'll be able to cut ultra-thin slices, which means you may be able to save even more money as you'll essentially get more slices per roast (compared with slicing the roast manually with a knife).
Perfect slices of vegetables – and more
Semi-automatic electric slicers are perfect for food enthusiasts who want to create cheap, preservative-free deli meats at home, but cutting meat and poultry is just one of the many tasks these powerful kitchen appliances handle with ease. Depending on the model, you may be able to cut anything from vegetables to fruit to bread to cheese. However, as there are big differences between different counter-top food slicers, be sure to read plenty of user reviews and the manufacturer's product description before buying a specific model so you know exactly what the machine is supposed to slice – and what not.