Electric Steamers: Non-Plastic and Other BPA-Free Models
The health benefits of steamed food are praised by nutritionists across the Western world, from Los Angeles and Chicago, to Toronto and Montreal in Canada, to London and Leeds in the UK. But unless you're using a BPA-free or plastic-free steam cooker, there's a chance that your steamer may be tainting your vegetables and meat with endocrine disruptors such as Bisphenol-A, better known as BPA. Below, we take a look at how these potentially toxic chemicals affect your health, plus provide tips on where you can find a BPA-free electric food steamer with non-plastic baskets or racks made of BPA-free plastic.
Side note: if you're looking to buy a stove-top model instead of an electric countertop steamer, you should have no problem finding a BPA-free steamer with no plastic components as almost all stove-top steamers sold in the US, UK and Canada are made of stainless steel.
Plastic Cookware May Leach Toxic Chemicals into Your Food
Endocrine disruptors, chemicals that can mess with your hormones, are found in a wide range of plastic products, including electric food steamers. Bisphenol-A, commonly known as BPA, is one of the most famous endocrine disruptors, and it is often detected in foods that have been stored or heated in bowls, pots and containers with plastic interior or other plastic parts that come in contact with food.
While U.S. agencies continue to allow the use of BPA in most plastic products, mounting evidence suggests that significant exposure to BPA may be linked to asthma, infertility, polycystic ovary syndrome (PCOS), impaired cerebral development and learning disabilities in children, hormone-dependent cancers, thyroid problems, diabetes, cardiovascular disease, and a vast range of other health problems. As a result, consumers have began to demand kitchenware without plastic components, and today, you can find anything from non-plastic electric kettles to plastic-free food dehydrators.
Finding a BPA-Free Steamer in the US, Canada or UK
Manufacturers of digital table-top steamers, however, have been slow to respond to the increasing consumer demand for BPA-free cookware, despite the fact that food steamers use heat, which makes plastic components even more likely to leach out toxic chemicals such as BPA. If you've been struggling to find a BPA-free electric food steamer in the shops in your area, you're in the right place here. HealWithFood.org scoured the Web and found two interesting BPA-free options at Amazon: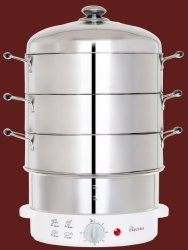 The Stainless Steel Option:
Secura 3-Tier 6-Quart Stainless Steel Electric Food Steamer
In addition to not tainting your food with toxic chemicals leaching out of plastic, this stainless steel electric steamer of course also offers the usual benefits of steam-cooked food, that is, more nutrients and more flavor (compared with boiled foods, for example
It comes with three stackable steam baskets, which means you can cook entire meals at one go, without having to worry about flavors mixing
The automatic shut-down function turns the machine off should the water level get too low – no more burned food!
It heats up fast, generating steam within 15 seconds after your switch it on according to the manufacturer; however; some user reviews suggest that it may actually take a bit longer than that
This product has been built to meet the North American electrical standards – if you want to have it shipped to an address within the United States, click on the main link below; if you live in Canada, order it through Amazon.ca here . As this steamer is generally not sold in the UK, you might want to check an alternative product with similar characteristics, such as this steamer , if you're looking to buy an electric stainless steel steamer in the UK.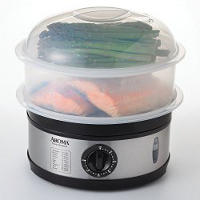 The BPA-Free Plastic Option:
Aroma 5-Quart Food Steamer with BPA-Free Double Tiers
In addition to having BPA-free cooking surfaces, this electric steamer of course also offers the usual nutritional and culinary benefits of steam-cooked food
With 5-quart capacity and two trays, this handy kitchen appliance allows you to cook different foods simultaneously
It has a built-in timer which shuts off the machine automatically at the appropriate time
It comes with a very reasonable price tag
One drawback is that this product is generally not available in the UK, and you may also have trouble finding it in Canada (check out this steamer if you're looking for a BPA-free electric steamer in the UK, or this steamer if you live in Canada)
Other Alternatives
Of course, you could also just buy a stainless steel steamer basket designed to fit a standard sauce pan, or if you don't mind a slightly higher price, a stainless steel stove-top steamer with two or three tiers. These are good alternatives to electric countertop steamers as they cook vegetables, fish and meat the same way as the electric table-top models, and more importantly, as they are widely available in the shops around North America and the UK. But they do have some drawbacks compared with the electric models. First, you must keep checking the pan doesn't boil dry – electric steam cookers rarely run out of water and if they do, they give out an audible signal and you can fill them while they're still on. Second, stove-top steamers don't usually have the same capacity as their electric counterparts, which makes them less well suited for bigger families.