Radish Sprouts: Health Benefits and Nutrition Facts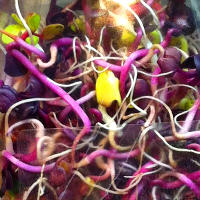 Radish sprouts have been gaining popularity among health-conscious consumers looking to add more superfoods to their diets. Radish sprouts are loaded with vitamins, and research suggests that these super-nutritious sprouts may be even more effective at preventing cancer than broccoli sprouts. Here's the full scoop on the health benefits of radish sprouts, plus a nutrition facts chart providing an overview of the nutritional value of radish sprouts:
Folate and Vitamin B6 for a Healthy Cardiovascular System
Radish sprouts are an excellent source of folate, with 100 grams (3.5 ounces) of radish sprouts delivering almost a quarter of the Daily Value of folate. Folate is believed to promote cardiovascular health by breaking down homocysteine, an amino acid that is thought to promote atherosclerosis (fatty deposits in blood vessels). About half of people with cardiovascular disease have elevated homocysteine levels, compared with only 5% of the general population. In addition to providing tons of folate, radish sprouts contain plenty of vitamin B6, another nutrient that has been shown to break down homocysteine in the body.
Red Radish Sprouts – An Even Better Anti-Cancer Food Than Broccoli Sprouts?
Thanks to their extremely high glucosinolate content, broccoli sprouts are touted for their anti-cancer effects. But turns out, radish sprouts may have even more anti-cancer potential than broccoli sprouts. A study funded by Rural Industries Research and Development Corporation (RIRDC) from Australia analyzed the glucosinolate content of various edible sprouts, and broccoli and red radish sprouts came out on top (also daikon sprouts, or white radish sprouts, were ranked high). But there's a catch: in order for glucosinolates to realize their anti-cancer potential, they first have to be converted into more active compounds, such as isothiocyanates (ITCs). Unfortunately, however, many edible sprouts – including broccoli, cabbage, mizuna, choy sum, garden cress, turnip, komatsuna, and kohlrabi sprouts – contain epithiospecifier protein (ESP), a compound that hinders the conversion of glucosinolates into isothiocyanates. According to the RIRDC study, ESP can reduce the anti-cancer potential of sprouts by up to 50-80%.
Weight Loss Effects
Radish sprouts are inarguably one of the best foods for people who are trying to lose weight. Like other sprouts, radish sprouts are very low in calories (43 calories per 100 grams, or 3.5 ounces), and they are packed with vitamin C. A study from Arizona State University found that people with low blood concentrations of vitamin C burned 25 percent less fat during a 60-minute walking session on a treadmill than people with adequate levels of vitamin C. Among other things, your body uses vitamin C to make carnitine, a compound that encourages your body to turn fat into fuel, rather than to store it as body fat.
Benefits for the Skin
Weight loss benefits aside, vitamin C rich foods – such as radish sprouts – can offer benefits for the skin. Our skin is constantly bombarded with free radicals created by cigarette smoke, pollution, drugs, heavy exercising, toxins, stress, and UV radiation, but vitamin C helps destroy these harmful molecules. In addition, vitamin C helps the body produce collagen, a protein that keeps your skin smooth, elastic, and wrinkle-free. As part of the natural aging process, our collagen production slows down, which is why especially older people may reap extra beauty benefits by eating radish sprouts and other foods that are rich in vitamin C.
Radish Sprouts: Nutritional Value and Calorie Count

Nutrition facts for radish sprouts are provided per 100 grams (or 43 calories) in the chart below. The chart includes both the absolute amount and the percent daily value for each nutrient.
| Nutrient | Amount per 100g | % Daily Value | Comment |
| --- | --- | --- | --- |
| Water | 90.1 g | NA | Very high water content |
| Protein | 3.8 g | 8 % | |
| Fat | 2.5 g | 4 % | |
| Carbohydrates | 3.6 g | 1 % | |
| Vitamin A | 391 IU | 8 % | |
| Vitamin C | 28.9 mg | 48 % | An excellent source of vitamin C |
| Vitamin B1 (Thiamine) | 0.1 mg | 7 % | |
| Vitamin B2 (Riboflavin) | 0.1 mg | 6 % | |
| Vitamin B3 (Niacin) | 2.9 mg | 14 % | A good source of niacin |
| Vitamin B6 (Pyridoxine) | 0.3 mg | 14 % | A good source of vitamin B6 |
| Folate | 95 mcg | 24 % | A very good source of folate |
| Pantothenic Acid | 0.7 mg | 7 % | |
| Calcium | 51 mg | 5 % | |
| Iron | 0.9 mg | 5 % | |
| Magnesium | 44 mg | 11 % | |
| Phosphorus | 113 mg | 11 % | |
| Potassium | 86 mg | 2 % | |
| Sodium | 6 mg | 0 % | |
| Zinc | 0.6 mg | 4 % | |
| Copper | 0.1 mg | 6 % | |
| Manganese | 0.3 % | 13 % | A good source of manganese |
| Selenium | 0.6 mcg | 1 % | |
The absolute amounts in the nutrition facts table above are based on data provided by USDA's Nutrient Database for Standard Reference, Release 26. The table is not comprehensive, i.e. radish sprouts also contain other nutrients and phytochemicals not included in the chart. The percent daily values or %DV above have been calculated by healwithfood.org and are based on recommendations for a 2,000 calorie reference diet. Your daily values may be different depending on your individual needs.
Where to Get Radish Sprouts?
As knowledge about the high nutritional value and extraordinary health benefits of radish sprouts spreads, more and more people are demanding these tasty nutritional gems. As a result of the increasing demand, many grocery stores today sell radish sprouts (usually daikon sprouts) in their fresh produce section. The DIY-inclined among you may also want to consider growing their own sprouts – practical sprouting jars and kits are available from the family-owned non-GMO seed company Botanical Interests, as well as from Amazon.com and Amazon.co.uk.
If you're hesitating to grow your own radish sprouts due to the risk of E. coli contaminating your sprout crop, consider growing radish microgreens in a container filled with soil instead. As opposed to sprouts, microgreens need sunlight and good air circulation to grow, which in turn reduces the risk of E. coli bacteria and other pathogens contaminating the young plants. For instructions on how to grow radish microgreens, check out HealWithFood.org's article How to Grow Radish Microgreens in Containers.