Must-Have for Health-Conscious Bakers:
Wooden Countertop Grain Mill for Making Flour at Home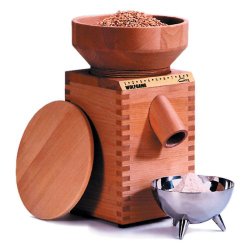 Give your home-made pastas, cereals, breads, cakes, cookies, muffins and the like a health and flavor kick by using ultra-fresh flour made in a table top grain mill. Today, many companies specialized in kitchen appliances sell countertop grain mills which can be either electric or manual (hand-operated). Many of the modern mills you find in the shops are made of plastic, but for those looking for a heavy duty grain mill that is both reliable and pretty, also wooden grain mills (both electric and manual) are widely available, especially in Europe where wooden countertop mills have been used to make homemade whole wheat flour (and other flours) for decades.
Some of the most famous manufacturers and suppliers of table top grain mills designed for home use include the German companies KoMo (Tribest Wolfgang), Hawos, Kornkraft, Widu Muehlenbau and Schnitzer; the Austrian companies Waldner Biotech, Osttiroler, Salzburger; the American manufacturers Brownwick (Wondermill), Country Living, Kitchen Resource (Nutrimill) and Kitchen Aid.
Below, we take a look at three wooden grain mills worth paying attention to if you are looking to buy a new wooden grain mill. But before we get into details, let's take a quick look at the benefits of getting grain mill for making your own flour at home:
Why get a countertop grain mill for making your own flour?
Countertop grain mills are becoming increasingly popular as health-conscious consumers and avid bakers are beginning to realize the benefits of home-milled flour. For one thing, bread and other baked goods made with freshly ground flour are typically much more flavorful, lighter and moister than baked goods made with store-bought flour.
Culinary aspects aside, home-ground flour is also more nutrient-dense compared with commercial flours. This is because whole grains have a protective layer which protects the fragile nutrients locked inside until the coating is broken through milling. Once the coating has been broken, air-sensitive nutrients – such as vitamin C, thiamin, folic acid, vitamin K, vitamin B6, riboflavin and carotenes – begin to disappear. The longer the storage time of the milled grain, the bigger the nutrient loss.
Furthermore, making your own whole grain flours can give you access to some less common flours, including gluten-free flours such as buckwheat, quinoa, coconut, almond, sorghum, teff and millet flours (a big advantage if you have gluten intolerant or celiac family members). Plus, making your own specialty flours at home can save you a whole lot of money in the long run, especially if you buy whole grains in bulk.
Finding the best wooden grain mill for you
Below, we take a look at three interesting options for those who are looking to buy a wooden grain mill. Note: Some of the links on this page are 'affiliate links', meaning that by purchasing items through these links you will be supporting this website (without any extra cost on your part).
Picture / Price
Description

Tribest Wolfgang Classic (aka KoMo Fidibus)

Better known as KoMo Fidibus in the UK, Tribest Wolfgang Classic is one of the most popular grain mills in Europe. Thanks to its power, beauty and precision, it is also rapidly gaining a loyal fan base across the US (check out the rave user reviews on Amazon). With minimal heat and noise, this powerful wooden electric grain grinder processes whole grains to perfection, leaving you with ultra-fresh, nutrient-dense flour that will take your baking experience to a whole new level. Its grind setting is infinitely adjustable, allowing you to get the perfect consistency – whether you like your flour extra fine or coarse. Buy this timeless heavy-duty beauty from Amazon through the following links:

Check it out on Amazon.com
Amazon.co.uk

KoMo FidiFloc (Mill plus Flaker)

KoMo's FidiFloc is a real workhorse – it is both an electric grain mill and a manual flaker, encased in a lovely beech wood housing. The mill comes with a powerful 360-watt motor, making it suitable for grinding anything from whole wheat berries, oat groats, rice, kamut berries to buckwheat groats, lentils and beans. The manual flaker is an invaluable addition for those who want to make the most out of their cereal containing breakfast (whether it involves eating granola, muesli, porridge, or another cereal-based breakfast dish). To order KoMo's FidiFloc, check out the following links:

Buy it through Amazon.com
Buy it through Amazon.co.uk

Hand-Operated Grain Mills

If you intend to grind grains only occasionally and in small quantities, you might want to consider buying a hand operated mill as they typically carry a lower price tag than electric milling machines. Such manual mills are widely available in the UK and US, both in department stores and online shops. They come in many different materials, including plastic, stainless steel, and wood (the wooden mill pictured here is manufactured by the German company Kornkraft and is available through Amazon.co.uk here). For a list of hand crank grain mills available on Amazon, check out these links:

View them on Amazon.com
View them on Amazon.co.uk