Where to Buy Whole Millet or Flour Made from This Ancient Grain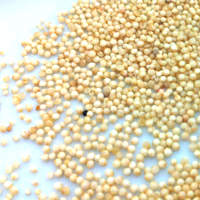 Millet – a cereal crop known for its small, round edible grains – has been grown in China and India since ancient times. Today, it is commonly eaten in India, China, South America, Russia, the Himalayas, and increasingly also in countries like the US and UK. It is a wonderful source of magnesium, but it also provides a hearty helping of other minerals as well as some B vitamins and protein (for more on the nutritional profile of this powerhouse grain, check out our in-depth article Health Benefits of Millet. Millet is cultivated commercially across the globe, with India being the biggest producer of this ancient grain. Pearl millet (Pennisetum glaucum) is the most common variety, but also many other varieties are increasingly available, including radi or finger millet, which produces red grains, and foxtail millet which produces yellow grains similar to pearl millet. Although most of the millet that is sold in the supermarkets and specialty food stores in the US and UK has been cultivated using conventional methods, you can also occasionally find organic millet (both in the form of whole grains and flour).
Tip: If you are looking to buy organic whole grain millet or gluten-free flour made from organically-grown millet in the US, look for the USDA Certified Organic label to confirm that you are buying a certified organic product.
In the kitchen, this versatile gluten-free grain can be used in everything from flat breads to polenta, breakfast porridges and even desserts. Adding whole grain millet to soups and stews is also a great way to thicken these dishes (add the grains to the soup or stew 20 to 25 minutes before the end of the expected cooking time).
Today, yellow whole grain millet can be found in many supermarkets; however, if you're looking for some less common millet products, such as red millet (finger millet) or gluten-free flour or flakes made from this ancient grain, you may have to head to a specialty food store – or do your shopping online. To buy millet products from Amazon, click on the links below:
Don't Miss This

List of Gluten-Free Grains (and Where to Buy Them)
Here's a list of gluten-free whole grains that you should know of, plus tips on where to get them.
Related Articles
Book You May Like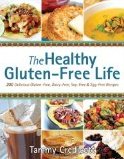 The Healthy Gluten Free Life
by allergy-friendly cooking instructor and bestselling author Tammy Credicott is more than just a gluten-free cookbook! It is a compilation of 200 mouthwatering recipes, all of which are
not only gluten-free but also egg-free, dairy-free and soy-free
. Unlike many other gluten-free cooking instructors, Tammy is also genuinely interested in using truly healthy, whole food ingredients in her recipes. A real treasure trove for families with multiple allergies, The Healthy Gluten Free Life is
available from Amazon
.