Best Electric Soup Makers & Blenders that Cook
Often wrongly taken for uni-taskers, electric soup makers are in fact extra-versatile blenders, creating everything from piping hot soups to refreshing smoothies in a matter of minutes. Below, we explain why a good automatic soup maker belongs in every healthy kitchen, plus provide a comparison chart which should help you find the best electric soup maker for you and your family. Each model included in the chart has either a stainless steel or glass kettle/jug, so you don't have to worry about plastic chemicals such as BPA getting into your soups and smoothies.
Why Get an Automatic Soup Maker
They make everything from hot soups to cold smoothies
No question about it, regular blenders and smoothie makers are a great addition to any healthy kitchen. But why get a regular blender, which only creates cold drinks/meals, if you can get a blender that also cooks? As electric soup makers come with both a blending mechanism and a heating element which can also be turned off, they easily beat most regular blenders in terms of versatility. Despite being labeled as soup makers, these multi-purpose kitchen appliances are also perfect for making sauces, cold smoothies, baby food, and salad dressings, and some models – such as the Cuisinart soup makers can even crush ice! And a few models, such as SoyaSoy G4, even make non-dairy milks out of grains, nuts and soy beans.
No more pots boiling over!
How many times have you seen your soup boil over on the stovetop, creating a nasty mess all over the stove? With a good electric soup maker, the risk of over-boiling is minimal. In most cases, all you have to do to make soup in an automatic soup maker is fill up the machine with ingredients between the min and max lines marked on the pot or jug, and let the soup maker control the cooking (and blending) process. Note: Some models allow you to influence the cooking times and temperatures, so be sure to read the manufacturer or supplier's description of the product, or the user manual, before buying a specific soup maker, so you know exactly what to expect.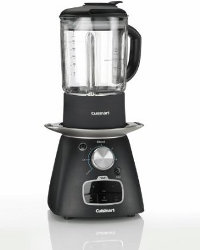 Fewer dishes and less mess
As mentioned above, using a high-quality soup maker instead of making your soup on the stove top is a great way to reduce the risk of your soup boiling over. But that's by no means the only reason why soup makers are arguably the best choice if you hate mess. If you've ever used a hand blender to make pureed soup, you know what a mess they can create in a kitchen. Equipped with tight-fitting lids, the best electric soup makers ensure no hot liquid escapes the jug during blending. In addition, you will have fewer dishes to wash as the entire soup-making process, from cooking to blending, is completed in a single vessel. Finally, many soup maker models can be pre-washed by using the blend function to whizz warm water and some dishwashing liquid in the jug, making the actual clean-up process a breeze.
Quest for the Best Electric Soup Maker
If you've ever wanted to buy an electric soup maker in the US, UK or Canada, you may have already noticed that most of the models available in these countries are quite similar in terms of cooking time, jug capacity (typically between 47 and 58 fl. oz.) and often also in terms of price. The jugs do, however, come in different materials, including plastic, non-stick materials, stainless steel and glass. HealWithFood.org believes the best electric soup makers (from a health point of view) are those with stainless steel or glass jugs as they are naturally BPA-free (see comparison chart below). As you may already know, BPA, or Bisphenol-A, is harmful chemical that may leach into foods and drinks that are cooked or stored in plastic, or plastic-lined, containers.
Soup Maker Comparison
Below, we provide a side-by-side comparison of four BPA-free electric soup makers, including both stainless steel and glass models. Two of the models have been built to UK electrical standards, while the other two have been designed for use in the US and Canada.
1. Models intended for use in the US
| Model | Cuisinart SBC-1000 | SoyaJoy G4 |
| --- | --- | --- |
| Jug material | Glass (with non- stick bottom) | Stainless steel |
| Approx. duration of soup cycle | Up to 30 min | 25 to 30 min |
| Crushes ice | Yes | n/a |
| Temperature adjustable | Yes (high medium, low) | No |
| User reviews, price info etc. | Click here | Click here |
2. Models intended for use in the UK
| Model | Cuisinart SSB1U | Morphy Richards 48822 |
| --- | --- | --- |
| Jug material | Glass (with non- stick bottom) | Stainless steel |
| Approx. duration of soup cycle | 20 min | 21 to 28 min |
| Crushes ice | Yes | No |
| Temperature adjustable | Yes (high, low, simmer) | No |
| User reviews, price info etc. | Click here | Click here |
Above, we've compared some of the popular electric soup makers available in English-speaking countries. Other popular soup maker brands/manufacturers include, but are not limited to, Kambrook, Tefal, Philips, Andrew James, VonShef, and Breville.