Breville vs Zojirushi Bread Machines – Comparison Chart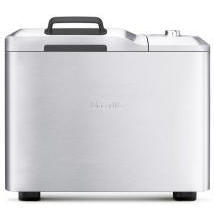 So you've decided to get a high-end bread machine but don't know whether to go for a Breville or Zojirushi? In this article, we take a look at key features of some of the most popular Breville and Zojirushi bread makers available in North America to help you figure out which bread maker is best suited for your purposes.
Key Features and Functions
The two brands carry similar price tags, so cost is probably not going to be the deciding factor. In terms of features and functions, on the other hand, there are quite some differences between the latest Breville and Zojirushi bread machines. Zojirushi's Virtuoso BB-PAC20 and Supreme BB-CEC20 machines, for example, have large horizontal bread pans with dual kneading blades, while the Breville BBM800XL Custom Loaf features a single collapsible blade (designed to minimize the hole the breadmaker leaves in the loaf). For those who like to develop their own bread machine cycles and recipes, Breville's Custom Loaf bread maker offers nine customizable programs, compared with three customizable cycles built into the Zojirushi models covered in this review (to learn more, check out HealWithFood.org's in-depth article on bread machines with customizable programs). These and other key features and functions are summarized below:
Breville BBM800XL
Virtuoso BB-PAC20
Supreme BB-CEC20
Amazon deal
Customizable programs
9
3
3
100% whole wheat program
Yes
Yes
Yes
Gluten-free program
Yes
Yes
No
Jam/compote program
Yes
Yes
Yes
Complete list of programs
See manual
See manual
See manual
Crust options*
Light
Medium
Dark
Light
Medium
Dark
Light
Medium
Dark
Loaf sizes*
1.0 lb
1.5 lb
2.0 lb
2.5 lb
2 lb
2 lb
Keep warm function
Up to 60 min
Up to 60 min
Up to 60 min
Kneading blade system
Single blade
Dual blade
Dual blade
Kneading blade type
Collapsible paddle
Standard
Standard
Automatic dispenser for add-ins
Yes
No
No
Viewing window
Yes
Yes
Yes
LCD display
Yes
Yes
Yes
Delay timer*
Up to 13 hours
Up to 13 hours
Up to 13 hours
Find the lowest price available on Amazon
Click here
Click here
Click here
Click here
Click here
Click here
*Only available on select bread/dough programs (see the manual for details)
Overview of the Pros and Cons Based on User Reviews
When shopping for a new bread machine, it is also a good idea to look for user reviews written by people who have recently bought the model you are thinking of getting. The Breville Custom Loaf bread maker has received positive feedback on, among other things, its customizable programs, automatic dried fruit and nut dispenser, and its alert system which allows you to mute the sound alerts (for example for the night). Its collapsible paddle, on the other hand, has received mixed reviews, with some people praising it and others finding it unfunctional or too gimmicky. The good news is that there's also an audible "remove paddle" alert at beginning of the third rise allows you to remove the paddle altogether if you find it problematic.
Zojirushi's bread machines have a loyal fan base in the US and Canada, with Zoji fans praising the shape and texture of the "Zo loaves" as well as the versatility of their machines (did you know that in addition to making breads, cakes, doughs and jams, Zojirushi's BB-PAC20 and BB-CEC20 models can also make meatloaf and sourdough starters?). But, like all man-made products, also the Zojirushi machines have their shortcomings. The customizable programs, for example, can be adjusted only so much, and according to some Zoji users, the non-stick coating on the pans and kneading blades is rather delicate, so you'll have to be extra careful when cleaning them.
The following comparison chart summarizes some of the most important positive and negative comments shared by Breville and Zojirushi users:
Breville BBM800XL Custom Loaf
Zojirushi BB-PAC20 and BB-CEC20
PROS

Up to 9 custom programs
4 loaf sizes to choose from
Automatic dried fruit and nut dispenser
Pre-programmed gluten-free cycle
Smart, backlit LCD screen
Sound alerts can be muted
Collapsible paddle (if you find it problematic, it can also be removed before baking when you hear the "remove paddle" alert)

Nicely shaped, long horizontal 2-lb loaves thanks to the dual blade system
Can also be used to make sour dough starters and even meatloaf
The manual for the BB-PAC20 model is packed with recipes – covering everything from 100% wheat breads, gluten-free loaves and cakes to all sorts of pizza doughs, marmelades and pasta doughs – but also the manual for the BB-CEC20 contains an impressive range of recipes

CONS

Some say the collapsible paddle takes too big a chunk out of the dough
The Breville manual has (slightly) fewer recipes than the Zojirushi manuals

The customizable programs do not allow for as much freedom as the Breville machine (i.e. narrower time/temperature ranges for most steps)
Some reviewers reported problems with the non-stick coating of the bread pan and the kneading blades

LEARN MORE
View user reviews on Amazon.com

User reviews on Amazon.ca
User reviews on Amazon.com

View user reviews on Amazon.ca