Bread Makers That Don't Leave a Hole in the Loaf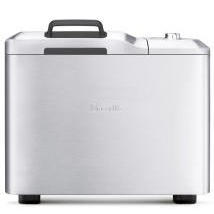 All longtime bread machine users are familiar with the annoying little hole the kneading paddle leaves in the loaf once the paddle is dug out of the baked bread. But did you know that there are also automatic bread makers designed to leave no hole or only a very small hole in the bottom of the finished loaf? In this article, we talk about what you should look for if you want a bread machine that leaves no big hole in the finished loaf.
Get a Machine with Only One Paddle
Bread makers with dual kneading blades have been gaining a lot of popularity in recent years as they allow bread machines to create large, horizontal loaves. But two kneading paddles also means two holes, so you're not a fan of those funky holes in the bottom of your bread, go for a bread machine model with a single kneading blade. For your convenience, we've already eliminated dual blade machines from the comparison chart below and only show machines with single kneading blades.
Collapsible Drop-Down Paddle vs. Removable Paddle
There are two types of paddles that allow bread machines to make loaves with (almost) no hole in the bottom: collapsible drop-down paddles which lie flat before the baking process and removable paddles which can be removed from the rotating shaft after kneading is done.
The collapsible fold-down blades are fully automatic, requiring no intervention on your part. However, the technology behind these blades is still relatively new, and user reviews of bread machines featuring collapsible paddles, such as the Breville BBM800XL, have been mixed.
Machines with removable paddles, on the other hand, require you to take the paddle out at an appropriate time. Depending on the bread maker model, the appropriate time for each pre-programmed cycle may be indicated in the instruction booklet, or there may be an audible signal to alert you to remove the blade. Removable paddles are generally considered more reliable than their collapsible counterparts, plus the hole the rotating shaft leaves in the loaf after the paddle has been removed is usually less noticeable than a dent created by a fold-down blade.
Finding the Best Bread Machine for "No Hole" Loaves
Once you've found a few breadmakers with collapsible or removable paddles, you'll probably still want to look at some of the other features of these machines before making a buying decision. To help you find the best bread machine for your requirements, HealWithFood.org put together the following chart which compares the key features of top bread machines with collapsible/removable paddles available in the US, Canada and the UK:
1. Models built to North American electrical standards
BASIC
PRO
Breville BBM800XL Custom Loaf
Cuisinart CBK-100 Breadmaker
Kneading blade
Collapsible and removable
Removable
Number of programs
14
12
/tr>
Customizable program
Yes
No
Whole wheat program
Yes
Yes
Gluten-free program
Yes
Yes
Rapid bake program
Yes
Yes
Jam program
Yes
Yes
Bake-only program
Yes
Yes
Other programs
See manual
See manual
Crust options*
Light
Medium
Dark
Light
Medium
Dark
Loaf sizes*
1.0 lb
1.5 lb
2.0 lb
2.5 lb
1.0 lb
1.5 lb
2.0 lb
Keep warm function*
Up to 60 min
Up to 60 min
Dispenser for add-ins*
Yes
No
Viewing window
Yes
Yes
LCD display
Yes
Yes
Delay-start timer*
Up to 13 hours
Up to 13 hours
Find the lowest price available on Amazon
Click here
Click here
Click here
Click here
*May be available on select cycles/programs only (see user manuals for details)
Models built to meet British electrical standards
BASIC
PRO
Morphy Richards 48324
Lakeland Bread Maker Plus
Kneading blade
Collapsible
Removable
Number of programs
19
12
Customizable program
Yes
Yes
Whole wheat program
Yes
Yes
Gluten-free program
Yes
Yes
Rapid bake program
Yes
Yes
Jam program
Yes
Yes
Bake-only program
Yes
Yes
Other programs
See manual
See manual
Crust options*
Very light
Light
Medium
Dark
Very dark
Light
Medium
Dark
Loaf sizes*
1.0 lb (450 g)
1.5 lb (680 g)
2.0 lb (900 g)
700 g
1000 g
Keep warm function*
Up to 60 min
Up to 60 min
Dispenser for add-ins*
Yes
Yes
Viewing window
Yes
Yes
LCD display
Yes
Yes
Delay-start timer*
Up to 12 hours
Up to 13 hours
Amazon price
Click here
Click here
*May be available on select cycles/programs only (see user manuals for details)