Best Bread Machines with Gluten-Free Programs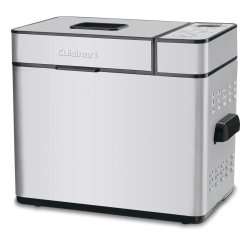 Cuisinart's CBK-100 featuring a gluten-free program, available through Amazon.com and Amazon.ca
Gluten-free diets have taken the North American continent by storm, from Texas and California to Toronto and Montreal in Canada. Businesses have been quick to respond to the increasing demand for gluten and wheat free products, and today, you can find everything from gluten-free bread, cakes and beer to – lo and behold – gluten-free bread machines! That's right, folks, automatic bread machines with gluten-free programs have arrived to America!
Below, we provide some tips for people looking for 'gluten-free' bread machines that have been built to North American electrical standards. If you're looking for a machine that works in the UK, check out our article Breadmakers with Gluten-Free Cycles – UK Models.
Quest for the Best
Whether you're looking to replace your old breadmaker with a modern model equipped with a gluten-free program or whether you're simply looking to buy a top rated gluten free bread machine, the task of finding the best bread machine for your family's gluten-free baking needs may not be as easy as you might think. Modern bread machines come packed with all sorts of features and functions, making it difficult and time-consuming to compare different models.
To help you find for the best deal / model for you, HealWithFood.org has put together a handy comparison chart which provides an overview the key features of popular 'gluten-free' bread machines available in the US and Canada (see below). All of the models included in the chart feature a dedicated gluten-free program, but the chart also includes two customizable bread machines which allow you to program and store the knead, rise and bake times to meet your specific needs and preferences.
If you are already experienced in gluten-free baking, getting a bread machine that has a customizable program (in addition to or instead of a gluten-free setting) might be a smart move. This is because gluten-free bread machine recipes and flour mixes can vary greatly, and you will often find that instructions given for kneading, rising and baking times do not match the times of the standard gluten-free cycle your bread machine provides. In other words, if you get a machine that only features a pre-programmed gluten-free program, you may have to stick to the recipes provided by the manufacturer (unless, of course, you manage to find other recipes/flour mixes that are compatible with your gluten-free program).
Comparison Chart
The following chart provides a side-by-side comparison of popular bread machines suitable for gluten-free baking:
Cuisinart CBK-100 Breadmaker
Breville BBM800XL
Virtuoso BB-PAC20
Amazon deal
Gluten-free program
Yes
Yes
Yes
Customizable program(s)
No
Yes
Yes
Jam program
Yes
Yes
Yes
Complete list of programs
See manual
See manual
See manual
Crust options*
Light
Medium
Dark
Light
Medium
Dark
Light
Medium
Dark
Loaf sizes*
1 lb
1.5 lb
2 lb
1.0 lb
1.5 lb
2.0 lb
2.5 lb
2 lb
Keep warm function
Up to 60 min
Up to 60 min
Up to 60 min
Single vs dual paddle
Single
Single
Dual
Kneading blade type
Standard
Collapsible
("no hole" paddle)
Standard
Automatic dispenser for add-ins
No
Yes
No
Viewing window
Yes
Yes
Yes
LCD display
Yes
Yes
Yes
Delay timer*
Up to 13 hours
Up to 13 hours
Up to 13 hours
Find the lowest price available on Amazon
Click here
Click here
Click here
Click here
Click here
Click here
* The settings marked with an asterix may not be available on certain programs, including gluten-free programs. While this may first seem like a disadvantage, it is actually a plus. In case of the delay-start function, for example, the manufacturers often block the function for gluten-free cycles for two reasons: First, unlike wheat flour, gluten-free flour cannot act as a barrier between the yeast and the liquid before the mixing process begins and therefore the yeast would be activated too early. Second, gluten-free dough often contains ingredients like eggs and milk which would spoil if they were allowed to sit in the bread pan at room temperature for several hours.