Bread Makers with Gluten Free Settings (UK Models)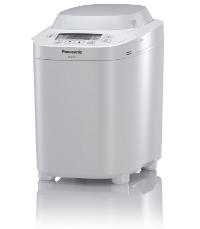 Panasonic's SD-2501WXC featuring a gluten-free setting, available through Amazon UK here
If you or someone in your family suffers from celiac disease or gluten intolerance, you already know how expensive gluten-free bread, cakes and biscuits can be. You also know that, while baking your own gluten-free bread can really cut your grocery bill, baking your own bread – gluten-free or not – is usually rather time consuming and messy. If you love the idea of affordable, fresh, gluten-free free that doesn't require you to spend hours in the kitchen, you might want to consider getting a high quality bread machine with a gluten-free setting. Or, if you like to come up with your own gluten-free recipes and don't mind the trial and error it takes, get a breadmaker with a "homemade" cycle. These customisable bread machines give you a whole lot of control over the kneading, rising and baking processes, allowing you to adjust the times for each step. In this article, we discuss in more detail what you should keep in mind when shopping for a bread maker with a gluten free programme in the UK, plus provide an overview of bread machines that should do the job.
Note: This review focuses on gluten-free bread makers available in the UK. For an overview of similar products available in the US and Canada, click here.
A gluten-free setting does not guarantee a good loaf gluten-free bread. Automatic bread makers with a gluten-free setting have already been pre-programmed at the factory to provide a cycle that shortens, lengthens or eliminates specific steps in the bread making process to meet the requirements of gluten-free dough. However, getting a pre-programmed machine does not guarantee that your loaves will turn out great. When shopping for a bread maker with a pre-set gluten-free cycle, go for a high quality machine that has received good user reviews especially from users that suffer from celiac disease or wheat/gluten intolerance (check out user reviews for gluten-free and other popular bread makers sold in the US here).
Do you like to develop your own gluten-free recipes? Get a bread maker with a custom programme! If you can't find a bread maker with a good gluten-free programme, you might want to consider getting a programmable machine that allows you to adjust the timings for the kneading, rising and baking steps to meet the needs of gluten free dough. Keep in mind, though, that developing your own bread machine cycles requires deep understanding of the bread making process, and even if you are an experienced baker, it may still take quite some trial and error to get it right.
Some of the marketed features may have been blocked on gluten-free cycles (for your benefit). If you go through manuals for gluten-free breadmakers, you will soon notice that some of the marketed features, such as the delay timer or the option to change the loaf size, may have been blocked on the gluten-free cycle. While this may first seem like a disadvantage, it is actually a plus. In case of the delay-start function, for example, the manufacturers often disable the function for gluten-free cycles since gluten-free bread typically contains perishable ingredients such as eggs and milk.
Don't know which breadmaker to choose? Finding the best gluten-free bread maker for you and your family can be a daunting task as modern machines are typically packed with all sorts of features and functions. The following side-by-side comparison chart should sort out the various features and specifications of popular gluten-free breadmakers available in the UK:
Kenwood BM450 Breadmaker
Panasonic SD-2501WXC
Morphy Richards 48324
Highlights

You can create and store up to 5 of your own programmes
User manual lacks recipes, but you can find a lot of recipes for this model here

Top brand name in bread machine industry
One of the most sold and reviewed breadmakers on Amazon UK
Rye bread cycle (can be used to make 100% rye bread)
Extra durable non-stick pan and blade

Drop down paddle to minimize hole in the loaf
Dessert function for making things like rice pudding

Gluten-free cycle
Yes
Yes
Yes
Customisable cycle
Yes
No
Yes
Jam/compote cycle
Yes
Yes
Yes
Other cycles
See manual
See manual
See manual
Fast bake option*
Yes
Yes
Yes
Crust settings
Light
Medium
Dark
Light
Medium
Dark
Very light
Light
Medium
Dark
Very dark
No. of loaf size options*
3
3
3
Digital display
Yes
Yes
Yes
Delay timer*
Up to 15 hours
Up to 13 hours
Up to 12 hours
Keep warm function
Up to 60 min
Up to 60 min
Up to 60 min
Raisin and nut dispenser*
Yes
Yes
Yes
Get the Amazon deal
* This setting may not be suitable for certain types of bread, including gluten free loaves, and the manufacturer may have blocked it on certain cycles. For details, see the user manuals (links to the user manuals are provided in the above chart).