Is a Bread Machine with a Two Paddle System Worth It?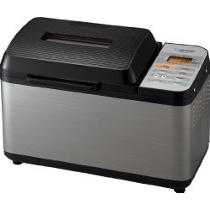 Gone are the days when bread machines were only capable of making one type of bread. The modern models are real workhorses that not only make different types of bread, but that can also make doughs, cakes and even marmalade. Most of the automatic bread makers you find in the shops today feature just one kneading blade; however, there are also bread machine models with two paddles, and some of these models are actually surprisingly affordable. The purpose of this article is to help you determine whether you should get a breadmaker with a dual blade system and to review common dual blade models available in the US, Canada and the UK.
Should you get a bread machine with two kneading blades?
Do you have a big family? If you have a big family to feed and therefore want to be able to make big loaves, you might want to take the plunge and get a bread machine with a dual blade system. Automatic bread makers that use two kneading paddles can handle even large dough with ease, resulting in thoroughly and evenly kneaded dough. And, as every avid baker knows, well kneaded dough is key to a successful rising process and a nicely shaped loaf with a fabulous, soft texture. All of the bread machines featured in this review can make 2-lb loaves, and most of them can also make bigger loaves, if required.
Do you prefer horizontal loaves over vertical ones? If you decide to get a bread machine with two paddles, the loaves you make with it will have a traditional, rectangular shape – the kind of loaf shape we've got used to seeing in the grocery stores and bakeries. Single paddle machines, by contrast, typically produce tall, squarish loaves which result in rather unusual-looking slices.
Do you want to make bread using heavier flours? Kneading dough made with a heavier flour, such as whole wheat or rye flour, typically requires more strength from the baker – or the bread machine – than kneading dough made with plain white flour. So, if rye bread is your thing, getting a two-blade workhorse may be a smart move.
Where can you get one?
Electric bread makers with two paddles are not as easy to find in the shops as their single paddle counterparts. If you have trouble finding one in the shops near you, don't worry – you can always buy one online. Below, we take a look at four models available through the online retailer Amazon – two of the models have been built to North American electrical standards, while the other two have been designed for the UK market.
Models built to North American electrical standards
Zojirushi BB-PAC20
Black & Decker B6000C
Two kneading blades
Yes
Yes
Custom cycle(s)
Yes
No
Pre-programmed cycles
10
10
Jam/compote cycle
Yes
Yes
Gluten-free cycle
Yes
Yes
Other cycles
See manual
See manual
Crust settings*
Light
Medium
Dark
Light
Medium
Dark
Loaf size options*
2 lb
1.5 lb
2 lb
3 lb
Viewing window
Yes
Yes
Delay start function*
Yes
Yes
Keep warm function*
Up to 1 hour
Up to 1 hour
LCD display
Yes
Amazon price
Click here
Click here
Click here
Click here
*May be available on select cycles/programs only (see user manuals for details)
Models built to meet British electrical standards
Breville Twin Paddle
Unold 68511 Backmeister
Two kneading blades
Yes
Yes
Custom cycle(s)
Yes
Yes
Pre-programmed cycles
12
9
Jam/compote cycle
Yes
Yes
Gluten-free cycle
Yes
Yes
Other cycles
See manual
See manual
Crust settings*
Light
Medium
Dark
Light
Medium
Dark
Loaf size options*
900 g
1,200 g
1,400 g
750 g
to
1,800 g
Viewing window
Yes
Yes
Delay start function*
Yes
Yes
Keep warm function*
Up to 1 hour
Up to 1 hour
LCD display
Yes
Yes
Amazon price
Click here
Click here
*May be available on select cycles/programs only (see user manuals for details)