Quest for the Best All-in-One Juicer, Blender and Smoothie Maker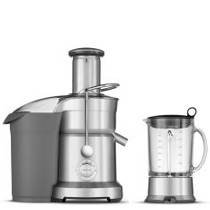 In kitchens where cabinet and countertop space is at a premium, multi-purpose kitchen appliances like multi-cookers and soup makers (also known as blenders that cook) can make a real difference. Below, we take a look at a new space-saving kitchen appliance ideal for those who like to drink their vitamins: the all-in-one juicer-blender combo! At the end of this article, you'll also find a side-by-side comparison chart that provides an overview of some of the most popular juicer blender combos available on Amazon.
Juicer That Doubles as a Multi-Purpose Blender
Do you love to make smoothies and fresh fruit juices but feel a little cramped in the kitchen? Here's a solution: replace your bulky juicers and smoothie makers with a single, all-in-one juicer-blender! With this multi-functional kitchen workhorse, you'll be creating everything from smoothies, juice drinks and shakes to sauces, dips and cold soups in no time. These ingenious new gadgets come with a single base and two interchangeable heads: one for juicing and one for blending. All you have to do is change the head and your multi-purpose kitchen companion is ready to whip up your favorite healthy drink, whether it's an invigorating fruit smoothie, a refreshing juice drink or a filling protein shake.
Save Money by Buying One Appliance Instead of Two (or More)
Not only do 2-in-1 appliances and other multi-purpose gadgets save you valuable countertop and cabinet space, they may also help you save some hard-earned cash as you only need to buy one appliance instead of two (or more). Of course, how much – or little – you can save depends largely on which juicer-blender combo you decide to buy – high-end all-in-one juicer-blender combos such as the Breville BJB840XL combo, typically have more power and more features, which usually translates into a higher price tag. If you're only getting started with juicing and smoothie making, and aren't ready to shell out a lot of cash for a blender-juicer, you might want to look for a cheaper model first and then upgrade later once you know you can keep up the smoothie making/juicing habit (many reviews on Amazon praise the Oster juicer blender as a good juicer-blender for beginners who want to start with a relatively inexpensive model).
Comparison of Popular All-in-One Juicer Blenders
If you have trouble finding a 2-in-1 juicer and smoothie maker in the shops near you, don't worry – you can always buy one online. Below, we provide a side by side comparison of three all-in-one juicer blenders available through the online retailer Amazon: the Oster Juicer Blender 2 Go (also known as Oster FPSTJE3166-022), Breville BJB840XL and Nesco American Harvest JB-50 2-in-1 Juicer/Blender. Note that this page contains affiliate links, which means that if you buy a product using those links, the author of this article may receive a small commission.
Breville BJB840XL Juicer/Blender
Oster Juice & Blend
Nesco Am. Harvest JB-50
Amazon.com deal
(price in US$)
Power
1000-1200 Watts
400 Watts
250 Watts
Housing
Metal
Plastic
Plastic
Blender jug size
51 ounces
20 ounces
50 ounces
Where to buy
Amazon.com
Amazon.ca
Amazon.com
Amazon.ca
Amazon.com
Amazon.ca

Note for UK residents:
You may have trouble finding the above-listed juicer blenders in the UK. If you are looking for an all-in-one juicer blender and live in the UK, you might want to check out
Philips HR1845/31 Juice and Blend
.