Product Reviews & Comparisons
Oster Juicer Blender with 2-Go Cup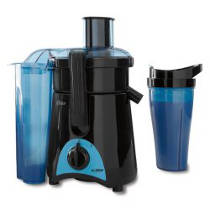 The Oster Juicer Blender 2 Go (aka Oster FPSTJE3166-022) combines two small kithen appliances in one powerful unit. Instead of just making smoothies or juices, this 2-in-1 juicer and blender lets you create both nutritious smoothies and fresh fruit and vegetable juices. Note that this is a compact juicer-blender, and it has been designed with small kitchens in mind; if you are looking for something a bit sturdier, check out the Breville BJB840XL Juicer-Blender.
Disclosure: This review contains affiliate links, which means that if you buy a product using those links, the author of this article may receive a small commission.
Compact Juicer That Doubles as a Personal Blender
In small kitchens, space is a precious commodity. This is where multi-purpose appliances, such as the Oster Juicer Blender 2 Go, come in! Instead of getting a blender and a separate juicer, you can buy an Oster Juicer Blender and benefit from the 2-in-1 functionality of this ingenious contraption. With a few twists of the wrist, this small but mighty kitchen gadget turns from a centrifugal juice extractor into a powerful blender, and vice versa.
Easy Clean-Up and Mess-Free Juicing
Not only is the Oster FPSTJE3166-022 easy to use, it is also easy to clean as most parts are dishwasher-safe. In addition, the juice extractor is equipped with an elongated pouring spout, which reduces spills, and a drip stopper which has been designed to reduce dripping after juicing.
Pressed for Time? Just Blend and Go!
The Oster Juice and Blend 2 Go is ideal for busy people who love fresh homemade smoothies but have no time to waste. As it allows you to blend directly in the same 20-ounce cup you drink from, you won't have to waste time pouring a drink from one container to another. Perfect for those who like to take nutritious homemade smoothies to the gym, work or school!
BPA-Free Cup
While the U.S. government continues to allow the use of bisphenol A (BPA) in most plastic products, many consumers are growing wary about the safety of this chemical compound. Companies are responding to these consumers' concerns by rolling out BPA-free plastic products, and in fact, the Oster Juicer Blender 2 Go comes with a BPA-free to-go cup. However, the cup is still plastic, which means this juicer blender is not be the best choice for those who are trying to minimize their exposure to all things plastic. If you are looking for a blender-juicer combo with a non-glass blender jug, check out the Breville BJB840XL which comes with a glass pitcher (be aware, though, that this is not a compact/personal blender). Or, if you don't care too much about the juicer function, but insist on having a small, compact blender with a non-plastic cup, you might want to check out this personal blender with a stainless steel container or Tribest's beautiful single-serve smoothie maker with glass jars.
A Relatively Inexpensive Choice for Beginners
If you're just getting started with making smoothies and fresh fruit juices and don't want to spend loads of money on a high-end juicer-blender (at least not before you know whether you can keep up the smoothie habit), the Oster FPSTJE3166-022 might really be the right choice for you. If you peruse the reviews of the Oster juicer-blender on Amazon, you'll realize that many of the reviewers who liked their purchase liked it because of its affordable price tag.