Personal Blender with Stainless Steel Travel Bottle/Container: Hamilton Beach 51108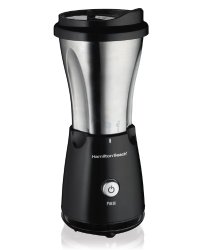 It's one of the most compact personal blenders out there, it comes with a naturally BPA-free stainless steel travel cup, and it's a real steal compared with other blend-and-go smoothie makers sold in the US and Canada. Meet the Hamilton Beach 51108 blender, a single serve smoothie maker that is about to rock your world! Below, we take a look at some of the most interesting benefits and features of this extraordinary personal blender, plus provide tips on where you can buy one.
Stainless steel travel mug – a BPA-free alternative to plastic sports bottles
Bisphenol-A, or BPA, is a harmful chemical that is frequently found in small amounts in foods and beverages prepared or stored in containers and bottles made of regular hard plastic. BPA is known to interfere with the production and function of hormones within the human body, and studies suggest that excessive exposure to BPA may increase a person's risk of everything from asthma, diabetes and neurological disorders to polycystic ovary syndrome (PCOS), fertility problems and even cancer. While it is possible to find plastic products made of presumably BPA-free plastic, the best way to protect yourself and your loved ones from BPA – and other similar endocrine disruptors – is to use kitchenware made stainless steel, glass, wood and other materials that are naturally free of BPA and other similar toxins. Unfortunately, however, it is still relatively difficult to find compact, personal blenders with plastic-free bottles or containers – which is why Hamilton Beach' 51108 portable single-serve smoothie maker is such a gem!
Gotta run? Just blend and go!
Making blending fast and simple, the Hamilton Beach 51108 is ideal for busy, health-conscious people who love fresh, nutritious smoothies but have no time to waste. As it allows you to blend directly in the same container you drink from, you won't have to bother with pouring a drink from one container to another, which also means fewer dishes to wash! Made of stainless steel, the to-go travel cup is perfect for those on the go – you can take it to work or the gym, or practically anywhere else you go.
Not only the metal cup but also the base is portable
Unlike most personal blenders sold in the US and Canada, the Hamilton Beach 51108 smoothie maker – not just the detachable to-go cup – easily travels with you wherever you go. Thanks to its light and extra compact design, this portable blending machine also takes very little place on your countertop or in your cupboard when you store it. In addition, the cord has been designed to wrap around the base, which makes storage even easier. And, practical design features aside, the stainless steel design of the container also makes it nice to look at!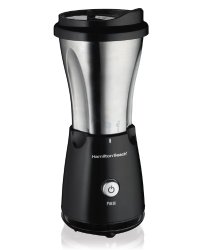 Where to get the Hamilton Beach 51108 blender with a stainless steel container?
Ready to take control of your health and get yourself Hamilton Beach' 51108 blender with a naturally BPA-free stainless steel cup? If you live in the US or Canada, you can buy the blender conveniently online through the following links:

Note for UK customers: This product has been built to North American electrical standards. If you are looking to buy a smoothie maker with a stainless steel container built to meet the British electrical standards, check out Philips' HR2171/91 blender here.
Sponsored Links / Ads
Don't Miss This

How to Pick the Best Digital Nutrition Scale
All nutrition scales count calories and show nutrition facts, but how do you pick the best model?
Cool Products