Fruity Kale Smoothie
Serves 2
This green smoothie recipe pairs nutrient-packed kale leaves with ripe banana and frozen mango which lend sweetness and creamy texture to this luscious green drink. Sea-buckthorn berry juice and hemp seeds, both of which contain anti-inflammatory compounds, are added to the mix to further boost its healing properties. Sea-buckthorn juice, which is made from the bright orange berries of a thorny plant that grows wild on sea cliffs and dunes in Europe and Asia, has also been reported to contain exceptionally high levels of beta-carotene.
Tip: The original recipe below calls for fresh kale leaves; however, if you haven't quite acquired a taste for green smoothies yet, you might want to throw some rinsed kale leaves into the freezer and use the frozen leaves instead. When frozen, kale leaves lose some of their bitterness and smelliness.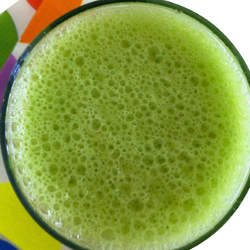 Directions
Let the mango chunks thaw for a few minutes
Place the mango chunks, sliced banana, kale leaves, sliced banana, kale leaves, sea-buckthorn juice, hemp seeds and water in a high-powered blender. Blend until smooth.
Check the consistency. If necessary, add a bit more water and blend again. Serve immediately.
Book You May Like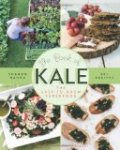 Not only is kale downright delicious and healthy, it is also easy to grow – even indoors and on balconies! In this garden-to-kitchen guide, kale-lover Sharon Hanna provides the reader with kale growing tips as well as more than 80 kale recipes for breakfast, lunch, dinner and snacks. Hanna's culinary creations range from classics like Kale Chips to more inventive dishes like Kale, Salmon and Potato Cakes. To learn more, go to

Amazon.com
and

Amazon.co.uk
.
Sponsored Links / Ads