Must-Have Kitchen Gadgets
Sturdy Vegetable "Pasta" Makers (Spiralizers)
The concept behind the vegetable "pasta" makers or spiralizers that are revolutionizing the way we eat our veggies is ingeniously simple: you take a bunch of zucchini, carrots and other raw vegetables which are naturally low in calories, crank them through a spiralizer, and eat the thin spaghetti-shaped vegetable ribbons – raw or cooked – the same way you would eat real pasta or noodles: with spaghetti sauce, in Asian-style stir fries, or in soups and salads. Made of unprocessed, nutrient-dense whole vegetables, these imitation noodles are an incredibly healthy addition to anyone's diet, but they are also suitable for Paleo followers, raw foodists (provided that you eat them raw), and folks following gluten-free, low carb or low calorie diets.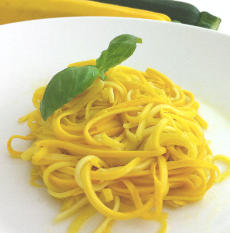 Easy Recipe for Low-Carb Zucchini Noodles ("Zoodles")
When it comes to popular spiralizable vegetables, zucchini is right there on top of the list. With its long shape, firm texture, and mild flavor, it is the ideal ingredient for vegetable pasta. In fact, zucchini noodles have become so popular among low carb dieters and Paleo devotees that a new term, zoodles (or courgetti if you live in the UK), has emerged to describe noodle/spaghetti imitations made of zucchini/courgette. You can eat spiralized zucchini raw, but most people probably prefer them briefly cooked and served warm, together with a tasty spaghetti sauce. Here's a basic recipe for cooked low-carb zoodles:
Ingredients (for 1 serving)
2 small zucchinis/courgettes, green or yellow
1 tablespoon extra-virgin olive oil
1/4 cup water
Salt to taste
Instructions
Wash the zucchinis. Some people also like to peel them before turning them into zoodles, but if you want to get the maximum nutrition out of your meal, HealWithFood.org recommends using unpeeled zucchini).
Spiral the zucchinis down into noodle shapes using a sturdy vegetable spiralizer, such as one of the models described below.
Heat the olive oil in a skillet over medium heat, and cook and stir the thin zucchini ribbons in the hot oil for about 1 minute.
Add the water and cook until the zoodles are softened, about 5 minutes. Season with salt and serve with your favorite pasta sauce.
List of Top Spiralizable Vegetables
Vegetable noodle makers can vary significantly in terms of price and quality, with the best commercial-quality spiralizers commanding prices in the hundreds of dollars. The countertop models are generally more expensive than the compact hand-held models, but the tabletop models are also usually more reliable and versatile than their hand-held counterparts. Most sturdy countertop spiral slicers can cut through the below-listed vegetables with ease, allowing you to come up with a virtually unlimited number of recipes featuring veggie noodles and julienne strips (the most popular spiralizable vegetables are highlighted in bold):
Apples
Beets
Broccoli stem
Butternut squash
Cabbage
Carrots
Celeriac (celery root)
Cucumber
Daikon radishes
Eggplant
Fennel
Jicama root
Kohlrabi
Turnips
Onions
Parsnips
Pears
Potatoes
Radishes
Rutabaga/swedes
Sweet potatoes
Yellow squash
Yams
Yucca root
Zucchini (courgette)
Finding the Best Spiralizer – 3 Products Definitely Worth Considering
Below, we take a look at three vegetable pasta makers, including one model designed for professional chefs and two spiralizers designed for home use. Note that the rest of this article contains "affiliate links", which means that if you buy a product using any of those links, the author of this article will receive a small commission (without any extra cost on your part).
Amazon Deal
Description

Professional Heavy-Duty Spiralizer: Paderno 49827-03

If you run a restaurant or need a heavy duty vegetable pasta maker for any another reason, you might want to consider getting Paderno World Cuisine's Rouet Spiral Slicer. This commercial-quality spiralizer and vegetable slicer from a leading manufacturer of professional cookware is equipped with multiple blades with 5/64 inch, 1/8 inch, and 1/4 inch spacing, plus a straight blade for making ribbon cuts. The key components are also dishwasher safe. For detailed information about the price and shipping costs for this spiralizer within the US or the UK (or for a similar product if this product is not available), click on one of the following links:

Click here Click here

Sturdy Spiralizer for Home Use: Westmark's Spiromat

If you don't need a professional-quality heavy duty vegetable pasta maker but would still appreciate a machine that's sturdier than your average spiralizer made in China, consider Westmark's Spiromat. This solid workhorse has received excellent user reviews on Amazon, with reviewers praising its sturdy design, its non-slip suction feet, and its extra-sharp stainless steel blades which cut through everything from carrots, cucumbers and cabbage to potatoes, zucchini and apples. Westmark's Spiromat is a bit more expensive than some other, more popular brands sold in the US and Canada (such as Paderno's A4982799 model), but it may be well worth it. For details:

Click here Click here Click here


Zoodle Maker for Smaller Kitchens: Hand-Held Spiral Slicers

If you're looking for something substantially cheaper (and smaller) than the heavy duty spiralizers described above, you might want to get a compact julienne slicer such as All Times Finest's hand-held spiralizer (shown in the picture), which is ideal for smaller kitchens and counter spaces. Compared with sturdy countertop vegetable pasta makers, these small kitchen gadgets often have trouble cutting through harder vegetables such as raw potatoes, carrots and sweet potatoes, and some user reviews suggest these low-cost gadgets are only suitable for making zoodles (zucchini noodles). To get more information about hand-held spiral slicers, including user reviews, check out these links:

Click here Click here Click here

The Bottom Line
The spiralizer craze is taking cities across the UK and North America by storm, from London and Birmingham, to Los Angeles and Chicago, to Toronto and Montreal in Canada. But unlike many other trendy kitchen gadgets, this one may actually be worth investing in. Here's a summary of the benefits of adding a spiralizer to your gadget arsenal:
Paleo, vegan, gluten-free, and more – Vegetable "noodles" can be incorporated into many special diets, including Paleo, raw food, vegan, vegetarian, low carb, no-wheat, and gluten-free diets
Substitute for high carb pasta and noodles – Replace conventional pasta made with processed high carb flour with healthy, vitamin-rich julienne-cut veggie strips
Get picky children eat their veggies – vegetables disguised as spaghetti are more likely to accepted by fussy eaters; plus, a countertop spiralizer in action can be fascinating for a child to look at
Quick, stress free preparation – Using a high-quality spiralizer takes the stress out of vegetable slicing, plus it can save you a whole lot of time
Eye-catching dishes – A spiralizer allows you to create attractive-looking culinary creations that you and your family will find hard to resist
Limitless opportunities – A good heavy duty vegetable pasta maker can make spaghetti-shaped strips of nearly firm vegetable, allowing you to flex your creative muscle in the kitchen. And, you sure don't have to stick to traditional pasta-style dishes: these thin vegetable strips are also perfect for salads, soups, and stir-fries, and they make wonderful garnishes, too!