The Latest Must-Have Gadget:
Fully Automatic Pasta Machine (2-in-1 Dough Maker and Extruder)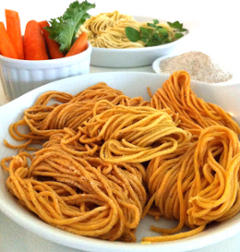 Forget fancy smoothie makers and bread machines with gluten-free programs – pasta makers are the kitchen gadget of the year! And no, we are not talking about those manual spaghetti/noodle extruders and pasta rollers you've already seen in the shops – we are talking about fully automatic pasta machines that both mix the dough and extrude it in the shape of your choice! Versatile, easy to use and time-saving, it's no wonder these compact countertop appliances have already taken Japan and Hong Kong by storm and are now gaining fans across the US, Canada and the UK. Below, we take a look at why these new-generation pasta makers are becoming such a hit, plus provide a side-by-side comparison chart of some of the most popular models.
The 2-in-1 dough maker and pasta extruder
Fully automatic pasta makers take pasta-making to a completely new level by both preparing the dough and extruding it through a shaping disc, producing fresh homemade pasta ready to be cooked. All you have to do is put the dough ingredients (the most basic recipe only uses flour and water) into the built-in kneading bowl, press a button, and this ingenious 2-in-1 dough maker and extruder will take care of the rest.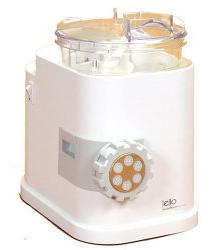 The unparalleled flavor of fresh, homemade pasta
Store-bought spaghetti is great in a pinch, but there's nothing like the full flavor and slightly doughy texture of fresh, homemade pasta. Obviously, you don't necessarily need an automatic pasta maker to be able to make pasta at home, but it sure can help reduce the stress and mess involved in making pasta at home.
Oodles of noodles in less than 20 minutes
These new-generation pasta makers are also incredibly fast, many of them producing fresh homemade pasta in less than 20 minutes. But keep in mind, the right dough consistency is key here, so be sure to read the manufacturer's instructions carefully, and don't be discouraged if you don't get it right the first time.
Various types of pasta, from noodles to lasagna sheets
These quirky gadgets typically come complete with a wide range of shaping discs, allowing you to produce pasta in different shapes such as spaghetti, fettuccini, linguine, macaroni and lasagne sheets. Some models, such as Viante's CUC-27PM and CUC-26PM models, even have a disc for making Italian-style biscotti/cantuccini cookies.
Cheap gourmet/specialty pasta
Given the relatively high price of store-bought fresh pasta, these smart kitchen gadgets also offer great savings potential in the long term, especially if you regularly consume gourmet/specialty pasta products made with less common and/or more expensive flours such gluten-free, buckwheat, or spelt flours. And, of course, you will also be able to enjoy gourmet pasta products you might not even be able to find in the shops! To give you a better idea of what you can do with your fully automatic pasta maker, the following list provides an overview of flours that people have successfully used with their automatic pasta makers. Keep in mind, though, that different flours have different properties and that it may take some practice to get the flour consistency right (for details, see the user manual of your pasta machine).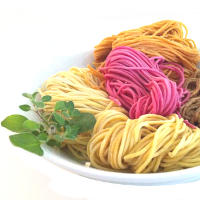 Wow your family and friends with colored pasta
Impress your family and friends by serving healthy pasta made with natural colorings such as spinach juice, matcha powder, beet juice, turmeric powder or squid ink! Or hue your noodles to match the color scheme of a party or special occasion (black squid ink noodles and orange carrot noodles for Halloween, pink beet noodles for Valentine's Day, etc). Here are some examples of natural colorings that are perfect for turning your noodles from boring to bold:
Spinach juice
Wheatgrass juice
Japanese matcha powder
Squid ink
Beet juice
Bell pepper juice
Tomato juice
Paprika powder
Carrot juice
Curry powder
Turmeric powder
Automatic Pasta Makers – Comparison of Popular Models
Note for UK customers: The following comparison chart provides an overview of some of the most popular fully automatic pasta makers available in the US and Canada. If you're looking for a similar product in the UK, click here.
| | Lello 2730 3000 | Viante CUC 27PM | Ronco Pasta Maker |
| --- | --- | --- | --- |
| | | | |
Details
Lello 2730 3000
Viante CUC 27PM
Ronco Pasta Maker
Amazon rating
(as of Oct 2014)
4 stars
3.5 stars
2.5 stars
Processing speed (approx.)
3 pounds of pasta in 20 min
1.5 lb of pasta in 16 to 25 min
Over ½ lb of pasta in 5 min
See-through lid
Yes
Yes
Yes
Number of shaping discs
8
10
5
Approx. size in inches
12 x 8 x 11.5
13.3 x 12.2 x 14.4
12.5 x 8 x 13.5
For more info
See full review
See full review
See full review
Where to buy it in the US
Amazon
Amazon
Wayfair, Amazon

Where to buy it in Canada
Amazon
Amazon