Electric Pasta Rollers and Extruders (incl. Save and Splurge Models)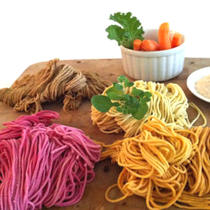 There is nothing like the authentic flavor of fresh, homemade pasta, and with the electric pasta rollers and extruders now available at retailers and online stores across North America and the UK, pasta-making becomes child's play! These motor-operated devices have two key benefits over their hand-operated counterparts: first, both of your hands will be free for feeding the dough in and taking it out on the other side, and second, the constant speed of the rollers ensures the pasta sheets will as even as possible. But there's one major drawback: electric pasta makers can be quite pricey, with many models carry price tags of several hundred dollars. Indeed, if you plan to make fresh pasta at home only occasionally, a high quality manual pasta maker may be good enough for your purposes – and it can save you a lot of money, too. Now for those who are ready to invest a bit more in their new pasta machine, here are some electric pasta rollers and spaghetti extruders you may want to consider buying, ranging from less expensive basic models to professional quality appliances for serious chefs:
Amazon Deal
Description

Sturdy Motor-Equipped Roller Made in Italy

Atlas Electric Pasta Roller
For lasagne sheets, tettuccine and tagliatelle



With a 100-watt motor, Atlas' Electric Pasta Machine is ideal for home cooks who are looking for a simple but sturdy motor-equipped pasta maker with good reviews and ratings. However, it is not as versatile as some of the other models reviewed below as it only rolls out flat sheets and ribbons (it does let you choose from 9 thicknesses, though). Produced by Marcato, an Italian manufacturer of pasta machines with over 80 years of experience, this easy-to-use motorized machine is equipped with a clamp that securely holds the machine to table or countertop. Available through Amazon (US) and Amazon (UK).




For Owners of KitchenAid Stand Mixers

KitchenAid Stand-Mixer Pasta Attachments
Roller & cutter set: For flat egg noodles, lasagne, fettuccine, linguine
Extruder: For macaroni, fusilli, rigatoni, bucatini, spaghetti



If you already own a KitchenAid stand mixer, you might want to get the KitchenAid the Roller & Cutter Attachments, or the KPEXTA Extruder Attachment. These nifty attachments fit right into the head of the mixer and the mixer's motor pushes the dough through the roller or extruder, creating pasta in the shape of your choice. These are by no means cheap attachments, but they sure can save you a lot of countertop or storage space. To see the Extruder Attachment in action, click on "Video" in the image thumbnails section located on the left side of this page. The Extruder Attachment is available from this page on Amazon, while the Roller Set (including 1 roller and 2 cutters) can be purchased from this page on Amazon, or from Wayfair.




Fully Automatic Roller and Extruder

Lello 2730 3000 Pro Pastamaster Pasta Maker
For making spaghetti, linguine, capellini (angel hair), macaroni, etc.



If you are willing to pay a bit more for your electric pasta maker, you might want to consider getting Lello's 2730 3000 Pro Pastamaster. This fully automatic pasta and noodle maker not only extrudes or rolls out 3 pounds of dough in the shape of your choice, but it also kneads the dough for you. And it does all that in about 20 minutes! This new-generation electric pasta maker comes complete with 8 shaping discs, allowing you to produce anything from spaghetti and linguine to macaroni and capellini. Available through Amazon.






The Multi-Tasker

Omega J8006 Nutrition Center Juicer
For making spaghetti and linguine (but also for juicing greens and other vegetables and for making nut butters, baby food, soy milk, ground coffee beans, and more)



If both a juicer and an electric pasta machine appear on your shopping list, you might want to kill two birds with one stone and get the popular Omega J-8006 Nutrition Center Juicer. Not only does this clever gadget process greens like kale and spinach into juice, but it also extrudes pasta dough in the shape of spaghetti or linguine. And on top of that, the Omega 8006 turns nuts into nut butters, makes baby food from fresh ingredients, whips up soy milk, minces herbs, and grinds coffee beans and spices. Now that sounds like a pretty good deal! Now available through Amazon (US), Amazon (Canada) and Amazon (UK).




For Restaurant Owners

Commercial-quality pasta makers are notoriously expensive, and if you want one with a motor, you can expect to pay a hefty price for it. However, if you're planning to open an Italian restaurant, getting a sturdy, professional-grade electric pasta maker can save you a lot of time and effort! Made in Italy, the Ristorantica pasta maker by Marcato is one of the most sophisticated commercial-grade pasta makers sold in the US and definitely worth considering if you are looking for an electric pasta maker for a small and medium-sized restaurant.