Review of Ronco Pasta Maker (vs. Other New Models)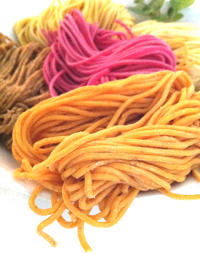 Founded in the 1960s by inventor and marketing guru Ron Popeil, the American company Ronco has become known for its quirky kitchen appliances. With the company's background in mind, it is not surprising that Ronco was also one of the first companies to introduce fully automatic pasta machines to American consumers. These innovative kitchen gadgets take pasta-making to a whole new level by both kneading and extruding the dough into the desired pasta shape, from spaghetti and fettuccini to lasagne sheets and rigatoni. And best of all, they complete the entire process in just minutes!
Ronco Pasta Maker – Features and Benefits
Makes fresh, homemade pasta in 5 minutes – It sure is hard to beat Ronco's pasta maker in terms of speed; according to the manufacturer, this clever kitchen gadget turns pasta ingredients into actual pasta in just 5 minutes
Various type of pasta – By changing the shaping disc, you can produce anything from spaghetti and lasagne sheets to rigatoni and fettuccini
Cheaper than many other similar products – Ronco's model usually retails at a lower price than most other fully automatic pasta makers available in the US and Canada
Works with gluten-free and whole wheat flours, too – There's no need to stick to plain white flour; you can also use your Ronco to make pasta with other types of flour, including whole grain wheat and gluten-free flours
Impress your family and friends with colored pasta – To wow your family and guests, create colored pasta using natural colorings (such as spinach juice, beet juice, turmeric powder, squid ink, carrot juice, etc.)
User Reviews and Ratings
At the time of writing, the Amazon reviews of Ronco's new-generation pasta maker are quite mixed (note that we're talking about the model with the square red logo representing the modern-day Ronco here). The machine has scored high marks for ease of use, but there are also plenty of negative reviews criticizing it for poor durability. There are also a number of reviews that suggest that the older models, the vintage Popeil pasta makers, may in fact have been more durable than the new Roncos. To view reviews of
all
Popeil/Ronco pasta machine models available on Amazon,
click here
.
Ronco vs. Other Automatic Pasta Makers
The Popeil/Ronco pasta machine may be one of the first fully automatic pasta makers sold in the US and Canada, but it is by no means the only option you have if you are currently looking for an electric pasta machine. Below, we compare three popular models/brands available through Amazon to help you get a better idea of what options are out there. In addition to Ronco, we've included one of Viante's latest pasta machine as well as one of Lello's new pasta makers (for Simac fans).
Ronco Pasta Maker
Viante CUC-27PM
Lello 2730 3000
Comments

Relatively inexpensive model
2.5 star rating on Amazon as of Oct 2014

3.5 star rating on Amazon as of Oct 2014
Read in-depth review here

4 star rating on Amazon as of Oct 2014
Read in-depth review here

Processing speed (approximate)
Over ½ lb of pasta in 5 min
1.5 lb of pasta in 16 to 25 min
3 pounds of pasta in 20 min
See-through lid
Yes
Yes
Yes
Number of shaping discs
5
10
8
Size in inches (approx.)
12.5 x 8 x 13.5
13.3 x 12.2 x 14.4
12 x 8 x 11.5
Where to buy
Wayfair
Amazon.com

Amazon.com
Amazon.ca
Amazon.com
Amazon.ca