3 Popular Manual Pasta Makers with Crank Handle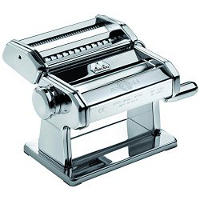 Serving fresh, homemade pasta is a great way to impress family and friends! Making your own pasta from scratch also offers potential health benefits as you will have more control over the type and quality of the ingredients that make up the dough. If you're a fan of specialty pasta products, such as gluten-free products or products made with less common flours such as spelt or buckwheat flours, making your pasta can also cut your family's grocery bill. And then there's the flavor – the irresistible, slightly doughy flavor of fresh, traditionally-prepared pasta!
Whether you are a novice or experienced cook, a sturdy countertop pasta machine can be of great help if you're planning to venture into pasta-making. Manual pasta makers equipped with crank handles are usually the cheapest option, but if you're planning on making loads of pasta, you may also want to consider investing in an electric pasta maker or one of the ultra-modern, fully-automatic pasta and noodle makers. In this article, however, we will be focusing on traditional, hand-operated pasta makers.
Amazon Deal
Description

Atlas 150 Pasta Maker with Crank Handle

Atlas Wellness 150 Pasta Maker is one of the most liked manual pasta makers on Amazon, and it has been recommended for novices and experts alike. Produced by Marcato, a leading Italian manufacturer of pasta machines with over 80 years of experience, this easy-to-operate manual pasta maker has an adjustable 9-position dial to regulate the thickness of the dough. In addition to the steel model, this popular countertop pasta roller is available through Amazon.com in a variety of colors, ranging from black, blue and pink to green, red and copper.

Where to Buy
Amazon (US)
Amazon (UK)
Amazon (Canada)



CucinaPro Imperia 150 Hand-Crank Pasta Maker

Available in shiny chromed-plated steel

If you're not too picky about the color of you pasta machine and shiny chromed-plated steel will do just fine, you might also want to read the user reviews of CucinaPro's Imperia model. The SP-150 model is equipped with a 150-millimeter wide roller (that's about 6 inches) and a solid crank handle made of steel and wood. Made in Italy, this popular manual pasta maker comes highly recommended by Amazon customers.

Where to Buy
Wayfair
Amazon.com
Amazon.ca
Amazon.co.uk



Other Less Well-Known Manual Pasta Rollers

The sturdy hand-operated pasta machines from the Italian manufacturers Marcato and Imperia have been getting the most attention, but there are also a number of other manual pasta makers (often produced in China). Some of these less popular models are significantly cheaper than the famous Italian pasta machines, so make sure you also check out these hand-operated pasta makers if low price is a key factor in your buying decisions. Those living in the US or Canada may want to check out Norpro's pasta machine (pictured on the left) which is available both through Amazon.com and Amazon.ca. If you're looking to buy an inexpensive manual pasta maker in the UK, check out Amos' pasta roller available through Amazon.co.uk.