Viante Pasta Machine – The New Way of Making Fresh Pasta at Home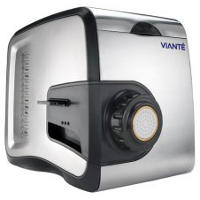 Viante pasta maker, available through Amazon here
Love fresh, homemade pasta? Viante pasta machines allow you to make fresh pasta at home with minimal effort and in almost no time at all! Just add the ingredients to the built-in mixing bowl and this revolutionary kitchen gadget automatically mixes the ingredients and extrudes the dough using a shape of your choice! Whether you're up for some fresh spaghetti, fettuccine, linguine or rigatoni, this ingenious kitchen appliance will take care of it for you.
Countless Options
It is not surprising that avid home chefs (and professional cooks) across the US, UK and Canada are singing praises to the automatic pasta machines that are now showing up in shops, both in regular and online stores. These clever gadgets are astoundingly versatile, churning out anything from spaghetti and rigatoni to fettuccine and linguine. In fact, Viante's CUC-26PM Perfetto and CUC-27PM Fresco models even have special discs for making Italian-style biscotti cookies!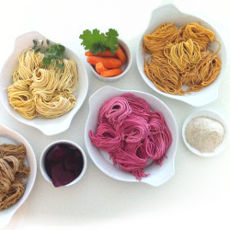 Electric pasta machines are also great at accommodating special dietary needs, allowing you to produce gluten-free and egg-free variations of common pasta dishes. You can also experiment with specialty flours, such as spelt, rye and buckwheat flours, as well as with various add-ins such as spinach and wheatgrass juice (to create green pasta), carrot juice (for orange pasta), pure turmeric powder (for intensely yellow pasta), and beet juice (for reddish/purplish pasta). The following chart should give you an even better idea of the countless opportunities these kitchen workhorses provide:
Pasta types
Flours
Add-ins

Linguine
Fettuccine
Pappardelle
Vermicelli
Spaghetti
Ziti
Rigatoni
Etc...

Wheat, all-purpose
Wheat, durum
Wheat, whole-grain
Spelt (dinkel)
Gluten-free mixes
Buckwheat
Barley
Rye
Etc...

Spinach juice
Wheatgrass juice
Japanese matcha powder
Turmeric powder
Curry powder
Beet juice
Tomato juice
Carrot juice
Paprika powder
Etc...
CUC-27PM Model vs. CUC-26PM Model
The following comparison chart provides an overview of some of the key features and functions of the Viante pasta machines covered in this review:
| | Viante CUC-27PM | Viante CUC-26PM |
| --- | --- | --- |
| Amazon deal | | |
Viante CUC-27PM
Viante CUC-26PM
Approx. time it takes to produce 1.5 lb of pasta
16 to 25 min
16 to 25 min
Max. amount of pasta made in one run
About 1.5 lb
About 1.5 lb
Transparent viewing window
Yes
Yes
Number of shaping discs
10
14
Approximate size in inches
13.3 x 12.2 x 14.4
12.3 x 13 x 15
Removable parts dishwasher safe
Yes
Yes
Manufacturer's info sheet
Info sheet
Info sheet
User reviews, price information, shipping conditions, etc.
Click here
Click here
Click here
Click here

Note for UK customers: The above models have been built to North American electrical standards. If you're looking for a similar product sold in the UK, check out the Pasta Gusto pastamakers here.
Shortcomings
Many reviews on Amazon.com point out that it may take some practice to get the dough consistency right. So, if patience is not your virtue, this might not be the ideal kitchen gadget for you. Several Amazon reviewers have also noted that the CUC-27PM model is rather loud. At the time of writing this article, there are no negative comments about the loudness level of the CUC-26PM/Perfetto model; in fact, someone even stated that this machine is a lot quieter than some others she has heard. That said, there are only three reviews of the CUC-26PM/Fresco model at the time of writing, so it is a bit early to jump to any conclusions. To read all the user reviews that are currently available for these models on Amazon.com, check out the links at the end of this article.
Benefits of Getting a Viante Pasta Machine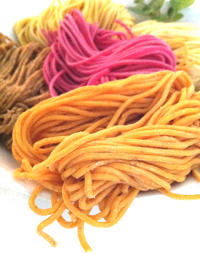 Enjoy the flavor of fresh, homemade pasta – Can you think of anything better than a bowl of ultra-fresh, homemade pasta?
Fully automatic pasta maker – Every pasta machine can turn dough into pasta, but only a few do it without you having to manually prepare the dough! With Viante's fully automatic pasta maker, all you have to do is to put the dough ingredients into the built-in mixing bowl, and this new-generation pasta machine will take care of the rest.
Easy, fast and hassle-free – With minimal effort, you'll be turning pasta ingredients into the real deal in 17 minutes (or even faster if you're making only 2 servings).
Various type of pasta – With the interchangeable shaping discs that come with your all-singing, all-dancing Viante, you can create anything from spaghetti and rigatoni to fettuccine and linguine to vermicelli and pappardelle.
Great savings potential – Sure, buying a Viante pasta machine requires a decent initial investment, but given the high price of store-bought fresh pasta, it also offers great savings potential in the long term
Access to fresh (and affordable) gourmet/specialty/gluten-free pasta products – If you're a fan of spelt, buckwheat, rye, or any other less common grain, you already know how difficult it is to find affordable specialty pasta products in supermarkets, especially if you like your pasta fresh. Viante's automatic pasta machines solve this by allowing you to create your own pasta dough recipes.
Make unique, healthy and tasty gifts – Dried homemade pasta makes a unique, tasty and potentially very healthy gift. For an extra wow effect, experiment with different colorings (spinach juice, carrot juice, spices, beet juice, etc.) and shapes.