Manual Citrus Squeezers Made From Non-Plastic Materials Are Back!
If you juice citrus fruit such as oranges, grapefruit, lemons, and limes only occasionally and in small quantities, buying an old-fashioned manual citrus fruit squeezer might be a smarter move than getting an expensive automatic juicer. But why get an old-fashioned, hand-operated citrus squeezer made of glass, stainless steel, or ceramic? Why not just buy one of those plastic gadgets that are available at almost every supermarket in the US and UK?
The problem with plastic juicers is that they may release potentially toxic chemicals, such as BPA, which have been linked to a wide range of ailments. And health considerations aside, juicers made of non-recyclable plastic are also bad for the environment.
In this article, we take a look at some wonderful alternatives to manual plastic juicers, from old-fashioned vintage citrus juicers made of glass or high-quality ceramic to more modern manual juicers made of stylish stainless steel. But before we get down to business, let's take a quick look at the potential health risks associated with kitchenware made of plastic: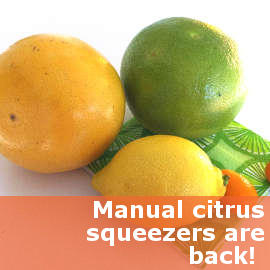 How Getting a Plastic-Free Citrus Juicer Can Protect Your Health
Mounting evidence suggests that kitchenware made of plastic may leach potentially harmful chemicals into food and drinks. Bisphenol A, or BPA for short, is one such chemical. This toxin is commonly found in products made of hard plastic, including some manual citrus juicers. BPA is capable of messing up hormonal systems by mimicking and displacing real hormones, and not surprisingly, BPA has been linked to a wide variety of health problems ranging from polycystic ovary syndrome, infertility, and cancer to asthma, diabetes, and neurological disorders.
If you already have a plastic lemon press at home and are not planning to get a new, non-plastic citrus squeezer, check at least that your squeezer doesn't have scratches on it – scratched plastic has been shown to leach more potentially toxic chemicals than plastic that's in good shape.
You'll also want to check the recycling codes on your old citrus press as these can give an indication of what kind of plastic it is made of, and consequently, how likely the plastic is to release potentially toxic chemicals. In general, plastics that are marked with recycle/resin codes 2, 4, and 5 are considered the safest options, while plastics marked with codes 1, 3, 6 and 7 are considered the worst.
Review of Manual Citrus Squeezers Made of Non-Plastic Materials