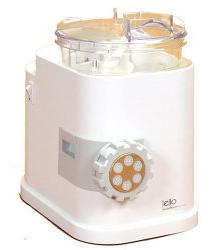 Looking for a new Simac pasta maker? Consider getting one of Lello's new generation machines instead. Available from Amazon.com and Amazon.ca.
Lello Pasta Maker – The New Simac Pastamatic?
Making fresh, artisan-style pasta at home has never been easier. Just choose your ingredients, and Lello's sturdy 2730 3000 Pro Pastamaster does the hard work for you, including kneading the dough and extruding up to 3 pounds of fresh, personalized pasta in just 20 minutes! That's right – this ingenious kitchen gadget is one of the few fully automatic pasta makers out there, and a great option for anyone who loves the flavor and texture of fresh, homemade pasta. Lello's full-cycle pasta makers are also a popular choice among Amazon customers who are looking for a replacement for their old Simac pasta machine (along with the original Popeil pasta makers, Simac PastaMatics were one of the first fully automatic pasta makers to become available in the US and Canada).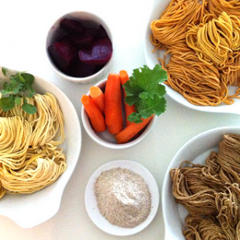 Personalized Pasta
It is not surprising that pasta lovers across the US and Canada are praising the new automatic pasta machines. These ultra-modern models are astoundingly versatile, churning out anything from spaghetti to linguine to macaroni. Electric pasta machines are also a great choice for people with special dietary needs and preferences as they also allow you to produce gluten-free and egg-free pasta. You can also experiment with specialty flours, such as spelt, rye and buckwheat flours, as well as with various add-ins such as carrot juice (to make orange-colored pasta), pure turmeric powder (for pasta with a deep yellow hue), spinach juice (for intriguing green pasta), and beet juice (for red pasta). Here are some more ideas on how to personalize your homemade pasta:
Pasta types
Flours
Add-ins

Spaghetti
Linguine
Capellini (angel hair)
Small fettuccine
Macaroni
Etc...

Wheat, all-purpose
Wheat, durum
Wheat, whole-grain
Spelt (dinkel)
Gluten-free mixes
Buckwheat
Barley
Rye
Etc...

Spinach juice
Wheatgrass juice
Japanese matcha powder
Beet juice
Tomato juice
Carrot juice
Paprika powder
Curry or turmeric powder
Lello 2730-3000 vs. Lello 2720-2200 – Key Features
The following side-by-side comparison chart provides an overview of some of the key features and functions of the Lello pasta machines covered in this review. As you will see, Lello's machines are essentially upgraded, modern-day versions of the Simac pasta makers.
| | Lello 2730-3000 | Lello 2720-2200 |
| --- | --- | --- |
| Amazon deals | | |
Lello 2730-3000
Lello 2720-2200
Amazon rating (as of Oct 2014)
4 stars
4 stars
Speed / capacity (approximate)
Makes 3 pounds of pasta in 20 min
Makes 2.2 pounds of pasta in 20 min
Transparent lid
Yes
Yes
Number of shaping discs included
8
6
Size in inches (approximate)
12 x 8 x 11.5
12 x 8 x 10.5
Motor
300 watts
300 watts
Overheat protection with automatic shut-off
Yes
Yes
Where to buy
Click here
Click here
Click here
Click here

Note for UK customers: The above models have been built to North American electrical standards. If you're looking for a fully automatic pasta maker in the UK, check out the Pasta Gusto pastamakers or VonShef's electric pastamaker.
Drawbacks
Now for the drawbacks. Several reviews on Amazon.com point out that it may take some trial and error to get the dough consistency right. This may be even more so the case if you're planning to use some specialty flours rather than regular white flour. Some Amazon reviewers also found Lello's full-cycle pasta makers rather loud, while others thought they were not particularly loud. To read the user reviews of Lello's pasta makers available on Amazon.com, check out the links at the end of this article.
Alternatives
If you're looking for a fully automatic pasta maker that both mixes and extrudes fresh pasta dough, there aren't actually that many models available in the US and Canada. The early models from Simac are no longer actively marketed, although you may still be able to find them (see Simac PastaMatics). In terms of new generation pasta machines, you may have already seen Viante's pasta machines, which are more or less in the same price category as Lello's machines. If you are looking for something cheaper, you may want to check out Ronco's pasta maker, but be aware, the user reviews on Amazon haven't been as convincing as the reviews of Lello and Viante's models. If you don't mind some extra work, you may also want to consider getting a good electric pasta extruder. Instead of both creating the dough and extruding the pasta, these sturdy kitchen appliances only extrude the pasta. This means you will have to make the dough yourself, which means more work and more mess, but these gadgets are also quite a bit cheaper than their fully automatic counterparts.
Who Should Get a Lello Pasta Maker?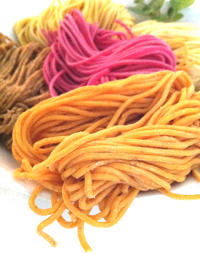 Unsure whether a Lello pasta maker is the right choice for you? Here's an overview of some of the benefits you can reap by upgrading your kitchen with one of Lello's automatic pasta makers:
Fully automatic solution – There are many electric pasta machines available in the US and Canada, but Lello's models are one of the few that both mix the dough and extrude it though the shaping discs
Fresh pasta in just 20 minutes – Lello's 2730-3000 model makes up to 3 pounds and the 2720-2200 model up to 2.2 pounds of fresh pasta in just 20 minutes. Beat that!
Personalized pasta made with your favorite flours and add-ins – Automatic pasta makers let you create intriguing pasta products made with different flours and add-ins
Different types of pasta, from spaghetti to macaroni – Lello's 2730-3000 model comes with 8 shaping discs (the 2720-2200 model has 6 discs included) to allow you to create different types of pasta, from spaghetti and linguine to macaroni and capellini
Cheap gourmet/specialty pasta – Given the high price of store-bought fresh pasta, these ingenious gadgets also offers great savings potential in the long term. Plus, you will be able to make your own gourmet and specialty pasta (such as gluten-free products) for just a fraction of what it would cost to buy a similar product at a gourmet shop
Colored theme pasta for special occasions – Impress your guests at a Halloween party by serving black and orange pasta (colored with squid ink and carrot juice, respectively) or your beloved one with a bowl of pink beet spaghetti on Valentine's Day. Or give a beautifully packaged batch of dried, rainbow-colored macaroni as gift to friends and family!
Well-rated, sturdy kitchen appliance – Lello's latest models have received a lot of good reviews on Amazon, with several reviewers describing them as sturdy and well built