Ristorantica Pasta Maker by Marcato (for Smaller Restaurants)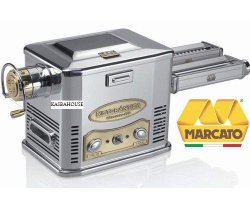 If you are a professional chef with deep experience in Italian cuisine, chances are you are already familiar with Marcato's Ristorantica Wellness 220 pasta maker (Ristorántica Macchina Pasta in Italian), a commercial-grade fully automatic pasta maker equipped with a powerful motor. Just like the fully automatic pasta makers aimed at home cooks, this professional-grade kitchen appliance both kneads the dough for you and extrudes it through a special shaping disc, producing perfectly-shaped spaghetti, macaroni and rigatoni in a matter of minutes. It also features 220 millimeter (8.7 inch) wide sturdy rollers for turning the dough into flat sheets, in case you are interested in making lasagne or fettuccine. Made in Italy, this heavy duty pasta maker is recommended for small and medium-sized restaurants by the manufacturer, and can be purchased online here (

US customers) or here (

UK customers). Note, though, that like other pasta makers of this caliber, it does come with a hefty price tag, so make sure your business's finances are in order before you go ahead and buy this workhorse!
Production Capacity
Many of the new electric pasta extruders you find in regular stores can produce at least a couple of pounds of fresh pasta in half an hour, but if you are a professional chef at an Italian restaurant, you need something much more efficient. Marcato's Ristorantica pasta machine can produce a whopping 26 pounds (12 kg) of fresh pasta in one hour, making it a good choice for most small and medium-sized restaurants serving Italian food.
Marcato Quality
This sturdy professional-quality pasta maker is manufactured by Marcato, a leading global producer of pasta machines with an impressive history dating back to the 1930s. Marcato is known to place a lot of emphasis on the safety, quality and functionality of the raw materials it uses to manufacture its products – the Ristorantica pasta maker, for example, is made with Duralumin, an extra-light yet extremely durable material that is commonly used in the aerospace industry. Functionality and durability aside, this heavy-duty commercial pasta maker also gets points for its gorgeous design – a steel/silver colored housing with chrome accents – which is sure to add authentic Italian flair to any commercial kitchen, whether your business is located in the UK, US or Rome!
Overview of Features
220 millimeter wide rollers (about 8.7 inches)
Bronze dies (shaping discs) typically included for extruding spaghetti, macaroni and rigatoni, but please do check with the seller before purchasing to be sure what exactly is included in the package
9 additional dies are available for the Ristorantica Wellness 220 model and can be purchased separately from Marcato suppliers
Mixer capacity: 3.5 lbs (1.6 kg)
Production capacity: 26.4 lbs (12 kg) per hour
Mixing cycle 3 minutes, extrusion cycle 4 minutes
Where to Buy
So you've decided this is the best commercial quality 2-in-1 dough kneader and pasta extruder for your small or medium-sized restaurant? The easiest way to buy Marcato's Ristorantica Wellness 220 pasta maker is to order it online and have it shipped directly to your business address (of course, you can also have it delivered to your home address, if you prefer). Made in Italy, Marcato's fully automatic Ristorantica pasta machine can be ordered conveniently online through Amazon.com here (

US customers) or through Amazon.co.uk here (

UK shoppers).