Where to Get Pure Turmeric Powder in Organic Quality?
If you live in the US or UK, you shouldn't have much trouble finding pure turmeric powder (haridra) in larger supermarkets and Indian grocery stores. However, if you're looking to buy ground turmeric in organic quality, you may have to look beyond regular shops to get a jar of this wonderful spice and healing herb (in case you missed our in-depth article on this ancient superfood, see Health Benefits of the Turmeric Root (Curcuma Longa)).
Today, many online shops specialized in organic food and spices sell high-quality, chemical-free turmeric. If you don't have the patience to browse the websites of individual stores, you may want to directly head to Amazon.com or Amazon.co.uk where you can find a whole selection of turmeric products at great prices (especially if you buy in bulk):
Ordering Turmeric in the States

Amazon's US branch supplies a whole range of products made from real turmeric root – click here to see their complete selection of turmeric products. Can't decide which brand to choose? Try Pure Indian Foods' 100% pure turmeric powder which contains no additives, preservatives, or fillers. This all-natural product comes in a big 16-oz glass jar instead of a plastic container, thus eliminating any chance of toxic chemicals leaching from the container into the spice. It is also USDA Certified Organic and non-GMO.
Ordering Turmeric in the UK

Amazon's UK branch has an impressive array of turmeric products available, ranging from the more processed turmeric supplements to 100% pure turmeric powder. You can view their full range of turmeric products by clicking here. Those who want to buy pure turmeric powder in organic quality might want to try Gopala Ayurveda's turmeric which is shipped from the UK. The product is 100% organic and non-GMO, and it contains no chemical preservatives or artificial flavors. As an added bonus, this wonderful product also comes in a practical re-sealable pouch.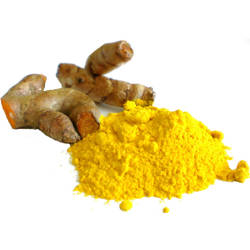 How to Use Pure Turmeric Powder
When handling turmeric, keep in mind that it tends to stain anything and everything it comes into contact with. If you can't stand the idea of getting your fingers a bit yellow, you might want to go for turmeric supplements that come in capsule form (you can purchase them here). However, by using supplements instead of the real stuff you'll be missing out on a lot! The unique taste and intense yellow color of turmeric powder make this Indian spice a great addition to a number of dishes. Here are a few ideas on how you can incorporate this super-spice into your diet:
Add to rice to give it a gorgeous golden hue
You can also use it in baking – a bit of turmeric powder in pizza dough will give the pizza crust a nice color, plus it will improve the nutrient profile of your pizza
Use it to create your own curry blends (check out HealWithFood.org's recipe for super-healthy curry powder rich in turmeric and black pepper).
Add a teaspoon of pure turmeric powder to your favorite smoothie for a health boost
Use it to make a cup of turmeric tea (good for arthritis patients)
Intensify the natural yellow color of your omelettes by adding a bit of turmeric powder in the egg batter