Omega 8006: A Masticating Juicer, Nut Butter Maker, and More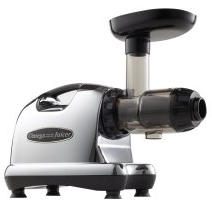 The Omega J-8006 Nutrition Center is an innovative small kitchen appliance that, despite usually being categorized as a slow juicer, is a real multi-talent! Equipped with a powerful motor, this ingenious gadget can be used as a slow juicer, light-duty food processor, nut butter maker, pasta extruder, coffee bean and grain grinder, sorbet maker – and more! Below, we provide an overview of some of the things you can do with this mighty kitchen companion, plus a brief summary of the pros and cons that frequently pop up in user reviews of the Omega 8006 Nutrition Center.
From Cold Pressed Juices to Nut Butters
The different cones and nozzles that come with the Omega J-8006 let you turn it into all sorts of nifty gadgets, including:
1. Masticating juicer
The Omega J-8006 Juicer uses masticating or slow cold press technology, which produces juice by slowly squeezing the liquid out of crushed fruits and vegetables (centrifugal juicers, by contrast, create juice by rapidly grinding the produce). While slow juicers can be used to make juice out of almost any fruit or vegetable, they are considered particularly good for juicing leafy green vegetables such as spinach, parsley, kale and wheatgrass. Many health-conscious people also prefer masticating juicers over the centrifugal models as these low-speed juicers do not cause heat that could destroy some of the delicate nutrients and enzymes that are naturally present in fresh foods.
2. Nut butter maker
Everyone is familiar with peanut butter, but why not try some other nut butters? Now, with the help of the Omega J-8006 Nutrition Center, you can effortlessly create your own all-natural, low-sodium nut butters and spreads, using either old friends like peanuts, almonds or hazel nuts, or some less obvious choices such as macadamia nuts, cashews or pistachios. Note, though, that most nuts and seeds are very dry, so you'll likely have to add quite some oil to the mix in order to reach that buttery consistency (for details, see How to Make Nut Butter with the Omega Juicer).
3. Pasta extruder
Pasta lovers across the U.S. are praising the new automatic pasta makers that, with a push of a button, both make the dough and extrude it in the shape of your choice. But these somewhat bulky contraptions can also take up quite a bit space in your kitchen. If you love the idea of fresh homemade pasta and don't mind making the dough using a bit of elbow grease (or a mixer), the Omega J8006 Nutrition Center is a good option to consider. With ease, this nifty pasta extruder turns pre-made pasta dough into perfectly-shaped noodles in a breeze.
4. Coffee bean and grain grinder
Most consumers are happy to buy pre-ground coffee beans, but if you're a real coffee connoisseur, you probably want to grind your own beans. The Omega J-8006 turns whole coffee means into finely ground coffee in a matter of seconds, but it can also be used to grind whole grains into fine flour (for baking, etc.). Of course, if you're planning on grinding massive amounts of grains, you might want to get a proper countertop grain mill.
5. Light-duty food processor
This little kitchen workhorse also functions as a small food processor, chopping and mincing everything from garlic and onions to ginger and leafy herbs. It is of course a bit slower than your average food processor – after all, it is a slow juicer – but if you only need to process small amounts of food, this is the way go!
6. Frozen dessert & sorbet maker
All-natural fruit sorbets and other
frozen fruit desserts
are delicious and often very healthy, and with the Omega J-8006, making frozen desserts at home becomes child's play. All you need to do is feed your Omega with pieces of frozen fruit, such as frozen bananas or strawberries, and this ingenious gadget will take care of the rest.
7. Almond & nut milk maker
If you love fresh, homemade nut milks, such as almond milk, but don't have space for a separate nut milk maker, you'll be pleased to learn that the Omega J-8006 can also be used to make raw nut milks. Note, though, that unlike fully-automatic soymilk/nut milk makers such as the Soyabella, the Omega J8006 Nutrition Center won't handle the entire process from start to finish – you'll still have to mix the processed nuts with water in a blender and strain the mixture through a nut milk bag or cheesecloth.
Tons of Great User Reviews
The Omega J-8006 Nutrition Center has received tons of great reviews on Amazon, with many reviewers praising this little workhorse for its efficiency and ease of clean-up. In terms of cons, a number of people mention the feeder tube, which is small compared with most of the centrifugal juicers out there. This may mean more time spent dicing and chopping the ingredients, but as one reviewer points out, the fast clean-up up will make up for it.