Soyabella – Soy Milk Maker with Built-in Filter Screen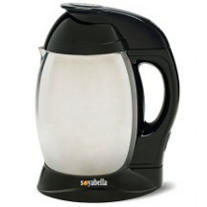 Meet the Soyabella SB-130, a fully automatic soy milk maker with a built-in filter. Available through Amazon here, this electric soy milk machine makes non-dairy milks from soy beans, nuts, seeds and grains with minimal effort. Thanks to its razor-sharp blades, it can also grind coffee beans, seeds and nuts, making it one of the most versatile soy milk machines available in the US, UK and Canada. In this review, we take a look at some of the key features and functions of Tribest's Soyabella soy milk maker, plus provide tips on where you can get one of these fully automatic soy milk machines if you live in the US, Canada or the UK.
More Than a Soymilk Maker
Soyabella is more than just an automatic soy milk maker. It is a multi-functional kitchen appliance that, thanks to its powerful motor, hidden heating element, razor-sharp blades and built-in filter, can create a number of drinks and foods. Here's a quick overview of things you can make with your Soyabella:
Fresh soy milk. Fresh, homemade soy milk is of course the most obvious thing you can make with your Soyabella. It is also one of the fastest soy milk makers on the market, making hot soy milk from scratch in about 15 minutes (tip: you can further shorten the process by using warm water).
Rice milk and raw nut milks. Rice milk, almond milk, hemp milk, cashew nut milk, walnut milk, hazelnut milk – alternatives to cow's milk are many and varied. Unfortunately, non-dairy milks – other than soy milk – can be difficult to find and expensive, plus they often contain unwanted additives and preservatives. With the Soyabella SB-130, you can turn almonds and other nuts into flavorful, additive-free drinks in a matter of minutes. Using the Mill setting to mix soaked nuts and water without applying heat, raw nut milks can be made in less than 2 minutes!
Hot soups and porridges. In addition to making non-dairy drinks, Soyabella also creates puréed soups and porridges from scratch. All you have to do is prepare the ingredients, and this ingenious kitchen gadget will take care of the rest.
Ground/milled coffee beans, seeds and nuts. The Soyabella SB-130 is equipped with a powerful motor and razor-sharp blades which is why it also doubles as an automatic coffee bean grinder. Coffee beans aside, this workhorse can also be used to grind other dry foods such as nuts, grains and seeds. For detailed instructions on how to do that, see the user manual.
Built-in Stainless Steel Filter Screen
Tribest's Soyabella is one of the few modern soy milk makers that come with a built-in filter. Made of stainless steel, the filter screen automatically separates the pulp from the milk, eliminating the somewhat messy straining step that you have to complete manually when using filter-less soy milk maker such as the SoyaJoy G4.
Other Features
One-touch operation
Stainless steel pitcher (naturally BPA-free)
Water capacity: 3.4 to 5.5 cups
Soybean consumption: 1.8 to 2.5 oz
Overflow, overheat and dry-run sensors for safe and mess-free operation
Patented, helical grinding blades with serrated edges for thorough grinding/milling
Seamless pitcher for easy clean-up
Easy pour spout
Cool-touch handle
Space saving design
User Reviews
The Soyabella SB-130 soymilk maker has received a lot of great reviews on both Amazon and Wayfair, with many people praising this fully automatic soy milk maker for its ease of use and exceptionally good grinding and milling capabilities. On the negative side, some reviewers complain that the fine filter screens are difficult to clean, but there are also people who claim the opposite, saying that the filters are easy to clean provided that you clean them right away. There are also some complaints about the blades being very sharp and thus potentially dangerous, but then again, if you're looking for a machine with excellent grinding capabilities, sharp blades are necessary.