Compact Deli Meat Slicers for Home Use
Electric deli meat slicers are no longer just for butchers and professional chefs! Modern electric slicers come in all sizes and prices, and many models have been designed specifically for home use. Below, we take a look at some compact deli meat slicers ideal for small spaces, plus provide a feature-by-feature comparison chart that compares and contrasts some of the most popular compact electric slicers available in the US and Canada. But before we get into specifics about different models, let's take a look at some of the advantages of using an electric food slicer at home:
Advantages of Using a Food Slicer at Home
You can enjoy cold cuts without unnatural additives
No question about it, some of the greatest advantages of using an electric deli meat slicer to make your own cold cuts are health- and environment-related. The pre-packaged cold cuts sold in grocery stores are typically loaded with sodium nitrite and other additives and preservatives, plus they create a tremendous amount of plastic waste, contributing to the expansion of our already overburdened landfills. By buying, preparing and cooking the raw meat or poultry yourself and then slicing the cooked meat yourself you know exactly what is in your food, plus you'll be reducing the plastic waste that is damaging our environment.
An effective way to stretch your grocery dollars
Why pay a premium for roast beef, ham or turkey sliced at a deli? Why pay for fancy-looking plastic packaging for name-brand cold cuts in the grocery store? Buying a big piece of pork or beef – or a whole turkey or chicken – and roasting and slicing it at home is a great way to save money. And, with a good compact electric deli slicer you'll be able to shave extra-thin slices, which means that you'll get more slices per roast than when cutting the meat with an electric knife (or manually with a regular knife).
You'll be able to cut perfectly even slices of bread
Do you like to bake your own bread? Whether you use old-fashioned elbow grease or a popular bread machine such as one of the Breville or Zojirushi bread makers, you know how difficult it can be to cut fresh homemade loaves into perfectly-shaped slices: one slice will be thin, another thick, while yet another will be thick on one end and thin on the other. With a good multi-purpose food slicer, you'll be able to create perfectly even slices of any thickness you like (note: not all food and meat slicers come with a blade that is suitable for cutting bread, so be sure to read the product description carefully before buying a specific model).
You can cut vegetables and fruit with precision for a variety of purposes
Compact electric food slicers cut meat and poultry with ease, and some of them also cut hard cheese and bread. And, if you go for a good multi-purpose model, such as the Chef's Choice 610 slicer or the MaxiMatic EMT-503B Elite Gourmet slicer, you'll also be able to cut all sorts of firm vegetables and fruit into nicely-shaped even slices. With little effort, you'll be slicing potatoes for gratins and homemade chips, cucumbers for pickles, cabbage for coleslaw, other vegetables for the freezer, and pears and apples for pies. You should also consider getting a compact electric food slicer if you have of those metal food dehydrators at home: with an electric slicer, you'll be able to produce perfectly even slices of vegetables and fruit, which is crucial when dehydrating foods.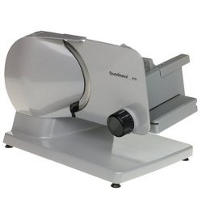 Chef's Choice 610, available through

Amazon.com and

Amazon.ca
Small Models Ideal for Home Use
So you've decided to get one of those small deli meat and food slicers designed for home use? Finding a compact electric slicer is easy in countries like the US and Canada, but deciding on a model can be quite daunting. If you like to go with a popular model that has received a lot of (great) user reviews, you might want to check out EdgeCraft's 610 Chef's Choice food slicer which is available through Amazon here (for US shoppers) and here (for Canadian customers). Measuring approximately 15 by 11 by 11 inches, this compact multi-purpose slicer doesn't waste valuable kitchen real estate, making it a great choice for any home. Like other Chef's Choice food slicers, this space-saving model has been designed to slice everything from boneless meat and fresh bread to cheese, vegetables and fruits. It comes with a razor-sharp 7-inch (diameter) stainless steel blade and an easy-to-use thickness control knob which allows you to cut slices of varying size, from very thin deli-slices to about 3/4-inch thick slices. Note that this model is not widely available in Europe, but there are plenty of other food slicers that are sold in the UK.
Comparison Chart: Compact Deli Meat Slicers
EdgeCraft's 610 Chef's Choice food slicer may be one of the most popular and most reviewed slicers on Amazon, but it is by no means the option you have if you're in the market for a relatively small motor-operated deli meat slicer with an attractive price tag. The below comparison chart provides an overview of some alternatives to the popular Chef's Choice 610 Electric Slicer – all of the models included in the chart are about the same size as the Chef's Choice 610 model, which makes them ideal for home use.
Chef's Choice 610
MaxiMatic EMT-503B
Pro Series PS77711
Amazon deal (price in US$)
Approximate size
15 by 11 by 11 inches
11 by 9 by 15 inches
17 by 12 by 11 inches
Construction*
Cast aluminum, stainless steel
Die-cast aluminum
Die-cast aluminum
Built-in sharpener
No
No
No
Blade size (diameter)
7 inches
7.5 inches
7.5 inches
Blade material
Stainless steel
Stainless steel
Stainless steel
Slice thickness
Adjustable
Adjustable
Adjustable
Info / buy
Info / buy
Info / buy
Info / buy
Info / buy
Info / buy
*All models also have some plastic components
Sources: EdgeCraft and product descriptions on Amazon, December 2014