10 Ideas on What to Do with Sweet Potatoes (incl. Recipes)
Whether you're looking for ideas on what to do with those leftover sweet potatoes in your fridge, or whether you're just looking for some new recipes to reap the much-touted health benefits of sweet potatoes, you've come to the right place. Below, we take a look at a bunch of creative (and some less creative but still delicious) ways of using sweet potatoes in cooking. If you need even more ideas and inspiration, check out The Sweet Potato Lover's Cookbook.
1. Whip Up a Smoothie
Cooked sweet potatoes may not be the most obvious smoothie ingredient, but they are actually a wonderful low-calorie ingredient that adds both creaminess and sweetness to the mix. If you need recipes for healthy smoothies featuring these sweet spuds, check out our recipes for a berrylicious sweet potato smoothie and the vibrant sweet potato, banana and turmeric smoothie.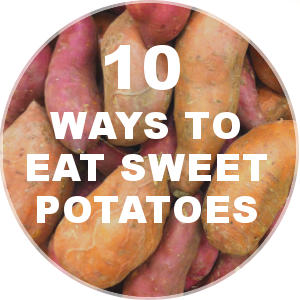 2. Roast Them
Roasting sweet potatoes and serving them as a side dish is a great way to use up leftover sweet potatoes, especially if you have a big family to feed. The approximate roasting time for sweet potato wedges is around 20 to 30 minutes in a conventional oven pre-heated to 450°F or 230 °C (gas mark 8).
3. Make Baked Sweet Potato Chips
Have a hankering for something salty but don't want to totally derail your diet? Homemade sweet potato chips are a great alternative to store-bought potato chips, and they are easy to make, too. Here's a basic recipe:
Heat the oven to 400°F (200°C). Meanwhile, peel a sweet potato and slice it very thinly.
In a glass bowl, gently toss the sweet potato slices with 1 tablespoon of olive oil and season with coarse salt and paprika (or sumac, a healthy spice widely used in Middle Eastern countries)
Arrange the slices in a single layer on baking sheets, and bake for 10 minutes. Flip the slices, and continue baking until crisp and golden, about 10 to 15 more minutes.
4. Dessert Recipes Featuring Sweet Potato
Sweet potatoes are called sweet potatoes for a reason: these unassuming tubers boast a wonderful sweet flavor that is just perfect for creating healthy desserts. For ideas and inspiration, check out The Sweet Potato Lover's Cookbook (available through Amazon.com and Amazon.co.uk) – nearly 40 pages of this fascinating 240-page cookbook is dedicated to sweet potato desserts, including recipes for everything from brownies and cakes to cookies and pies.
5. Use Sweet Potato Sauce on Pizza
Give your pizza a new twist by using puree made of steamed sweet potatoes mixed with Italian herbs instead of tomato paste. It may be one of the weirdest ideas on how to use sweet potatoes, but it's a great way to expand your culinary horizons and use those leftover sweet potatoes in your fridge!
6. Turn Them into Grain-Free "Noodles"
Using a sturdy vegetable spiralizer or julienne slicer, cut raw sweet potatoes into thin, noodle-like ribbons, and cook the ribbons in boiling water until tender. These imitation noodles make a wonderful grain-free and gluten-free substitute for real noodles in stir-fries and Italian-inspired pasta dishes.
7. Serve Sweet Potato Mash as a Side Dish
Cooking sweet potatoes in a steamer and turning the cooked tubers into vibrant sweet potato mash is a great way to use up large amounts of this yummy vegetable. Use a hand mixer to puree the steamed tubers alone or mixed with other steamed root vegetables, and serve as a side dish.
8. Make Sweet Potato Soup
There are tons of sweet potato soup recipes out there, but if you are looking for a simple recipe, here's one to try your hand at:
Ingredients (for 4 to 6 Servings)
2 tablespoons extra-virgin olive oil
1 red onion, chopped
2 Tbsp finely minced fresh ginger root
2 lbs orange sweet potatoes, peeled and diced
5 to 6 cups low-sodium chicken broth
Salt, to taste
Ground nutmeg, to taste
Cooking Instructions
Heat the oil in a large saucepan over medium-high heat. Add the chopped onion and minced gingerroot, and fry for a few minutes until fragrant.
Add the diced sweet potatoes and broth, bring to a boil, then reduce the heat. Cover and cook until the sweet potatoes are tender.
Remove the pan from the heat source and let it cool for a few minutes. Then, using a stainless steel immersion blender, purée the mixture until smooth, and season with salt and ground nutmeg.
Ladle the soup into bowls and serve.
9. Throw Them on the Grill
With a little preparation, sweet potatoes also turn into flavor-packed dishes on a charcoal or gas grill. To prepare sweet potatoes for the grill, slice them into 1/2-inch thick disks or planks, brush the pieces with heat-tolerant cooking oil, and season as desired. Or, if you're looking for something a bit more sophisticated, check out The New Vegetarian Grill, a cookbook that features a handful of exciting sweet potato recipes, including Twice-Grilled Stuffed Sweet Potatoes, Honey Mustard Sweet Potatoes, Sweet Potatoes with Maple-Lime Marinade, Sweet Potato Quesadillas with Black Bean Salsa.
10. Use Grilled Sweet Potatoes as a Sandwich Filling
Sandwiches are easy to make, easy to eat, and they are always filling, but unfortunately, many people always fill their sandwiches with the same, boring ingredients. One of the tastiest ways to break out of your sandwich routine is to use grilled vegetables, such as sweet potatoes, as a filling.
Don't Miss This

Fully Automatic Pasta Machines Revolutionize Pasta-Making
New-generation pasta machines both knead the dough and turn it into perfectly shaped noodles.
More to Explore
For Even More Ideas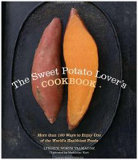 Presenting more than 100 ways to eat sweet potatoes, this 240-page cookbook is the
definitive guide to cooking and baking with sweet potatoes.
Covering everything from appetizers, soups, salads and breads to breakfasts, main dishes, sides and desserts, this extensive compilation of sweet potato recipes is a real treasure trove for anyone looking to incorporate this unassuming healthy tuber into his or her diet. Order this gem of a book though Amazon
here
(

US residents) or
here
(

Canadian residents). It is also available through Amazon's UK site
here

, but be aware that the recipes use American measurements.