Weekly Smoothie Challenge
Sweet Potato and Banana Smoothie with Turmeric
2 Servings
This bright smoothie features sweet potato, orange, banana, sunflower seeds and turmeric powder. Mineral-rich sunflower seeds are added to this super-healthy blend to further boost its nutritional value.
Note: The substitute suggestions in the Tweak It! box at the bottom of this page ensure that with small tweaks to the basic recipe, you can create a new culinary sensation for every day of the week!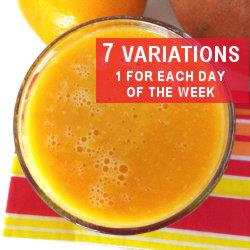 Ingredients
4 oz orange-fleshed sweet potato
Half a banana
2 oranges (Day 1)
2 tsp pure turmeric powder
1 Tbsp sunflower seeds
Scant 1/2 cup crushed ice
3/4 cup water
3/4 cup cup freshly-pressed orange juice
Directions
Peel and dice the sweet potatoes. Cook the dices in a steamer until soft, about 8 to 12 minutes, depending on the size of the chunks. Transfer them to a plate and let cool compeletely. Meanwhile, peel the banana and the oranges.
Toss the cooked and cooled sweet potato, banana, oranges, sunflower seeds, crushed ice, water and orange juice into a Vitamix or another high-powered blender.
Secure the lid, and blend until smooth and creamy, about 1 minute.
Check the consistency. If the mixture is too thick for your liking, add 1/2 cup cold water and blend again.
Pour into glasses, and enjoy immediately.
Tweak It!: Enjoy a slightly different version of this Sweet Potato and Banana Smoothie every day the rest of the week by each day replacing the oranges in the original recipe with one of the other ingredients listed below.
Tweak It!
Day 1
Day 2
Day 3
Day 4
Day 5
Day 6
Day 7
2
oranges
2
apples
4
kiwis
10 oz
papaya
10 oz
fresh pineapple
10
passionfruits
1 1/2 cups
raspberries