10 Healthy Ways to Prepare and Eat Zucchini
Not only is zucchini good for you, it is also an incredibly versatile ingredient that can be used to add mild flavor and vitamins (primarily vitamin C) to everything from sandwich fillings to salads. If you have some extra zucchinis in your fridge and not enough zucchini recipes, below you find a few ideas on how you can prepare and eat zucchini. For even more ideas on how to cook and serve zucchini, check out the mini-review of Andrea Chesman's zucchini cookbook at the end of this article.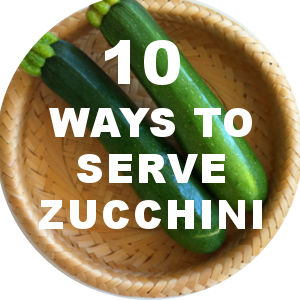 1. Cut Raw Zucchini into Sticks and Eat Them as a Healthy Snack
Did you know that you can eat zucchini raw? For a healthy, low-calorie snack, cut raw zucchini into bite-sized sticks, and eat them with your favorite dip. Or, pack them in a lunch box for a healthy midday or afternoon snack.
2. Use Zucchini "Noodles" in Grain-Free Stir-Fries
Zoodles, or zucchini "noodles", are made by cutting zucchini into long, noodle-like ribbons using a vegetable spiralizer or julienne slicer. Made of 100% whole zucchini, these grain-free imitation noodles are a great substitute for real noodles in grain-free stir-fries and Asian noodle dishes. To learn more about turning firm vegetables such as zucchini into veggie "noodles", see Turning Vegetables into Pasta Using a Spiralizer.
3. Serve Your Kids Zoodles with Spaghetti Sauce
Another great way to use "zoodles" is to serve them with a traditional spaghetti sauce. This is also a great way to get spaghetti-loving kids to eat their veggies, especially if you use zoodles made of yellow zucchini which bear a shocking resemblance to real spaghetti.
4. Serve Mashed Zucchini as a Side Dish
Steaming zucchini and turning it into mashed zucchini is a great way to use up large amounts of this mild-tasting summer squash. Using a hand mixer, puree the steamed zucchini alone or mixed with other steamed root vegetables, and serve as a side dish. A great alternative to mashed potatoes!
5. Consider Dehydrating Extra Zucchini
If you have a food dehydrator, you might also want to dry some of those extra zucchinis for later use in risottos, soups and pasta sauces. Dehydrated zucchini slices take up very little space, which makes them very easy to store. Need a high-quality dehydrator? Check out our earlier post on food dehydrators with stainless steel trays.
6. Use Grated or Sliced Zucchini as a Sandwich Filling
Get out of the sandwich rut by filling up your sandwich with some less obvious choices, such as grated or thinly sliced zucchini (using grated carrots as a sandwich filling is another great example of how veggies can be incorporated into sandwiches). Obviously, you will also have to add other ingredients to the filling to make up for zucchini's lack of intense flavor and creaminess.
7. Grill It
Grilling is one of the most flavorful ways to prepare meat, plus grilled meat may provide some weight loss benefits (compared with fried meat). But meat is hardly the only food to throw on the grill! Also many vegetables, including zucchini and other squashes, turn into flavor-packed dishes on the grill. To prepare zucchini for the grill, slice it into 1/2-inch thick disks or planks, brush the pieces with heat-tolerant cooking oil, and season as desired.
8. Use it in Salads
Got some leftover zucchini from a grill-out? Grilled zucchini makes a flavorful addition to salads! Simply cut the grilled zucchini slices into smaller, bit-sized pieces and toss them into your favorite salad. Raw, grated zucchini can be used to add bulk and vitamin C to coleslaw and other similar salads.
9. Make Stuffed Zucchini
Here's an easy recipe for stuffed zucchini: Cut a zucchini in half lengthwise, and scoop out the insides, leaving the cups about 1/4 inch thick. Fill the zucchini cups with finely minced or chopped vegetables, herbs, meat and/or cheese, and bake at 375°F degrees for about 40 minutes, until golden brown. Transfer the cups to a platter, and serve them while they are still hot.
10. Other Ideas
In addition to above-listed uses for leftover zucchini, here are a few additional things you can do with this super-versatile summer squash: sneak it into bread doughs and muffin batters; slice it and use it as a pizza topping; use it in pureed soups; or roast it together with other vegetables for a delicious and healthy side dish.
Don't Miss This

10 Healthy Gluten-Free Grains (and Where to Buy Them, Online or Offline)
List of 10 gluten-free grains definitely worth befriending.
More to Explore
Book You May Like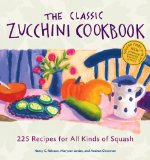 Need even more ideas on how to incorporate zucchini into your diet? Look no further than Andrea Chesman's The Classic Zucchini Cookbook! Packed with more than 200 mouthwatering recipes showcasing zucchini and other types of summer and winter squash, this inspiring cookbook is a must-have for all squash lovers. Zucchini Custard Pudding, Chocolate Zucchini Bread, Black Bean and Summer Squash Stew, Apple-Carrot-Zucchini Muffins, Avocado Salad in Zucchini Boats, Pumpkin Nut Bread, and Risotto with Butternut Squash are just a few examples of the intriguing recipes you'll find in this comprehensive zucchini cookbook. Check it out on Amazon.